Neptune Rum Three-Year Aged Gold – My Favorite New Rum of 2018
For me, personally, 2018 was not an ultra-great year for new rum discoveries. That's not to say I didn't find more than a few "new-to-me" and/or entirely "new-to-the-world" rums to try, of course. It's just that for the most part, most of them either underwhelmed, or proved to be abjectly undrinkable. The sole notable standout: Neptune Rum Three-Year Aged Gold Barbados Rum.
You may remember the initial notes of praise I ascribed to Neptune in this Halloween post touting the tasty tipple that is the Devil's Tail Cocktail. As much as Neptune really puts some sexy shake into the Devil's Tail, it's also plenty good on its own.
That last sentence marks somewhat of departure for me as I've never been a fan of sipping gold rums. It also, though, speaks to the difference between gold rums and aged rums.
Gold vs. Aged
Gold rums aren't always aged. Quite often, in fact, they owe their pretty color to additives, like caramel. The color lures you in, but the un-aged liquid is generally not up to snuff for sipping. At least not for me.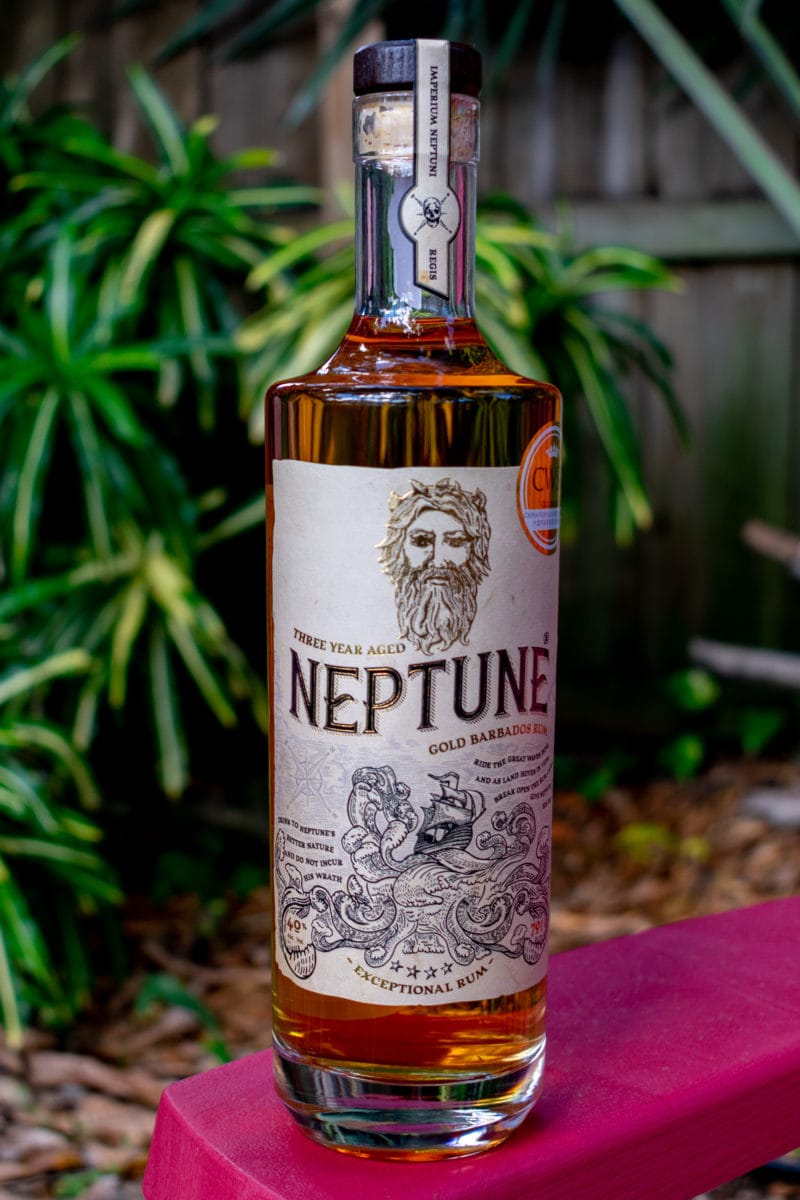 Aged rums are, of course, aged. Their pretty color comes about naturally as part of the aging process. Gold/amber hues are derived directly from the wooden casks in which the rums are aged. Pure, unadulterated rum.
You can see by its name that Neptune Three-Year Aged Gold Barbados Rum is both gold and aged, the three years (minimum) in the barrel making all the difference to me. According to Richard Davies, though, aging and a prized point of origin in Barbados aren't the only things that make Neptune extra special.
UK Connection
If you're familiar with the UK bar scene, then you might recognize the name Richard Davies. He's the former owner of Aqua Vitae, a cocktail and champagne bar in Cheltenham in Gloucestershire. When I met him this past June, he told me he was inspired to create Neptune by a desire to get out from behind the bar. After 25 years crafting and pouring drinks, he was keen on developing something with his stamp that people could take home.
(I've also read that Davies had a dream about finding a rum bottle washed up on a beach, thus the Neptune brand.)
To make his dream come true, Davies teamed up with our great friends at the Foursquare Distillery in Barbados. There, they crafted Neptune from a blend of column and pot still rums aged in oak barrels formerly employed in the aging of Jack Daniels. The rum is aged for three, five, seven, and eight years, then shipped in bulk to the UK at 140-proof to be watered down. It's at this point that Davies says Neptune takes on a unique character all its own.
We use a really, really soft distilled water. The softness of the water in the UK combined with the Bajan just creates the most awarded rum this year.
Indeed, Neptune has been busy racking up an impressive treasure chest of awards since its introduction in the UK in 2017. That's nice and all, but I'm sure you're really more interested in how it tastes, right?
Neptune Rum Tasting Notes
On the nose, Neptune Rum is clean and crisp –no hints of sweetness with just the slightest, faintest tickle of alcohol heat. Pleasant.
On the lips, the same faint tickle of heat lingers nicely, though not for any decidedly lengthy period. For me, the caress sticks around just long enough to make me want to feel it again. It's not the electric kiss of some forbidden passion you've got no business being a part of. It still excites, though more like an old love you're quite accustomed to, but that perhaps you're seeing in a sexy new light.
Time for another sip…
Neptune's subtle warmth and balanced flavor runs straight to the back of the throat, settles in nicely, and puts you at ease. If you have any tension in your shoulders or the middle of your back, expect it all to melt away after a few sips. Along the way, you'll enjoy faint notes of oak, vanilla, and maybe a little banana. Delicious.
Neptune Rum Three-Year Aged Gold Barbados Rum – the best of Barbados and the UK, and easily the best new rum for me in 2018.
Cheers!
Related Posts