On-Site Barbados: For a Good Lime, Pull Into Hal's Car Park Bar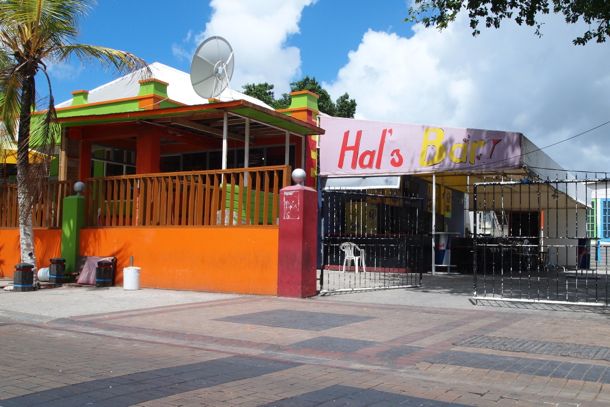 The Caribbean has always offered its share of distinctively memorable nightlife experiences. But, right now… today… in these days and times… there is nothing quite like being in a Barbados nightclub when a Rihanna song comes on.
The perceptible emotions range across the brightest, loudest spectrums of joy, pride and delirium, with some semi-anxious hand wringing thrown in for good measure. The imperceptible, no doubt, charts several octaves higher on all accounts. Suffice it to say, it's an experience worth checking out, especially if you're lucky enough to do it here.
This is Hal's Car Park Bar. Patrick and I wandered in here last year in February while searching for a local place to eat, drink and lime in the St. Lawrence Gap. Looking back on it now, it's a wonder that we ever left…
As you can somewhat see in the image above, Hal's is, and/or was, a real parking lot at one time. Today, it's more of a combo-bar and parking lot, as just to the right of the gated entrance you see here, there's another gated entrance where people still drive in and park their cars right up next to a small collection of tables and chairs.
There's no roof, save for the bright pink canopy that keeps the bar dry. You won't find any bouncers here either, nor the crazy $30 "All You Can Drink" pricing schemes at many of the other more touristy spots along The Gap.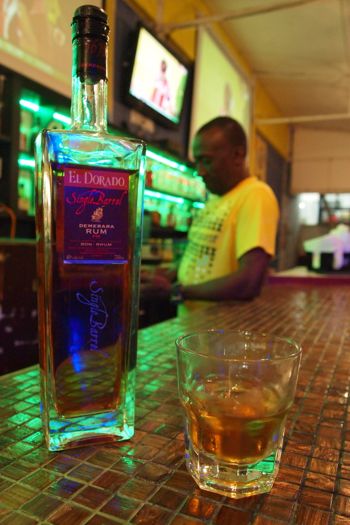 Pure and simple: Hal's is just a bar, though one with many of the special touches we love.
Ice-cold Banks, and assorted other Caribbean beers, is a given, though I was suitably impressed with Hal's rum collection, which must certainly be the best of any parking lot I've ever visited.
Mount Gay, Foursquare, Old Brigand and other Bajan friends are joined here by a full range of El Dorado rums from Guyana (except for the elusive 25 year-old), Angostura 1919 from Trinidad and the exquisite Ron Zacapa Centenario XO from Guatemala, a personal favorite of Hal, himself.
Hal is a bit of a character, and having a drink with him is another must-do aspect of the special nightlife experience here. He's a squat, older gentleman beloved by the ladies, and a fast friend to anyone out for a good time in his Car Park. After that first chance meeting with my brother in February of last year, I never would've thought Hal would remember me. We talked and laughed for a while, but I figured I was one of thousands of new, foreign faces that enter the bar every month. Sure enough, though, when I returned in October, he welcomed me as though I'd never left.
So, what's the party like at Hal's? Like most places, it all depends on what night you get there. Hal's is the hot spot for karaoke in The Gap Monday-Wednesday nights. All other nights are just a jam with the latest hip-hop and R+B hits mixing with soca, calypso and reggae to keep the vibes flowing nice way until the wee, small hours.
No matter what night you go, though, you're bound to hear some Rihanna. Even if you don't know any of her songs, you'll know when one is playing as anyone and everyone starts dancing, shouting and singing – a true Bajan bacchanal!
When I was there last October, Hal was playing all the tunes through a DVD of various live performances from all over the world, so you could see Rihanna, Britney, The Black Eyed Peas, Beyonce, etc. as their tunes filled the open air. It was loud, gritty (What parking lot isn't?), with the smells of various local dishes being served at food stands just outside Hal's gates only adding to the true West Indian feel. (Hal doesn't serve food, but he doesn't mind if you bring some with you…especially if you're sharing with him!)
This infectious, uniquely local Bajan spectacle is, of course, right up our uncommon alley. If I was so lucky to be in Barbados with my brother tonight, this is where I'd most want to be…
Related Posts