On-Site Barbados: Surfer's Bay Beach Bar – No Kooks, No Problems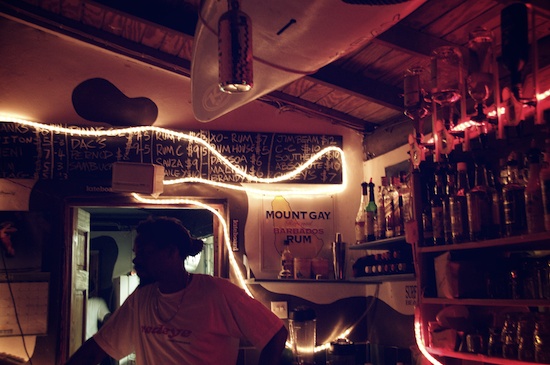 Luckily Surfer's Bay Beach Bar isn't exclusive to those with a penchant for getting tubed, pulling aerials or catching the perfect wave. All you need is a laid-back vibe and you'll fit in perfectly at this idyllic beach bar on the southernmost tip of Barbados.
On our first visit last year after surfing the afternoon away with Boosy of Boosy's Surf School, the small bonfire was crackling, lofting glowing embers into the West Indian evening, chill tunes we being pumped from hidden speakers, the open air seating area was lightly bustling with activity, the man behind the bar was flashing smiles at his thirsty flock, a beautiful young woman with a pleasant British accent floated among the crowd letting patrons know when their food orders were ready to be picked up and two local ladies were in the back kitchen efficiently preparing Bajan staples like macaroni pie and fried fish as well as more upscale fare like grilled tuna. All this activity was wrapped in the arms of night and washed in the sound of rollers coming ashore just a few feet away on Silver Sands Beach.
Sound like a one-of-a-kind, perfect evening?
Well, on a recent visit almost a year later, it was exactly the same.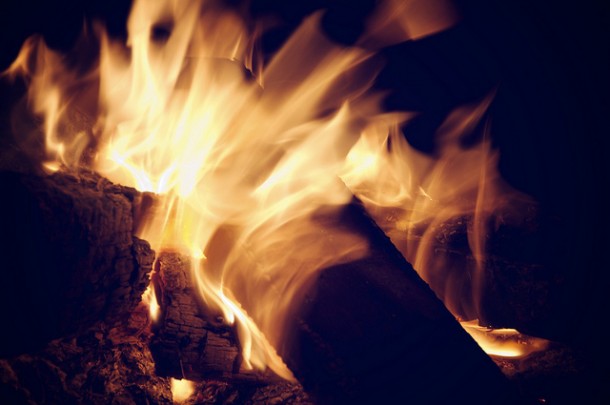 I walked in with my wife and one year-old, all of us hungry after a long day spent surfing Freights and splashing around on Miami Beach. If, like us, you know you're going to eat on your next visit, you might as well check out the chalkboard menu at the entrance and place an order at the nearby kitchen window right off the bat. Be mindful of the prices posted for each dish though, there's a wide range with some plates coming in around 16 Barbados Dollars ($8 US) and others costing over twice as much.
After making our selections (fried fish, macaroni pie and salad for all), the next stop was the bar, conveniently located next to the food ordering window. Here, they have all the staples you'd expect at a Barbadian bar plus a couple surprises to make the expats and visitors from abroad feel more at home. We chose two Mount Gay Extra Old's on ice and a little water for the boy – don't want to start him on the rum too soon!
It was only then that we turned our attention to finding a seat and noticed all the tables were occupied. Couples canoodling at a table on the edge of the deck, surfer's recounting the day's successes/failures at a nearby four-top, a family chatting happily at a large table in the middle, buddies at a table at the far end — my eyes bounced across them all until I noticed one guy sitting quietly at a table staring off into the night. I didn't really want to disturb him, but as I walked closer he turned with a smile and without me saying anything offered to share his table.
"Well, there's two and-a-half of us. I got a little kid, too."
"No problem. The more the merrier." There was that smile again, genuine and inviting.
We all sat down and conversation came easily. He was from Michigan. The owner of a small advertising firm who'd "uncomplicated his life" a few years ago. This allowed him to spend much of his days seeking comforting climates as opposed to frantically chasing contracts. As we enjoyed our meals (the macaroni pie is much more Trinidadian here than most places in Barbados) he filled us in on his travels. A few months in Brazil, some time in St. Martin, a winter in Costa Rica, and more than a few stints right there in Barbados. A man after my own Caribbean traveling heart, we probably could have chatted all night — idly emptying rum after rum after rum.
But with an infant in tow now, that's not a luxury I get too often. Though I do hear that Surfer's often keeps the vibe going way into the wee hours.
We bid our farewells fairly early in the evening. And as I drove back to our rental house in Cotton House Day, with my little boy snoozing softly in his carseat behind me, I couldn't help but think that easygoing little encounters like ours must happen all the time at Surfer's Bay Beach Bar.
It's just that kind of place: mellow and welcoming.
Open Mondays through Saturdays from 4 pm 'til the crowds leave. Sundays from 1 pm.
Related Posts