Surfing Barbados: What It's Like to Surf in The Caribbean, Bajan Style
When people think of surfing, they don't generally think of the Caribbean. It seems like if the Pacific Ocean isn't involved somehow, it's not real surfing. Well that's where they're wrong. There are plenty of excellent, off-the-beaten-path sessions to be had all around the world and some of the best are in the Caribbean. So, how can you get some Caribbean sessions in? You could do a lot worse than giving surfing Barbados a try.
In my case, I had never even touched a surf board, so I was going to need a little instruction. Before getting on-island, I connected with Boosy (pronounced boozey) of Boosy's Surf School. I went with him because he seemed like a small, intimate operation that would be flexible in his process adjusting to whether I stunk or excelled. Besides, the line-up on the site that reads "The brain, the brawn and the inspiration" is pretty funny.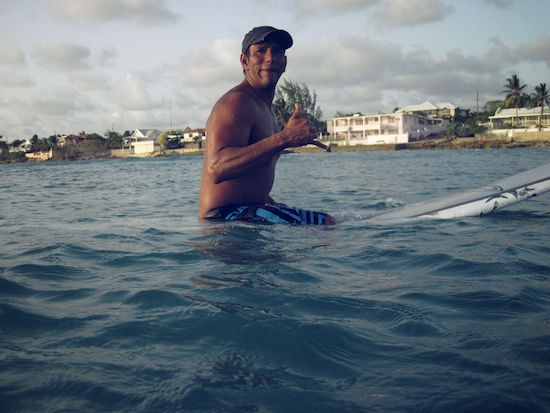 At any rate, I met Boosy before my first lesson at Surfer's Cafe in Oistins. It's a chill little cafe right on Oistins Beach with a laid-back, surf feel where locals, surfers and aspiring surfers like myself could find coffees, a nice little bar and internet access. The side facing the ocean is open allowing a pleasant breeze to flow through the place further enforcing its sit and stay a while vibe… But we had some surfing to do!
A quick drive southwest brought us to Cotton House Bay according to my map, but the locals call if Freights Bay. Here we unloaded the boards and Boosy gave me the basics while still on land. Boosy is a great instructor, but I couldn't help feeling like it was a lot to remember. Especially, the 5 step process to standing up… That was until he showed me the jump method, which just made a lot more sense. (Funny that I was being instructed on how to stand up, something I've been doing well enough on land for a few years now.) Anyway, I did my best to follow along on the brief land instruction and then it was time to hit the water.
Freights Bay is the ideal location on Barbados for the uninitiated to pick up surfing. The bay opens to the west and a large cliff shelters it from the Caribbean's omnipresent trade winds that could make it difficult for novices to maintain their balance, so that's one less thing for newbies to worry about. Additionally, some unfortunate off-shore waste pumping many years ago damaged the reef in the area with an interesting side-effect: weak currents. So yet another thing not to contend with while learning. Finally, the bay is quite shallow, so should there ever be a major problem, there's a  good chance one wouldn't find themselves out of their depth.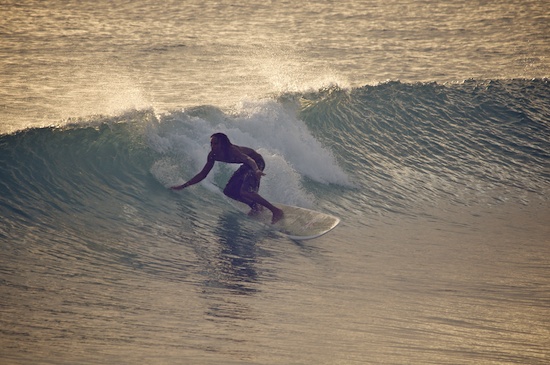 Anyway, we climbed down the irregular cement stairs to a tiny sand "beach" only 8 feet wide or so nestled between some rocks. From here we set off paddling out to where a line of another 7 or 8 surfers sat bobbing in the water. About half way there, I noticed that although I've been a strong swimmer all my life, paddling was not going to be something I was going to like. My shoulders seemed to think I should be using my legs and the waves breaking in my face, pushing me back didn't help. I did manage to make it out without too much trouble, though I did mentally note that for every wave I caught, there would be an unpleasant trade-off.
Now it was time to ride some waves! First try: wait, what am I doing again? Splash! Paddle. Second try: ok hands by chest, right knee, uhm… Splash! Paddle. Paddle. Third try: I'm up! I'm up! What do I do now? Splash! Paddle. Paddle. Paddle.
After each attempt, Boosy would be there with some observations, tips, and suggestions. Heeding his words, I improved each time which lead me to realize one of the best parts of surfing: sitting on your board, bobbing in the sea and just chatting. Boosy and I chatted about what I should try on my next wave. Boosy introduced me to all the other surfers, then we all just started chatting idly about surfing in general, tips on wave selection, where everyone was from, what kind of boards people were riding, how excellent this particular local surfer was, etc.
We carried on this way, riding waves and chatting and staring out over the water for over 2 pleasantly repetitive hours. As the sun began to set into the bay and my shoulders began really complaining about all the paddling, we called it a day. I enthusiastically asked if we should do it again tomorrow, but Boosy cautioned that my arms and lower back (from me holding my head up while laying on my belly) might be a bit sore after my first day.
He was right, but it wasn't particularly bad.
It wasn't until 2 days later that I caught up with Boosy for another session. Freights was pretty flat, so we chose South Point for the day's activities. Several folks already sat out there bobbing in the water staring out to the horizon. One was Moo — a principal owner at Little Arches Boutique Hotel and the chef at Cafe Luna located on its roof, which just happens to be one of the best restaurants on Barbados. At any rate, this time I didn't bother with the whole steps to standing procedure and just began jumping up when it was time to stand… mainly because I had forgotten the steps! But jumping was just more natural anyway.
After another fun, 2 and a half hour session full of riding and chatting and staring and unfortunately paddling, we drove as the sun set over to Surfer's Bay Beach Bar.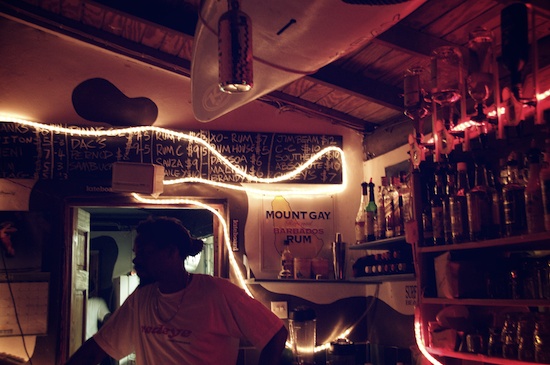 Polishing off several celebratory Banks beers in the glow of a small bonfire, I couldn't help sitting on my bar stool with my back to the bar, keeping my eyes trained on the horizon for potential waves worth catching. Will I be the next surfing champion… probably not, but the prospect of spending time with all the other great uncrowded breaks in the Caribbean (like Soup Bowl) and the surfers who ride them certainly sounds like a good reason to visit more islands to me!
Related Posts