Cotton House 2 Barbados: Rent Your Perfect Fantasy Beach House
Ask anyone to reveal their secret Caribbean fantasy, and you almost always get the same answer: to drop everything and move to the islands! Dreams of leaving dirty cities, bitterly cold winters, noise pollution, and a walk-on role in the rat race dance behind eyes focused on some faraway paradise. What if I told you the Caribbean life of your dreams could be yours without the commitment of permanently relocating? Enter Cotton House 2 Barbados, the sublime rental property where I recently had the pleasure of living out my perfect Caribbean fantasy. And probably yours, too.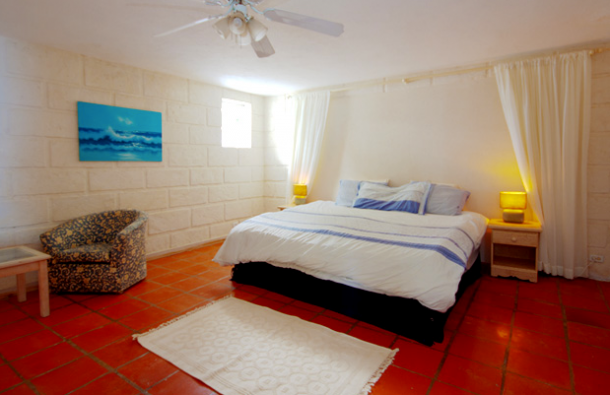 You see, in my Caribbean dream, I live in a perfect fantasy beach house right on an awe-inspiring strip of sand. The house has a clay tile floor that feels cool on my bare feet the moment I walk in the front door. There's a big kitchen with a window over the sink that looks out over the sea, so I actually enjoy doing dishes. The master bedroom is spacious, leaving plenty of clearance around my king-sized bed outfitted in light sheets and plenty of pillows. Two additional rooms round out the accommodations: one for my little traveler and another for all the guests I'll be having when my friends in the states hear I'm living the dream.
My perfect fantasy beach house also has a full dining area with a huge door that opens up to let in the sea air and stunning vistas. First time visitors to my perfect fantasy beach house might be quick to note the relatively small size of my living room and modest home theater setup (probably out of some misguided sense of jealously), but then I'd swing wide the two massive doors along the side of the room revealing a covered veranda, easily double the size of the living room and perched on pillars above the white sand and frothy sea of a deserted little beach.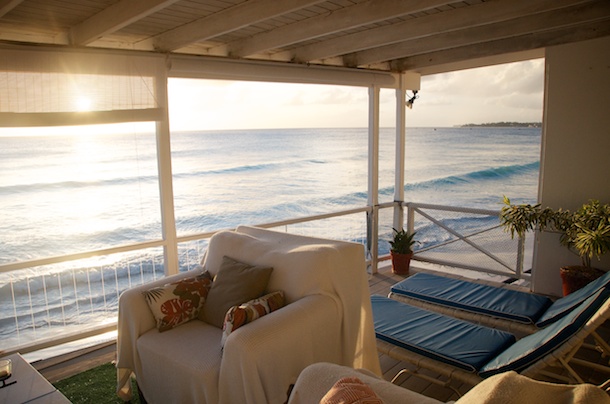 In fact, the veranda is where you'll usually find me when I'm at my perfect fantasy beach house. It has a big, cushy sofa plus a matching love seat and chair for sinking into and reaching new levels of relaxation. At the center of the seating arrangement is a low table for my buljol breakfasts in the morning, beers during the day, and rums at night. To the left of the main seating area, there's a hammock where I occasionally let myself be rocked to sleep by gentle West Indian trade winds. And to the right are a couple of beach chairs for lounging and taking in the view…
Oh, yeah… The view…
My perfect fantasy beach house is precisely aligned — allowing the deck to play front row center for the daily spectacle that are Caribbean sunsets. Every. Single. Day. I can watch the clouds turn from white and grey to gold, then scarlet, slowly settle into ultramarine, and finally black. (Sunrises aren't too shabby either. Take a look.)
Huge bonus: with the sun rising in the east and clouds always moving west on consistent winds, every morning, after a brief sun shower, I'm graced with rainbows hovering over the Caribbean Sea. Every. Single. Day.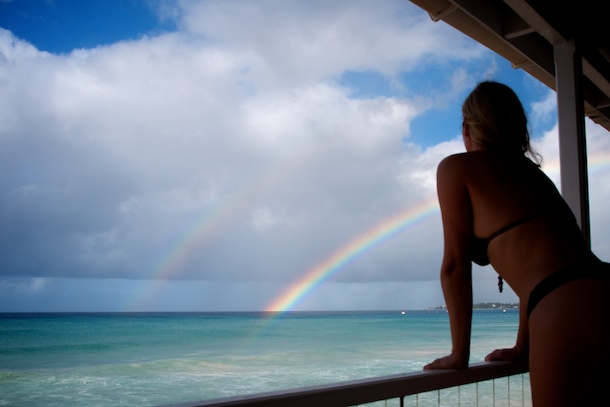 But all that's just the specifics of my perfect fantasy beach house and says nothing about the location, location, location: Freights Bay. It just so happens to be a bay known for having ideal surfing conditions. So, whenever the whim grabs me or I notice a particularly nice set coming in from the elevated vantage point of my perfect veranda, I can simply grab my board and paddle out for a session. Easy as that.
Beyond surfing, being right on Freights puts my perfect fantasy beach house a two-minute walk from one of the best restaurants on the island (Café Luna atop Little Arches Hotel), a five minute walk from the excellent Miami Beach (loved by locals), and a 10-minute walk from the best weekly party on Barbados at Oistins Fish Market. (Not to mention everything else on offer at Oistins like fresh fish, a stocked supermarket, Surfer's Cafe, and more.)
It may be hard to believe, after reading all the things I dream about when I dream of moving to the Caribbean, but Cotton House 2 is my perfect fantasy beach house. It feels like home the moment you walk in and, believe me, you'll never want to leave.
To make it even easier for Uncommon Caribbean fans to make their dreams a reality, we've got you all 5% OFF the listed price! (Currently $350/night.) Just click this link to get started and mention the offer:
Your perfect fantasy beach house awaits!
Related Posts