Salted Cod Fish Cakes Recipe – The Rhum Chef Shares a Taste of the Caribbean
Rare rum finds may be the number one reason to attend the World's Sexiest Rum Party each year. Creative rum cocktails could be reason number two. But, if the Mount Gay booth at the 2014 Miami Rum Renaissance Festival is any indication of things to come, then food may soon find its way into the top two spots.
Cooking with rum is a time-honored Caribbean food tradition, of course, whether you're actually including the strong stuff in your dish, or enjoying a tipple as you broil, braise, barbecue, or blanch whatever it is you might be hungry for.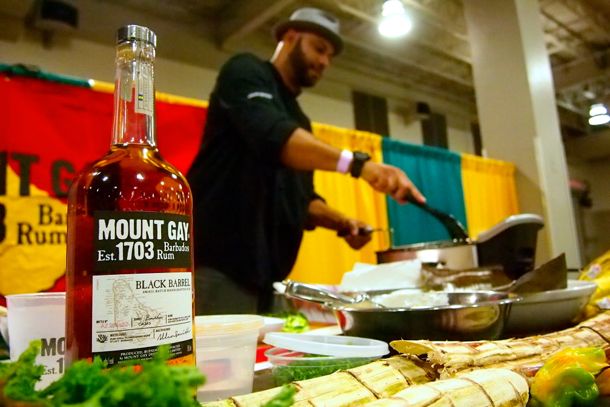 After sampling and sizing up some of the more than 200 rums and cocktails on hand at this year's Miami Rumfest, I can tell you that what EVERYONE was hungry for was Paul Yellin's amazing Salted Cod Fish Cakes.
Meet The Rhum Chef
A native of Barbados, The Birthplace of Rum, Paul is distinguished among the leading chefs in the Caribbean. His stock in trade: cooking with rum. His moniker: The Rhum Chef.
Ingredients:
2 tbsp oil
1 cup onions, finely chopped
1 cup flour
Salt to taste
1 tsp baking powder
1 egg lightly beaten
2 tbsp shallots, finely chopped
1 cup milk
1 tbsp butter, melted
1/2 pound salted cod fish, cooked & flaked
1/4 chopped herbs (thyme & parsley)
1 large, fresh hot pepper, finely chopped
Working with one of the latest expressions of his home-island rum, Mount Gay Black Barrel, Paul put on a show instructing a growing throng of us hungry rum-lovers on the finer points of crafting an authentically island-style appetizer seemingly tailor-made for enjoying with rum. Here's how you make it…
Salted Cod Fish Cakes Recipe
In a heavy frying pan, heat the oil and sauté the onions until they are just wilted. Place flour, baking powder, and salt in a bowl. Make a well in the center and pour in your egg, butter, and milk. Mix together lightly, then add the onions, shallots, salted cod fish, salt and pepper. Stir well. Next, scoop tablespoon-sized portions of your mix into your hot oil, taking care not to overcrowd them in the pan. Cook for about three-to-four minutes until they are golden brown on all sides. Remove your fish cakes from the oil and allow them to drain in your serving dish or bowl atop a bed of absorbent paper. Serve very hot!
Now, you might be wondering: What about the rum?
Well, that's where Paul's special dipping sauce comes in. Trust me, you won't want to eat these fish cakes without it. The amount of each ingredient you'll need depends on how much sauce you're making, but for one-to-two persons you'll want to blend 1/4-cup of ketchup, one ripe banana, and as much rum as you can handle without making your sauce too runny.
Paul recommends starting with one cap-full and progressively making your sauce more potent from there.
Cheers, err, bon appetit!
Save
Related Posts