Barbados' Other Best Spot for Lobster: Taste of the Caribbean
Remember last week when we told you about the very best place to enjoy lobster in Barbados? As I noted in the story, Lobster Alive holds the title IMO because the spiny guys served there are the freshest you can find anywhere in Barbados. For most lobster-lovers, that distinction alone provides more than enough reason not to stray anywhere else, despite the rustic beach shack motif that gives Lobster Alive part of its charm.
But let's say you're in Barbados with your in-laws…who want you out. Maybe it's your first business trip with a difficult new boss or client. Either way, if it's important to you that the restaurant itself make as lofty an impression as the fare it serves up, then the Fish Pot is the place to go.
Patrick and I found Fish Pot quite by accident during our February 2011 trip to Barbados. We had just finished up a morning of meetings and fun at the Almond Beach Village and decided to head to North Point for some exploration and photography fun. As we were hungry, though, we decided to stop along the way in the small seaside village of Six Mens, which reputably has the best flying fish sandwiches on the island.
It was bit past lunchtime when we entered the town, so everything was closed. Everything, that is, except Fish Pot.
I should back up a bit here and talk about the area around Six Mens. Yes, it's on the bustling Barbados West Coast, but it just as well could be on the more remote, laid-back East Coast, what with its quaint homes, sleepy streets, and fabulous sea views unobstructed by sprawling resorts and condos. We saw some world-class limers on just about every corner, reveling in the simple pleasures of old talk, rum and watching the world drift by. This is surely Barbados as it used to be, and it's just a few minutes, as traffic allows, up the road from the busy resort area in St. James.
Anyway, getting back to Fish Pot, upon first entering the place it's impossible not to feel instantly relaxed. It's right on the beach, so you have the endlessly lapping waves going for you. As opposed to the East Coast, the offshore breeze here is generally light and pleasant (see video), which is nice too.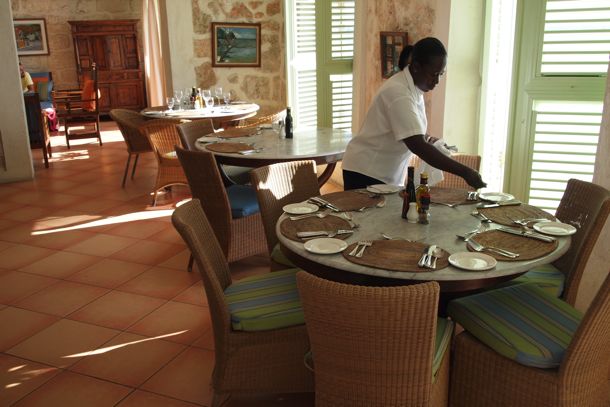 The biggest thing to me, though, is the amazing decor of the place. Bright colorful fabrics, art and painted accents mix with funky art-furniture, coralstone walls and a beautifully-tiled floor to create a perfectly elegant setting. It's warm and welcoming in an utterly sophisticated West Indian way that's well beyond anything you'd ever find in a Pottery Barn catalog. Really, you feel special just sitting here having a beer.
This, in fact, is exactly all Patrick and I were able to do on our chance visit to Fish Pot, as the kitchen was closed when we arrived. Still, it's pretty easy to tell that the dining experience here is off-the-charts.
For one thing, Fish Pot gets their fruits and vegetables from Nature's Produce, a hydroponic farm based nearby. Notably,  Nature's Produce is distinguished as the first grower in the region to achieve certification for fruit and vegetables from EurepGAP (European Good Agricultural Practices). What's EurepGAP? Only the guys that set standards for the certification of agricultural products around the globe. EurepGAP standards cover sustainability, safety, environmental impact and quality assurance, so you know the produce served at Fish Pot is not only good for you, but it's also good for the future of Barbados.
These high-quality greens are paired with an assortment of chicken, beef, pasta and seafood creations, offering a bit of something for everyone. Menu items that really got my belly rumbling included the assiette of seafood comprised of crab parcels, tuna tartare and shrimp ceviche; marinated flying fish; a thai coconut and lemongrass stir-fry; pepper-crusted flatiron steak with rosemary jus; and, of course, the grilled lobster.
Fish Pot, like everyone else in Barbados, gets their lobster from Lobster Alive, so you know it's fantastic, but that's not all this place has in common with our friends down on Carlisle Bay. Turns out the owner of Fish Pot, Andrew Warden, also hails from Australia just like Art Taylor from Lobster Alive. They're even from the same area of Perth, Australia, though they never met before making their respective marks in Barbados.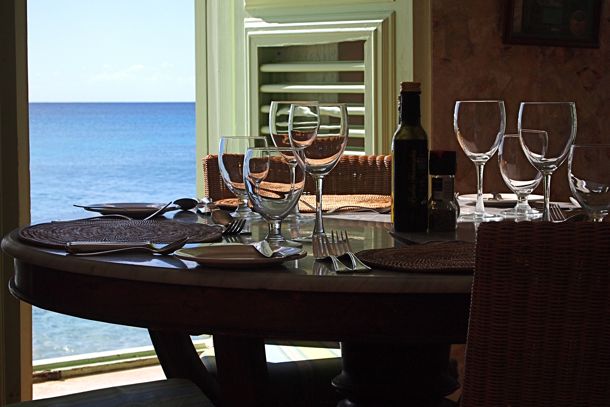 Andrew tells me the credit for Fish Pot's amazing decor goes to his wife, Patricia, who is from Barbados and formerly ran an import business specializing in unique furniture pieces from Indonesia. All I can say is that if the food tastes half as good as this place looks, I'm sure to put on several happy new pounds when next I'm down there.
By the way, the owner of Nature's Produce also happens to be an Aussie, so I'm thinking another trip may be in order soon to investigate how it is that all these amazing Australians happened to end up doing such great things in Barbados.
Crop over, anyone…?
For more info on Fish Pot, click here to visit their website. When you do, you'll notice that in addition to being a great restaurant, Fish Pot is also part of a collection of luxury guest cottages with two swimming pools and a boutique spa known as Little Good Harbour. Two- and three-bedroom suites are even located directly above Fish Pot, so you can make this absolutely idyllic retreat your home away from home in Barbados.
There's even a sister property called the Atlantis on the East Coast. By the looks of the intro video on its home page, Atlantis rivals Little Good Harbour and the Fish Pot in luxury and style. Trying to decide between the two is exactly the type of problem I'd like to have when booking my next trip to Barbados!
Related Posts