Eclipse Crackers, What to Eat When You're Judging Rums: Taste of the Caribbean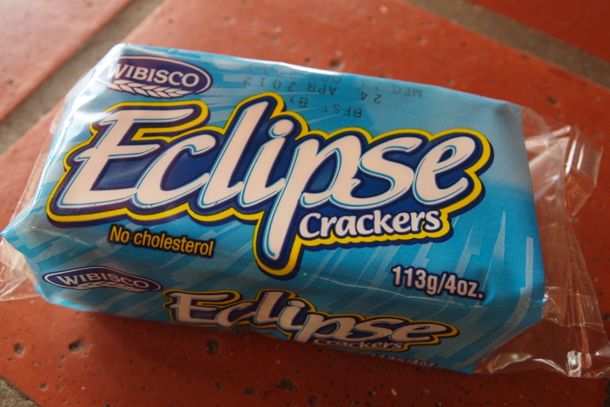 February 2012 being The Month of Rum, as designated by us, you might find it odd that we'd feature these plain-Jane crackers from Barbados as our lead Taste of the Caribbean post for the month. Truly, there's nothing rummy about these biscuits, aside, perhaps, for their trace levels of sugar content and their shared home-island heritage in The Birthplace of Rum.
On a personal level for me, though, Eclipse Crackers and rum go hand-in-hand… especially when you're trying to keep your hands (and everything else) steady while sampling many, many rums.
I got my first taste of Eclipse Crackers while serving as a judge at the 2011 Caribbean Rum & Beer Festival in Barbados. As noted here, the gig was as much an honor as it was a trial by fire, with me working hard to keep from getting burned over four concentrated midday hours of sampling 40 different types of rum… sans food!
Okay, they didn't starve us completely. Judges were free to consume as many Eclipse Crackers as they wanted. Believe you me, I took full advantage of that little perk!
Light, dry and nowhere near as filling as these vital supplies, Eclipse Crackers were the perfect crutch for me to get through the day's rum marathon. How many did I eat? Seriously, there's no telling. I just know that right about the time we started in on the overproof rums, packets of crackers started opening all around the judges' table, crumbs littering score cards. There were only three overproof rums on the docket, and I'm pretty sure I polished off a whole packet of Eclipse in that category alone.
So yeah, I ate a bunch of Eclipse Crackers, and you know what? I was good to go after my tasting duties were done. Oh, I was hurting a bit, but not so much that I had to retire for the afternoon. In fact, immediately after rum #40, I set out to explore the Boardwalk area of Christ Church, finding this gem of a restaurant that should be on any/every trip to Barbados itinerary. I even enjoyed more rum that afternoon at Tapas, back at my hotel and out on The Gap, thanks no doubt to these very special crackers.
With the 2012 Miami Rum Renaissance Festival set to be held April 16-22, and me set to serve as a judge once again, you can bet I was ecstatic to find Eclipse Crackers on the shelf at my local West Indian grocery story a couple weeks ago. I'll be stocking up in the coming weeks as part of my preparations for the event, secure in the knowledge that with Eclipse in my corner, I shall survive once again!
So, if you're looking for me down at the Deauville on Miami Beach during the Miami Festival, I should be pretty easy to find. I'll be the guy trailing Eclipse crumbs behind me, without so much as a stagger in my step…
Save
Save
Related Posts