Caelum Blandford Reveals Barbados' Choice Surf Spots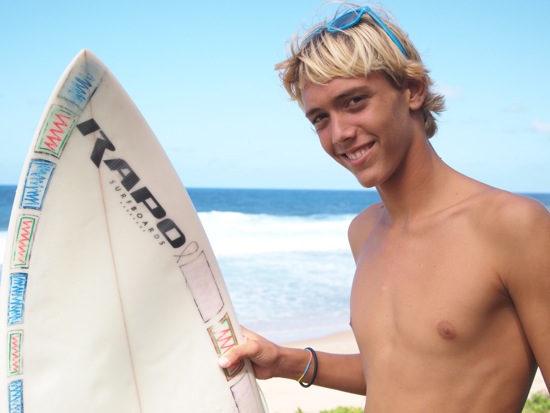 As Patrick discovered on his first trip for Uncommon Caribbean last year, Barbados is home to some of the best surfing this side of Laguna Beach. When you consider the island's geographic location, a far reach further east into the Atlantic than the rest of its sister Caribbean islands, then it's easy to understand why. The eastern shore may get the bulk of the larger waves kicked up by the ever-churning Atlantic, but excellent wave conditions are possible just about anywhere on Barbados.
For proof, check with locals like Caelum Blandford. Just 15, Caelum runs with a tight-knit group of groms that represent some of the best up and coming surfing talent that the Caribbean has to offer.
When I caught up with Caelum in Barbados a couple weeks ago, I thought it was the first time we'd met. After talking for awhile, though, we realized that he had been in Tobago last Easter when I barely survived my first official surf lesson with Jason Apparicio. He's a good kid – said he didn't remember my flaming out due to back pain, which I appreciated whether it was the truth or not. Either way, it was pretty cool to make that connection, one year and a whole other island removed from my baby steps into the sport.
I didn't get a chance to surf on my latest trip to Barbados, but next time I'm there, I'll certainly look up Caelum for the inside scoop on where to go. The kid just lives and breathes Barbados surfing. I asked him how he balances school with surfing…
I live on the beach on the West Coast. When it's good, I wake up at 5:30 and surf for an hour-and-a-half. Then, after school, I go out for another couple hours til it's dark.
Now that's dedication! He said it with a bit of a wry smile too, which has me thinking there may be a skip day or two in his past when strong surf may have won out over studying…
So, what are Caelum's favorite surf spots? Popular sites like Soup Bowl, where the photo above was snapped, and Freights Bay were givens. As for his choice "unknown" spot…
I like to surf Airports. You see it from the air just as you're landing (at Barbados' Grantley Adams Int'l Airport). It breaks 5ft there when it goes; very hollow with barrels on every wave. Christmas to Easter is the best chance to experience it.
Winter holidays surfing in Barbados? Sounds like a plan to me!
For more information on surfing in Barbados, click here to check out the Barbados Surfing Association website.
Related Posts