Uncommon Beauty: The Beach Behind the Flag of Barbados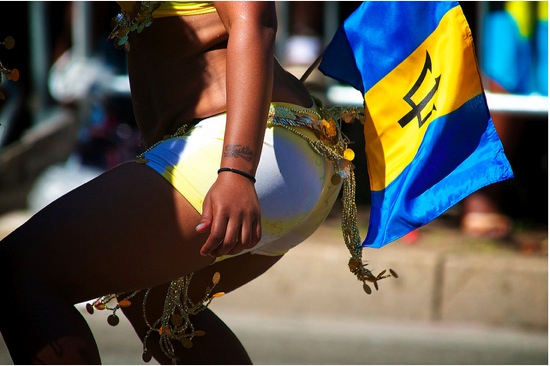 For as long as I can remember, I've had a thing for the Barbados flag. I'm talking well before Patrick snapped this photo during the latest edition of West Indian Carnival in Brooklyn. I must confess the image does add a bit of spice to my admiration of the Bajan banner, but I digress.
I first set foot in Barbados way back in 1983 while en-route back to St. Croix after a swim meet in Trinidad. Anyone who has spent any time in the Eastern Caribbean knows that travel between two islands of any significant distance apart with any land masses in-between always requires many, many stops in whatever islands happen to lie in the flight path (yes, LIAT, I'm looking at you!). On this particular trip back up the island chain, our first stop was in Barbados… and I couldn't be happier.
You see, I REALLY liked the Barbados flag. As a swimmer and a fan of Greek mythology, I think the trident sitting dead-center really appealed to me. That particular shade of blue also struck me as being so much like the ocean, that I always had a sense that Barbados must be a very special place.
Whenever I see the Barbados flag now I think many of same things, especially since I've been there a few times and have had a chance to learn the significance of the flag's symbols and colors. The trident is a nod to the island's independence from the UK, with each point representing the three principles of democracy – government of, for and by the Bajan people. The blue does, in fact, represent the sea. Well, at least the blue on the right side of the yellow line. The other line of blue is for the sky. The yellow in the middle represents the island's golden sand.
Sky, sand and sea – taken together, the Barbados flag is a beautiful symbol that truly embodies one of the most special places I've ever visited.
Luckily, during our stopover, we were allowed to disembark and hang out in the airport lounge for awhile. My Mom, who was traveling with me, was nice enough to succumb to my pleas and purchase a mini Barbados flag for me. I remember upon returning to our seats on the plane that she suggested that I collect all the flags of the Caribbean. I think she had a thing for flags too, and probably thought this could be a cool little project we could work on together. I was into it too, though we never quite completed the task.
If you'll indulge me, I'd like to use this space over the coming weeks and months to finally bring this long-lost mother-son endeavor to fruition.
Related Posts