Bajan Cherry Swimwear Doesn't Sacrifice Sexy Form for Shredding Function: Uncommon Buy
Barbados is home to some of the best breaks in the Caribbean, so it's no surprise that the island has a thriving surf culture that includes visitors and locals alike. (It's where I learned to surf.) It also shouldn't be a surprise, in this day and age, that a good percentage of those Bajan surfers are women.
The only problem is, men have unquestionably been the focus of the serious surfing apparel and equipment industry — leaving the ladies to either don good looking bikinis that… shall we say… "malfunction" under the stresses of riding waves or wear less flattering suits.
Can't a serious surfer girl look sexy, too?
Our good friends on Barbados, Stef and Cherrianne, certainly think so! And this belief lead to the launch of their very own bikini line Bajan Cherry Swimwear with a very simple purpose:
to find that perfect bikini — one that looks good and stays put when charging waves.
In the case of these two Bajan surfer girls, "find" meant designing, testing, and producing that perfect bikini themselves.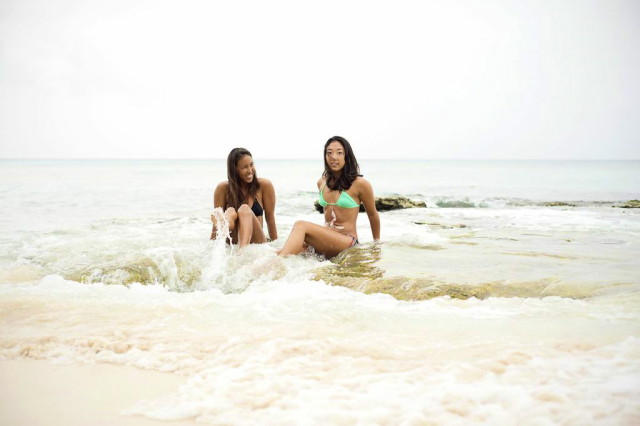 The designs come in an array of styles from solids to patterns to prints and are designed for mixing and matching. So, while it's ill-advised to wear only a bikini off the beach on Barbados (a bit of social decorum, please) you're guaranteed to look great whether you're "charging waves", hanging by the pool, or off on a sailing adventure.
As for testing, I can back up the statement on their site that says these girls "live in their bikinis." In fact, they're the ones (with a little help) actually modeling their creations in all these photos. They're also the ones (again with some help from other local ladies) out there duck diving, riding, and wiping out in their creations.
Trust me, these active ladies that put their swimsuits through the wringer! Then translate that stress-testing into better performing designs.
When it comes to production, true to the tight-knit Bajan surfer culture, all of their bikinis are made on-island and they try to source and collaborate with as many Barbadian small businesses as possible in the effort. So, you can look great while giving back.
Bajan Cherry Swimwear is only a year old or so, which makes picking up one of their sexy/practical bikinis at your local surf shop in the states impossible. In fact, right now your best bet to pick up these beautiful, but tough looks is… You guessed it: go to Barbados!
On-island, you'll get a chance to meet Stef and/or Cherrianne personally to pick out the best looks just for you.
(However, if Bim just isn't in your future, they'll ship to the states, but can't accept returns.)
To stay up to date with the latest looks, sales, and Bajan surf culture, like Bajan Cherry Swimwear on Facebook.
Related Posts