Checking In (And Checking Out From the Modern World) At Sugar Reef Bequia
Look familiar?
We always try to avoid using the same photo twice here at Uncommon Caribbean, though I can imagine how the shot above may jog a few memories for longtime readers. It's very similar to the lead photo in an earlier Uncommon Envy post in which I dreamed of someday traveling to the enchanting island of Bequia and staying at the new and even more enchanting-sounding Sugar Reef property.
Well, as I've shared more than a few times lately, I got to live that dream last year.
I've told you about the hiking, the food, the beach, the rum, the VERY STRONG RUM, the incomparable rum punch, the beer, a little history, snacks, some talkative boats, and more… even snakes on a beach?! 
Today, though, I want to tell you about Sugar Reef itself, and why it represents about the closest thing to the ultimate uncommon hotel as I've come across yet.
The Sugar Reef magic all started for me at Bequia's tiny airport in the person of Emmett Pace.
Slight of stature, strong of build, and rough around most edges, like that cool uncle you always admired – the quiet Clint Eastwood-type complete with the steely eyes and rugged features – Emmett is an American expat who's lived in Bequia so long he embodies the place more than most anyone you're liable to meet there.
He's also the co-owner of Sugar Reef, and as such, would be my host… sort of.
You see, Emmett, like the rest of the great staff at Sugar Reef, isn't about excessively catering to you. He/they know that you're a grown-up and they treat you like it. After collecting me at the airport, he casually offered some basic tips on the island and the property on our short drive to Sugar Reef before essentially leaving me to my own devices here.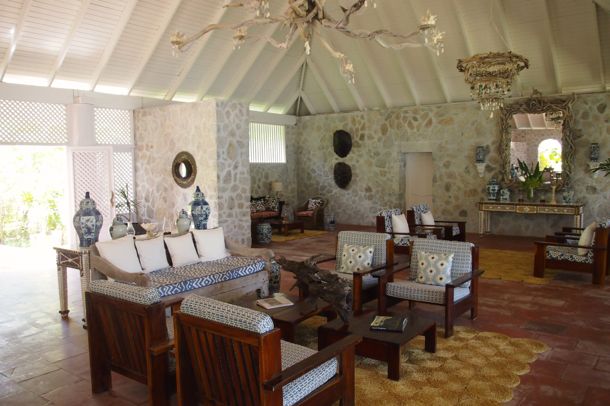 This is the main area of The Beach House, one of the two completely separate structures that comprise Sugar Reef. (French House, the other structure, is located a short walk up the hill.) Breezy and stylish in an eminently beachy way, I'd find it hard to leave this spot over the next few days…
And nights…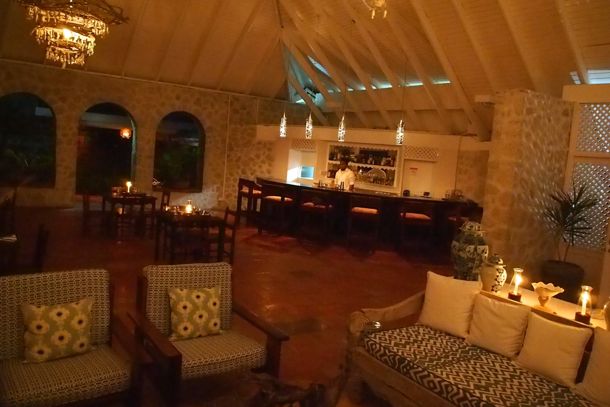 From here, or anywhere else inside The Beach House, the sand and surf are always right outside the door.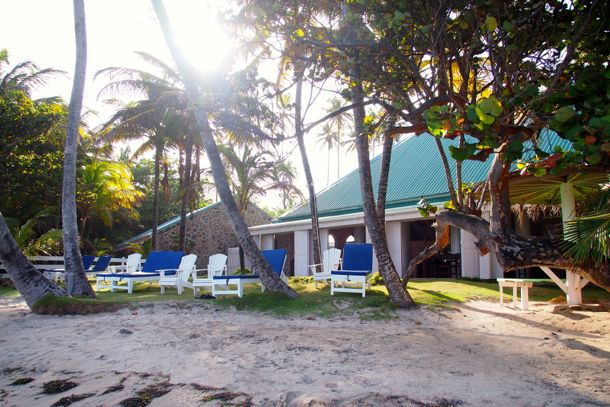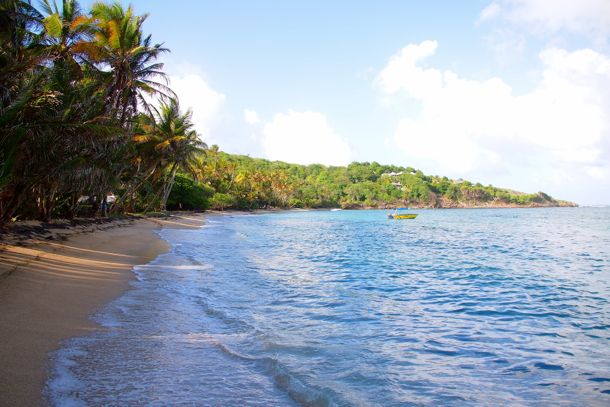 Back inside, the creature comforts and design elements that I thought might appeal to me in that earlier envy piece more than lived up to the hype, especially the mirrors, towel rods, hooks, and chandeliers made of shells and re-purposed driftwood.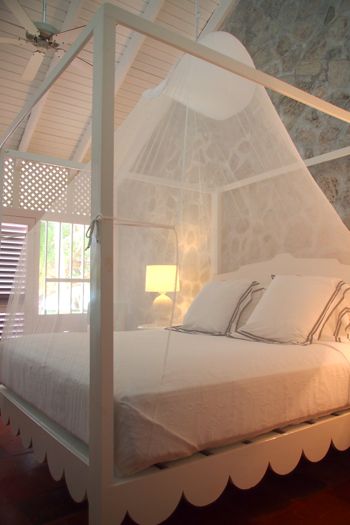 No less spectacular: my super-comfy four-poster bed with wispy Old School mosquito netting adding a sense of the romantic West Indies of yesteryear.
No TV's or radios, combined with the sublime natural surroundings of Industry Bay and Sugar Reef's thoughtful charms to made it easy for me to check out from the world here. Still, the thing I loved most about Sugar Reef was the hands-off, yet fully-attentive service. If you needed something, anything, someone was always there in a flash to help… especially Emmett.
I saw him around the property all throughout my stay, usually around lunch and dinner. He doesn't live on-property, though his home sits on the same hill as The French House.
If you needed a ride into town, Emmett was there. Looking for a recommendation on a hiking trail? Emmett's your man. Interested in buying real estate in Bequia? Emmett's got you covered there too.
And that's just the thing about Sugar Reef: staying here is not like staying in a regular hotel. It's more personal; more familial; more like the way intimate guesthouses used to be all over the Caribbean way back when.
No air-conditioning, no pool (aside from a small plunge pool up at The French House), no daily schedule of activities, or aforementioned TV's ensure that Sugar Reef will never be for everyone, which of course suits me (and Emmett, I'm guessing) just fine.
Nightly rates at Sugar Reef start as low as US$120 in The French House. Beach House accommodations are priced at US$240 per-night.
For reservations and more information, visit Sugar Reef Bequia online.
Related Posts