Own the Caribbean's Best Pizzeria: Uncommon Buy
What's holding you back from moving to the Caribbean?
For many, the answer is a simple four-letter word: w-o-r-k.
It's hard to find a job in most any new place you might want to relocate these days, but in our smaller, more insulated island communities, the task is even tougher. Better to create your own business, or buy one like Mac's Pizzeria that's already a banging success.
Ask most anyone who's been to Bequia anytime lately (or click here) and they'll tell you Mac's is the most popular restaurant on the island. A big part of the reason for all the success: location.
You'll find Mac's along the water right in the heart of Admiralty Bay, one of the choicest anchorages in all of the Caribbean owing to the absolutely ideal natural protection it provides and its beauty. Bequia's principal town, Port Elizabeth, stretches around the restaurant, ensuring a steady traffic of both locals and visiting sailors.
Another big reason for Mac's success: lobster pizza.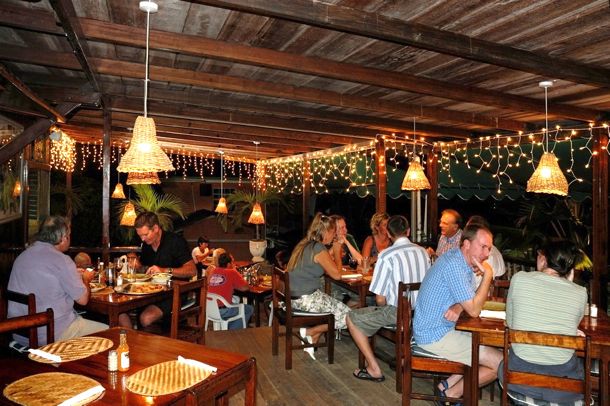 Mac's is beloved for all kinds of good eats, but it's the lobster pizza that makes this place truly special. I've heard that people sail here from neighboring islands, making special trips sometimes covering several hours, just to get a taste!
Lobster is but one of 17 options you can choose for your paradisiacal pizza. Mac's also serves up a fabulous lasagne, pita sandwiches, conch fritters, soups, salads and an assortment of home-baked goodies – cookies, muffins, etc. There's even some incredible homemade ice cream to keep you cool on those warm West Indian evenings.
The full operating business, including all the furnishings and equipment (pizza ovens, refrigerated prep station, six-burner gas stove, freezers, and drinks cooler), experienced staff, loyal clientele, great reputation, and excellent location, can all be yours!
Price tag: US$865,000.
Did I mention that the property also includes a house and 10,000+ square feet of land?
Granted, the house needs some serious work, but a seaside home in any condition on such a large lot most anywhere in the Caribbean would still be a decent deal for that price. Even better, this one comes complete with a profitable, turnkey business opportunity that can fund your entire dream island lifestyle for years to come.
Interested buyers should contact Emmett Pace of Island Pace Real Estate at 1-843-492-5337 and please save a slice of that lobster pie for me!
Related Posts