Deal of the Week: 4-for-1 Savings at Long Bay Beach Resort, Tortola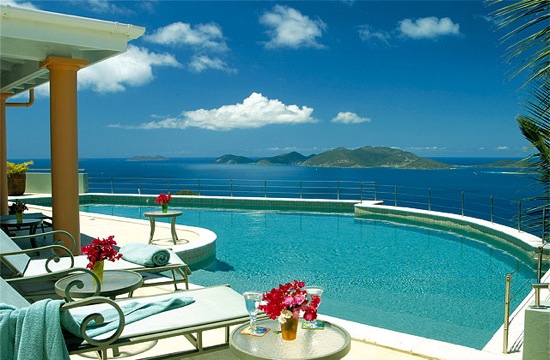 The first time I went to Long Bay was back in 1989 for my high school senior class trip. It may have been a nice resort back then, but I wouldn't know it. You see, my class had a bit of a reputation for partying, and we hit Tortola like we were being paid to prove it.
Unlike my brother, who claims a vivid recollection of the seminal smoke-filled Steel Pulse concert of his youth (yeah, right), I remember very little about that first trip to Long Bay. There are some in our group who insist to this day that I spent long hours drinking in the, ahem, "local culture" at Tortola's famed Bomba Shack, but I am positive that to this day I've never set foot in the place.
Yeah, the party was that good.
So good, in fact, that my high school banned all future senior class trips after we got home (sorry class of '90, 91, 92, etc.).
Luckily for me, I had a chance to visit Long Bay again just a few short years ago. The minute I arrived on property I thought the taxi driver had made a mistake. How could such a classy and elegant resort have hosted St. Croix's version of Fast Times at Ridgemont High? Tasteful decor, rich mahogany furniture, private in-room Jacuzzis; this was not the den of iniquity of my youth.
I soon learned that the property had undergone a multi-million-dollar upgrade when it joined Elite Island Resorts' Caribbean hotel collection back in 2004. Of course, the beach (the longest in the BVI's), is still amazing, but the teenage party here is definitely over, replaced instead by the type of tropical luxury sought by today's sophisticated travelers.
Like everyone else, sophisticated travelers like a great deal, and Long Bay just happens to be offering one of the best ones we've ever seen this summer. You think 2-for-1 is nice, try 4-for-1!
That's right, Elite Island Resorts is inviting 4 vacationers to stay at Long Bay for the price of 1. The official name of the promo is Pay for 1 & Bring Up to 4, and it's valid for resort stays between April 15 and August 30, 2010, when booked by July 15, 2010. A minimum 3-night stay is required, and all 4 guests must share the same accommodations, which is not a problem at Long Bay with its expansive villas.
Nightly rates start as low as $375 EP, plus taxes and service charges.
For reservations and more information, call (800) 345-0356.
St. Croix Country Day Class of '89, can you say class reunion? Maybe I'll finally get to see what this whole Bomba Shack thing is all about!
* The information in this story was accurate at the time of publishing. All rates and specials are subject to change at the travel provider's discretion.
Related Posts