Barking up The Dog Islands of the BVI's: Photo of the Day
Did you know the British Virgin Islands used to be home to eight-foot-long, 600-pound seals? Well, it was! At one time Caribbean monk seals could be found throughout the West Indies.
Here's what they looked like: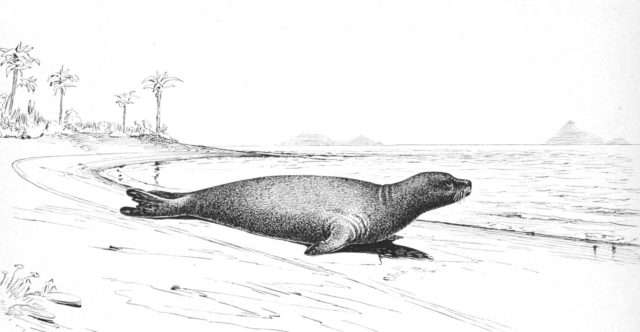 Imagine these guys coming out of the water on your favorite Caribbean beaches!
The beautiful Dog Islands of the BVI's (pictured above) got their name when early sailors mistook the seal's characteristic barking for that of a dog's. There's George Dog, Great Dog, West Dog, and… Cockroach Island. (Don't ask.)
Unfortunately, the last confirmed sighting of a Caribbean Monk Seal was 1952, but while the seals are gone The Dog Islands still sport some of the best diving in the region. The dive sites also have great names, like Bronco Billy home to some beautiful coral, The Chimney which sports a unique feature named the Fish Bowl where you're guaranteed to see a wide variety of magnificent fish, The Visibles where divers can find nurse sharks in large grottoes 80 feet down, and Joe's Cave which sports an incredible series of holes, ledges and massive boulders.
There's also a submerged airplane wreck in just 40 feet of water!
And the best way to experience the (now, unfortunately, seal-free) Dogs, is with a Sunsail sailing charter out of Tortola. Try joining their Rum Flotilla for a little extra fun.
Who knows what you'll end up hearing!
Related Posts