Pusser's Rum: Mysterious Forces and Love
There are mysterious forces at work in love and rum. Forces that draw you to certain things no matter what; keeping you entranced – enraptured even – despite your better judgment, perceived insecurities, or doubts long-harbored over an incomplete backstory, or somewhat clouded history.
Such is the sorted romance I've long shared with Pusser's Rum.
I could not deny her even if I tried, her bold aroma, alluring amber hue, and rich, full-bodied flavor a veritable Cupid's arrow through my heart every single time we're together. A big part of the attraction for a history-lover like me is her long and storied backstory.
Pusser's roots are planted firmly in a proud tradition some 350 years strong. The recipe is inspired by the same one used by the British Royal Navy to produce the "tot," a daily ration of distinctively strong rum measuring about a pint in size that was formerly (and somewhat formally) provided to each and every British sailor, each and every day from 1655 to 1970.
This is the same tot that gave rise to Grog, and no doubt fueled many a British Royal Navy victory at sea over the centuries.
For nine years, this most storied of seafaring rums was unavailable anywhere and likely would've been forgotten if not for one man: Mr. Charles Tobias.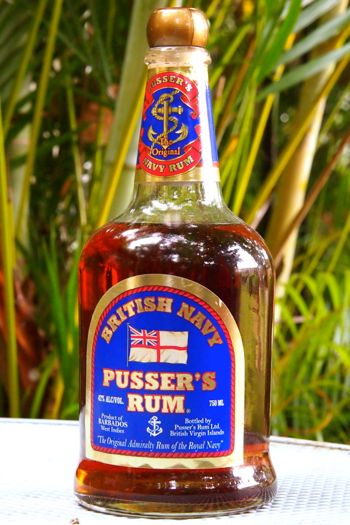 Described on Pussers.com (not the official website for the rum, which can be found here) as equal parts "entrepreneur, global sailor, raconteur," Tobias had the foresight and guile in 1979 to convince the British Admiralty to hand over the recipe for their prized rum. Tobias then founded Pusser's Ltd. in Tortola, making history right from the start by making the traditional British Navy tot available to the general public for the very first time.
Also attractive about Pusser's – her loving, caring nature. In securing the rights to the legendary tot recipe, Tobias ensured that a sizable portion of all Pusser's sales would benefit The Royal Navy Sailor's Fund, a very worthy cause that's right in line with the rum's fine heritage.
The real magic, though, happens when our lips meet. Pusser's Blue Label is strong and kisses deeply with a rapturous warming burn that may present a bit too much passion for some. The flavor is smoky, hints of leather and dried fruits, and lingers extra-long, suggesting she'll not be forgotten whether you like it or not.
So, what's not to like? The small hang-up for me lies in that legendary recipe.
Now, as always over its 350-year history, Pusser's has consisted of a blend of five West Indian rums. Just where those five rums come from, though, is subject to debate.
Barbados is named prominently on the Pusser's Blue Label pictured here, though I've read and heard different things about pot still rums from Trinidad and Guyana being included in the blend at various times as well. Indeed, Trinidad and Guyana are the two sources cited on the Pusser's Twitter account as well.
I think I taste more Barbados in this particular bottle of Pusser's than anything else, but what about Jamaica? Could there have been some St. Vincent or Belize in the blend at some point?
Not knowing has raised trust issues in our relationship from time to time, but all is soon forgiven and forgotten with a few sips. She may be hot, very experienced, and possess a few skeletons in her closet, but Pusser's is alright by me.
Cheers!
Save
Related Posts