Great Dog Island Airplane Wreck, BVI: Uncommon Attraction
If you have a fear of flying, then you'll want to check out this wreck.
Located at a depth of 40-50 feet in the calm, clear waters just offshore Great Dog Island in the British Virgin Islands, this aircraft (or what's left of it) was purposely sunk in the vicinity of the Coral Gardens, one of the BVI's top dive sites.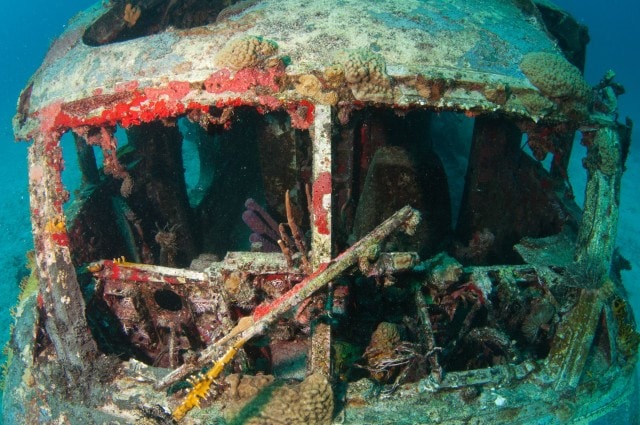 There it sits, providing a nice added underwater diversion for divers otherwise drawn to the Coral Gardens' enormous brain and star corals, gorgonians, sea fans, tube sponges, and many various soft corals.
Recently, our friend Mark Yokoyama got a chance to check it out…
The fuselage itself is a bit off the main reef. The max depth is about 50 feet and it is not difficult. There are a couple moorings over the nearby reef, but we took a dinghy to the wreck itself. We were touring the BVIs on a cat with some friends, so we didn't use a dive operator, but we did pick up the book "The Guide to Diving and Snorkeling the British Virgin Islands," which is quite good.
Sounds well worth checking out for scuba enthusiasts, right? But what makes exploring this wreck ideal for those with a fear of flying?
Let's rewind to May 6, 1993. That's when this plane was scheduled to take off from Tortola, carrying 27 passengers and three crew.
It didn't.
Instead, the aircraft overran the runway and settled in the sea. (It was later stripped of its instruments and ferried over the Coral Gardens.)
That's the bad news. The good news is…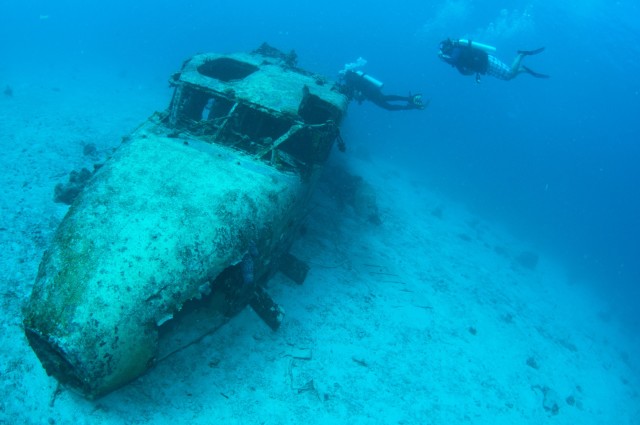 Not a single person was injured in the accident!
Who knows, maybe seeing the wreck in its decrepit state and knowing that everyone walked away unscathed may give you added confidence next time you hop a flight…
Related Posts