Buck Island Hiking Guide
I love hiking. There was a time not so long ago, though, when that wasn't so. It was the wife who truly turned me on to trekking through the bush some years ago in Nevis. Before then, my land-based adventuring skewed more toward historical attractions, rum shops, Carnival, and cultural explorations. So, it's little wonder, then, that Buck Island hiking was never a thing for me.
That's right. Despite being born and raised in Saint Croix, and despite having visited Buck Island on tons of occasions over the years, I never actually took the time to hike the Buck Island trail.
Well, at least not in its entirety.
On an early-August 2021 trip back home, though, I set about making Buck Island hiking my new thing.
Now, the first thing to know about the Buck Island Trail is that it's a loop. The trek starts and ends at Turtle Beach (also known as West Beach or Buck Island Beach), the prime liming spot along the west coast of the island. From here, you can either hike to the east along Buck Island's southern shores, or head north.
For my part, I opted for the southern route, a decision that instantly rewarded me with some sweet seascape views.
Setting Out Along the South Shore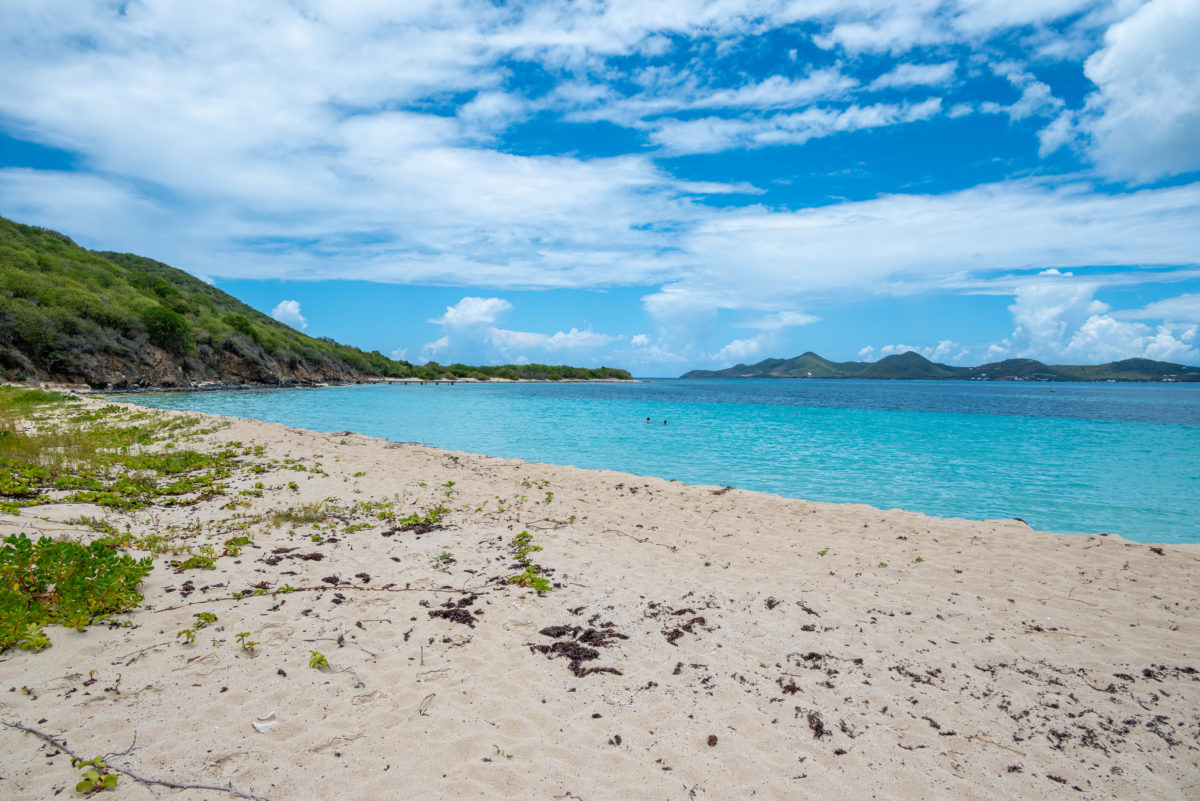 Before too long, the broad expanse of brilliant white sand that is Turtle Beach gives way to rocks. There's very little open space here separating sheer rock walls with the surf. So yeah, tread carefully and prepare to get a little wet.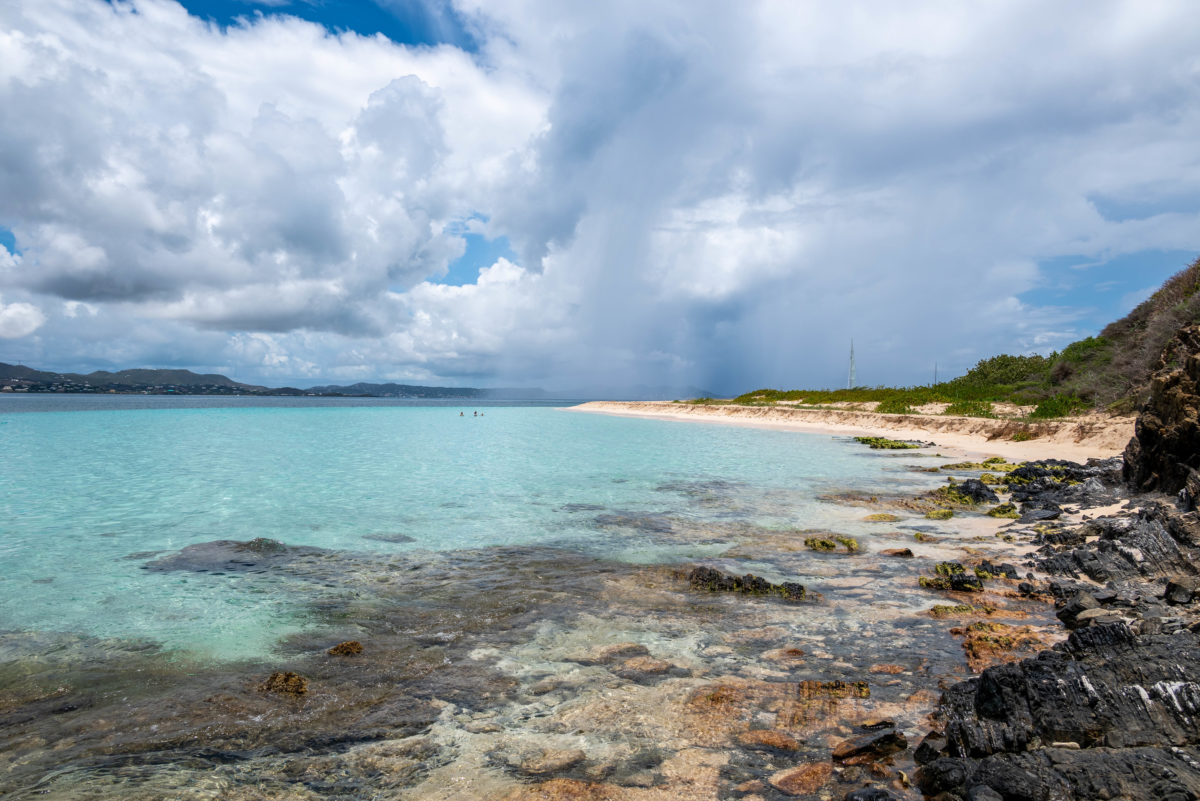 It's a tiny bit treacherous, especially for those who aren't so steady on their feet. Views of the East End of St Croix, though, make this somewhat wonky bit of Buck Island hiking worth it.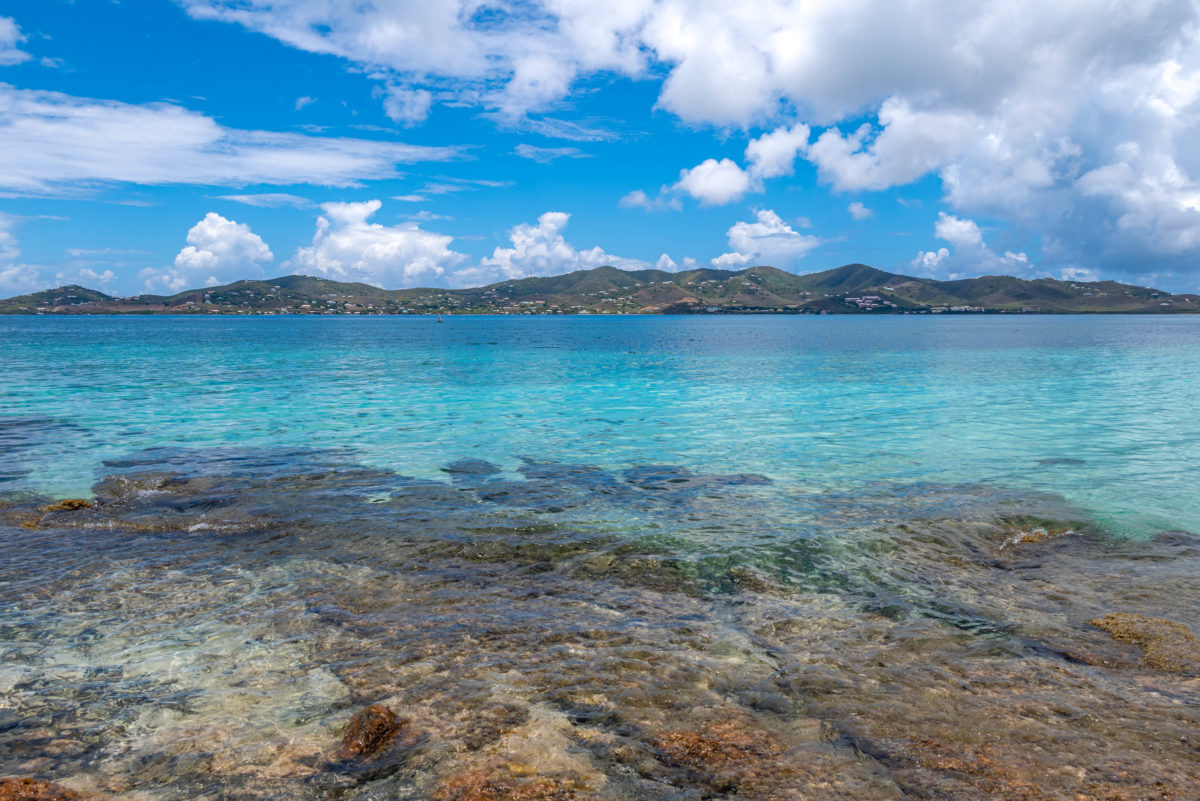 A bit further on brings you to Diedrichs Point and a jetty that most visitors to Buck Island never get to see up-close.
Posted signs indicate that the pier is closed to public use. National Park Service personnel, though, use it, so I'm guessing that the this STX is probably off-limits for reasons similar to the ones stopping the fun at the Frederiksted Pier?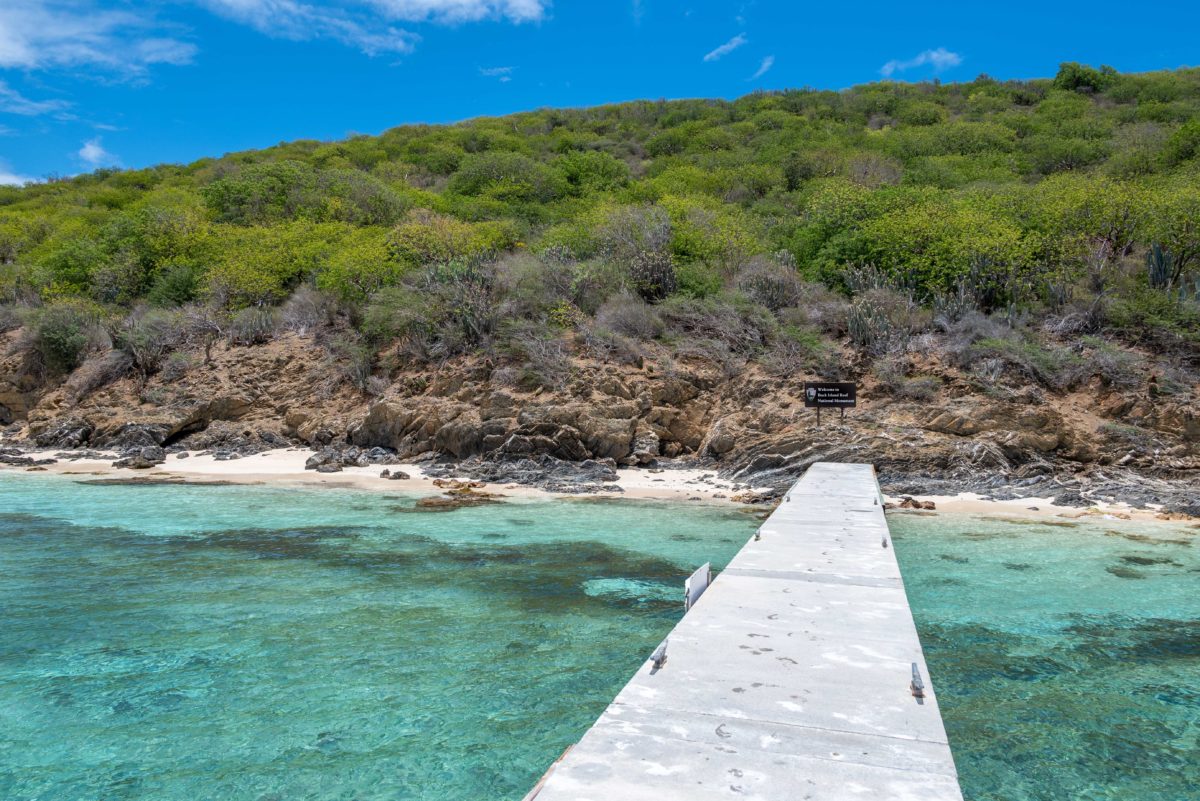 Either way, the "Welcome to Buck Island Reef National Monument" sign at the end of the pier carries a good bit of irony. You know, since technically no one is actually allowed to come ashore here.
Anyway, back to the Buck Island hiking.
From the pier, the shoreline flattens out a bit.
In short order, you'll find yourself at a welcome center/picnic area just a few feet up from the shore line.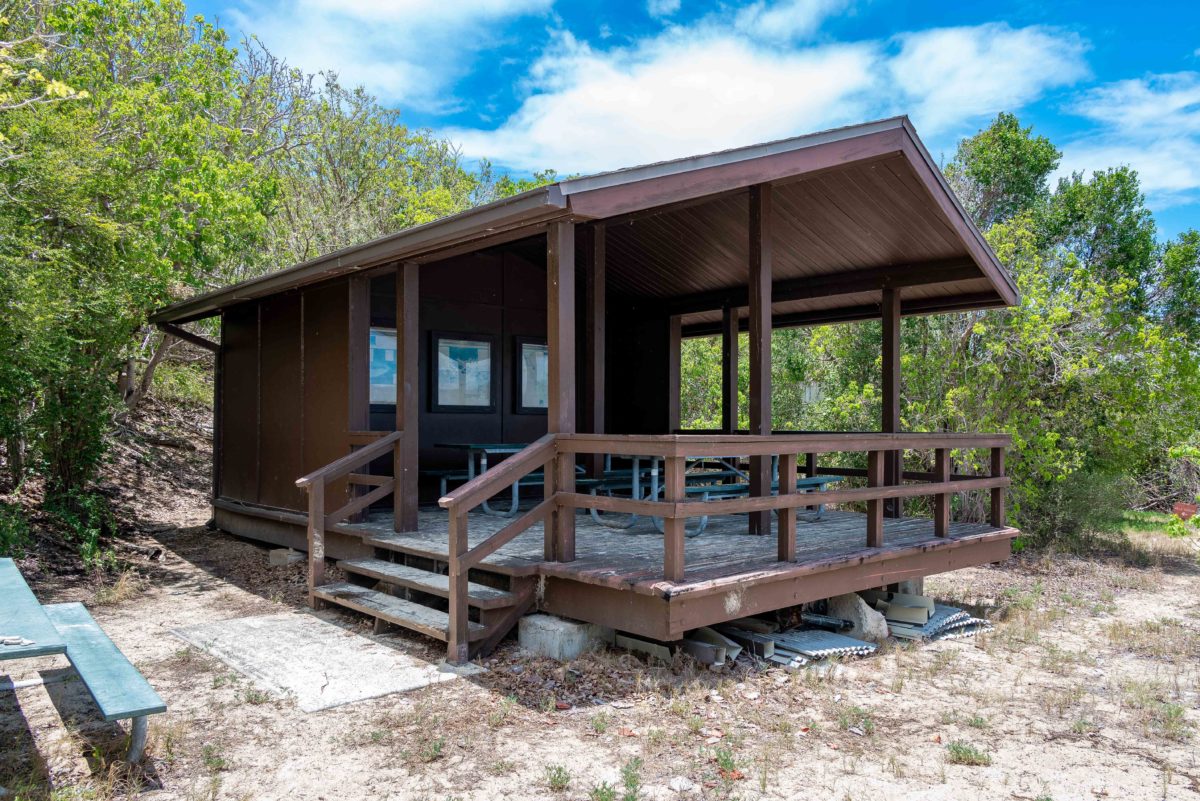 Information sheets and maps tucked safely behind plexiglass provide some background details on Buck Island, its undersea wonders, flora, and fauna. It's all pretty interesting, though it likely won't hold your attention very long. After all, your Buck Island hiking adventure is really just getting started.
Uphill…Fast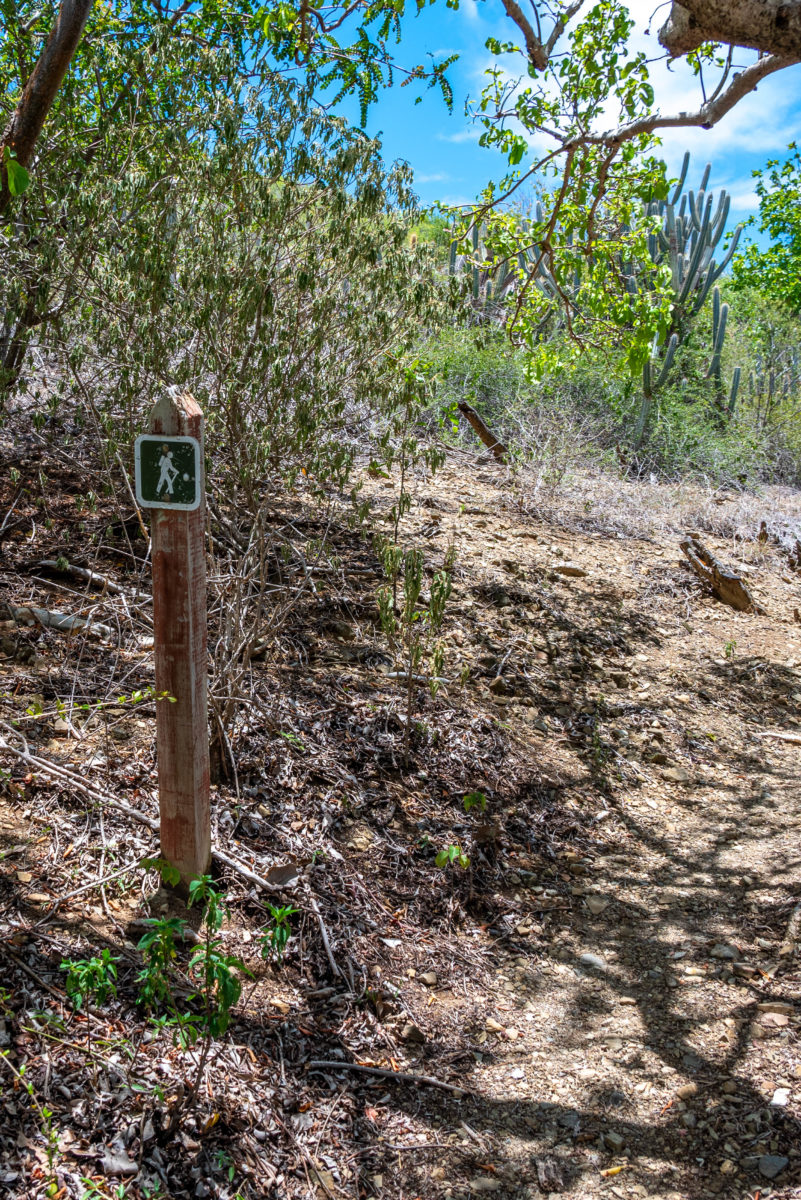 Indeed, the trail proper starts right here. Not only that, it snakes uphill rather steeply, rather quickly.
You'll note that there's not much shade to be enjoyed here either. Yeah, a big hat, lots of sunscreen, and a good amount of drinking water are highly recommended for this trek.
Any hardships you might endure along the early uphill ascent, though, are certainly tempered by increasingly incredible views.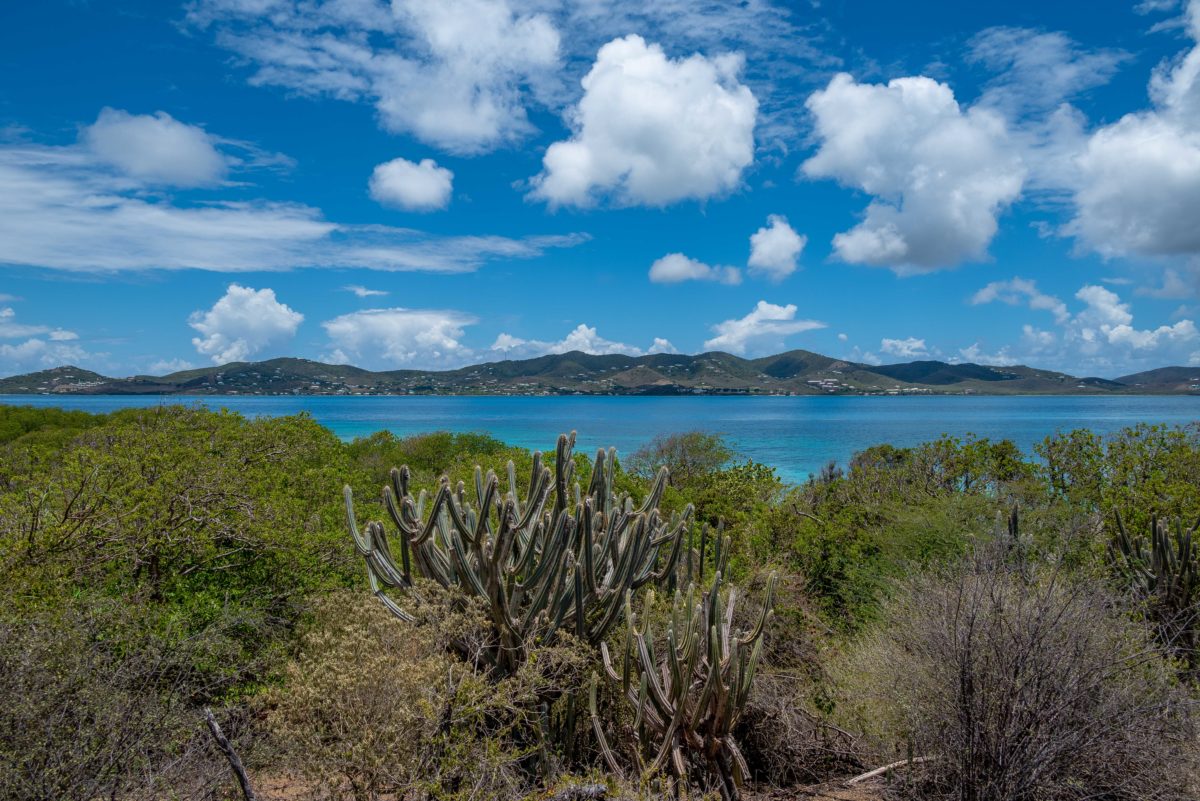 For me, views like this were particularly gratifying; heartwarming. I'd never seen my home island quite like this before. Doing so now, so many years later and after so many visits to Buck Island, made this early portion of the hike extra special.
Anyway, on we trekked ever higher, meeting a few tiny friends along the way.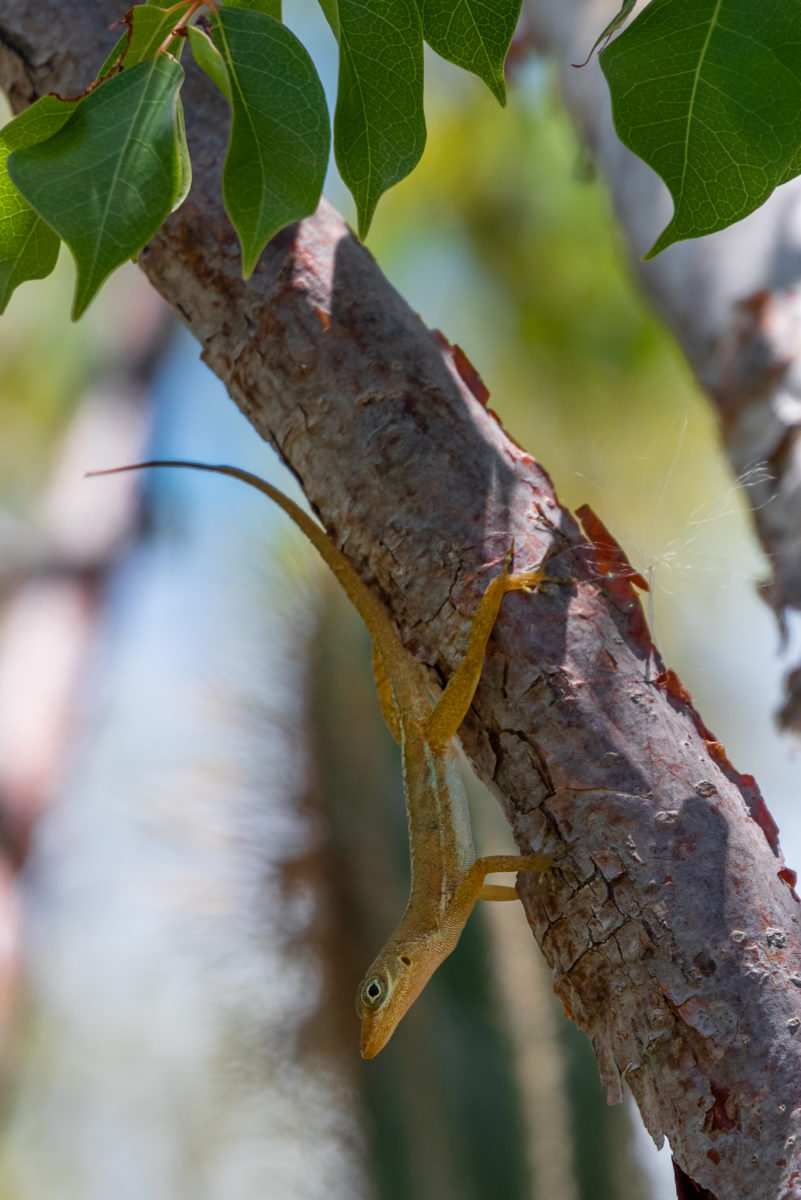 Finally, we arrived at the summit, 328 feet above sea level.
Buck Island Hiking Payoff
While St Croix was under Danish rule in the 1700s, a signal station was established up here. Today, though, you'll only find this observation deck.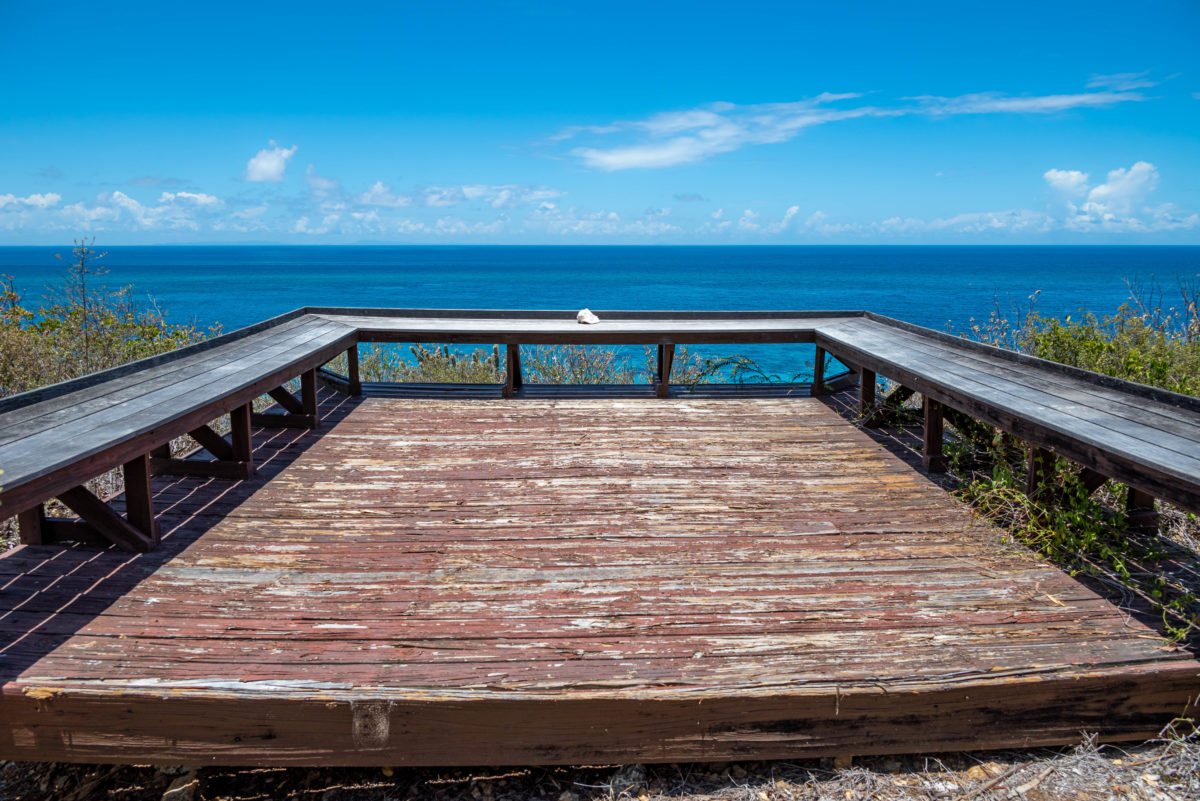 Editor's note: Actually, you'll find a much newer, nicer observation deck these days. This old one, damaged during Hurricane Maria (2017) was replaced in May 2022.
Though the Buck Island Observation Deck marks the halfway point of the trail, this spot provides the true payoff of the journey. Views on offer here of the north side of Buck Island and its virgin reefs are simply incredible.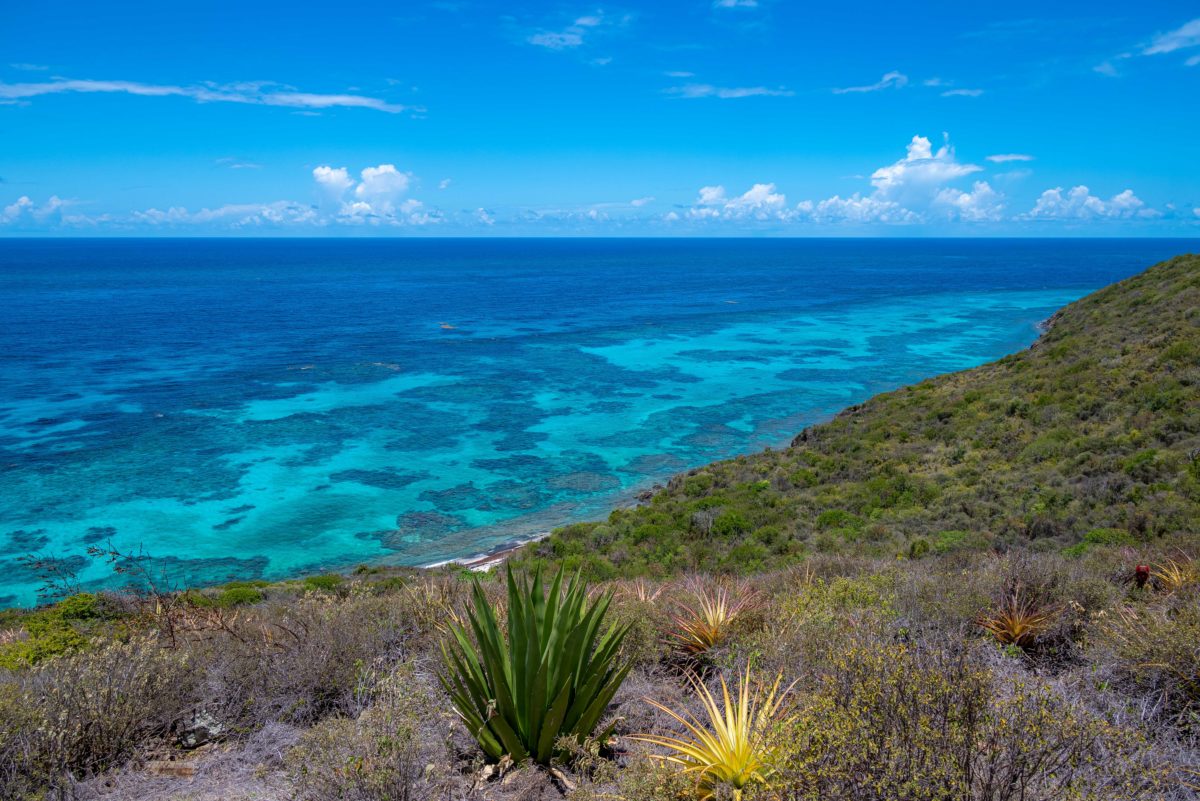 And as an added bonus, you can even see St Thomas, St John, Tortola, Culebra, and Vieques from here on a clear day. To be sure, these rare views are well worth the effort.
So too, though, is the gentle trek back downhill.
Shaded, Spiritual Downhill Trek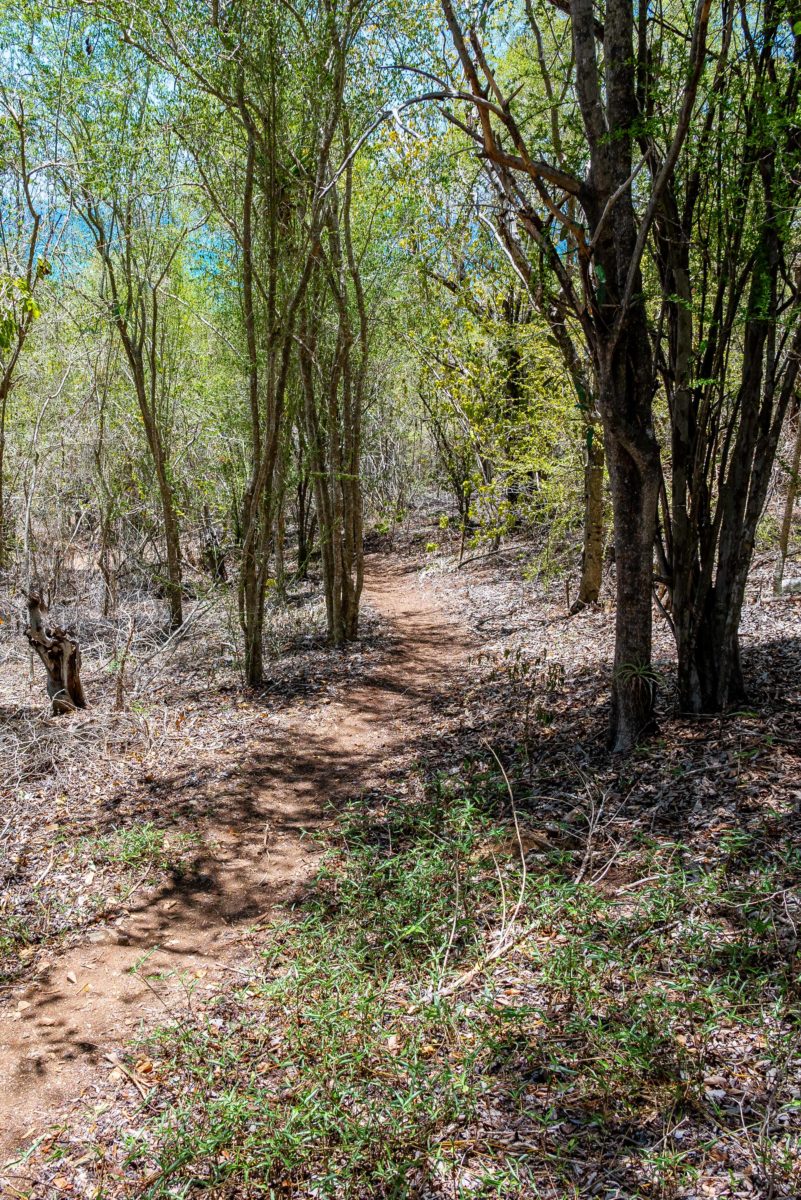 Here, as you can see, the path is pretty well shaded. A sweet bit of breeze whisks through the trees as small birds dart about singing as though to herald your descent.
For me, there was also somewhat of a mystical quality to this portion of my Buck Island hiking adventure. Something about the way the wind and the trees combined created whispers as they cooled me off. It reminded me of accounts I'd read of the enslaved Africans that were forced to work here raping the island of virtually all of its native trees hundreds of years ago.
As well, two slave ships are known to have run aground in the reefs off the north coast of Buck Island in the late-1700s and early 1800s.
My loose familiarity with the histories no doubt fueled my imagination. If you walk slowly and quietly here, though, maybe you can channel some of this spirituality too.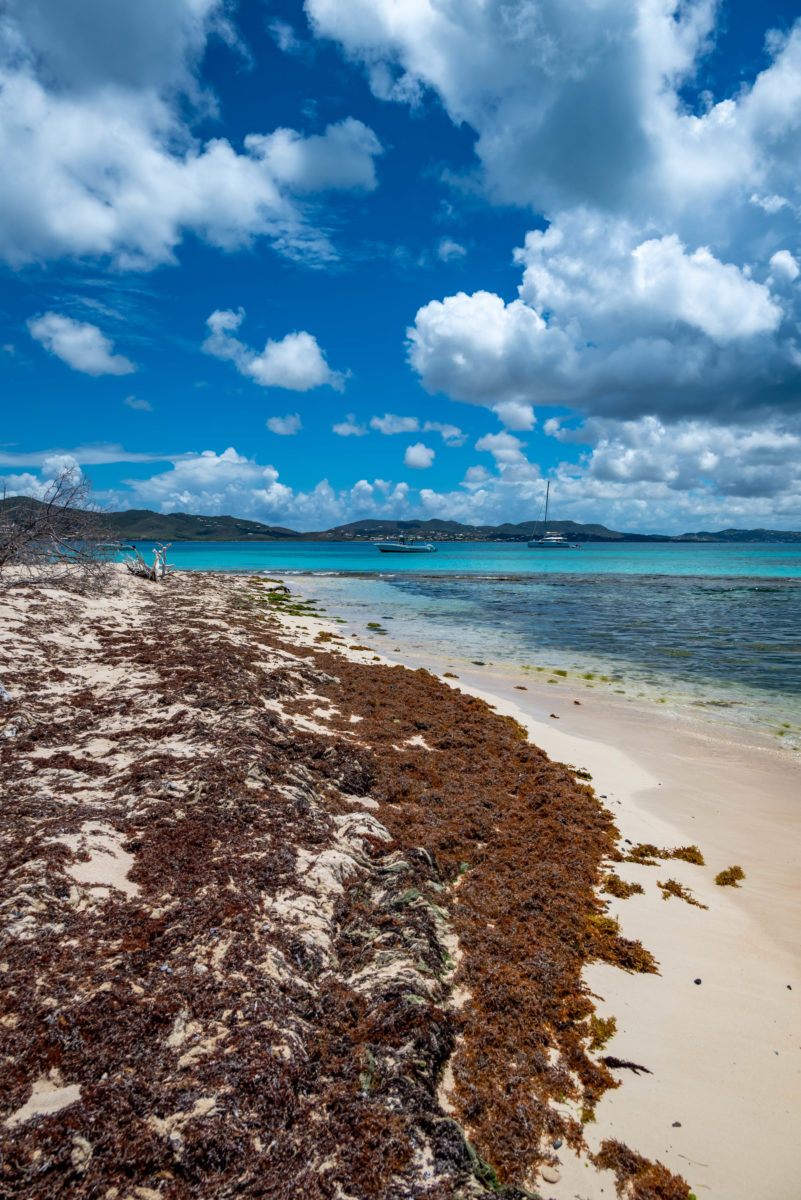 Emerging from the trees, we soon found ourselves walking along the shore line again. This time, though, our path took us west along Buck Island's untamed north shore back toward Turtle Beach, and eventually, away from Buck Island.
Truly an adventure to remember, and one that I can't wait to do again.
Buck Island Hiking Quick Facts + Tips
As noted above, the Buck Island Hiking Trail (also known as Diedrichs Trail) is a loop. The full route extends just 1.8 miles, though it's fairly steep on the way up. You'll want to allot yourself a minimum of 45 minutes for this adventure; a bit longer if you're keen on birdwatching or catching vibes along the more shaded portion of the trail on the north side.
Definitely do wear comfortable, sturdy shoes (sneakers are fine) to account for the rocky portions of the trail. Long pants and/or long sleeves aren't really necessary as the path is well maintained and kept clear of overgrowth.
Sunscreen (the reef-safe variety, please), hats, and drinking water are musts, as also noted above.
Another must: leave Buck Island, and anything that you might find along the trail, just as you find it. (This excludes trash, of course.) The entirety of Buck Island is a protected area. That means taking anything from here – rocks, plants, shells, etc. – is strictly prohibited.
Getting to Buck Island
The only way to get to Buck Island is by boat. As we covered before there are several very good boat charter operators in St Croix for travelers to choose from. Our absolute top choice, though, is our old friend Captain Carl Punzenberger of Buck Island Charters. Not only does Captain Carl offer one of the last all-sail excursions to Buck Island, but he also does it with a cool and smooth laid back style impossible to resist.
To book your next Buck Island escape with Captain Carl, be sure to check out Buck Island Charters online. And when you do, be sure to tell them that Uncommon Caribbean sent you!
Related Posts