Another Year Older, Another Opportunity to Say Thank You
Lately I've been noticing an annual and unwelcome aspect of my birthday. It's a malaise that descends a week or two before the big day during which I catch myself dwelling on whether I made the most out of the preceding 12 months.
Was progress made? In business? In family? In matters of personal growth?
I only have one life… Did I do enough?
I beat myself up over, and over, and over again. To the point that I can't sleep; waking up every night around 3 or 4 AM to just stare at the ceiling…
Well, as I lay awake this morning at 4 AM, I realized this year is different.
In the past 12 months Steve and I have certainly grown Uncommon Caribbean. We now reach over 550,000 amazing travelers like you every month! That's over half-a-million people a month touched by the idea that there's so much more to experience throughout the West Indies than what the mainstream media have seen fit to share—that our region's culture, islands, heritage, and people are richly diverse.
In the past 12 months I've taught my son Trinidad to swim (without floats!) and to ride a bike (although with training wheels). We caught our first tiny fish together. We got close to huge humpbacks while whale watching. We went 140 feet below the waves encased in a submarine. We communed with wild Bajan monkeys, and explored magical caves.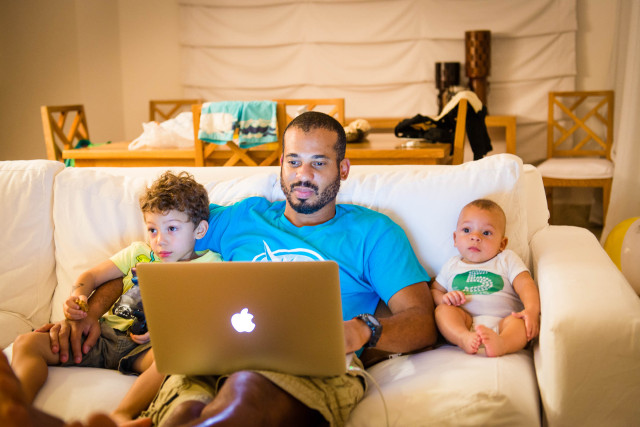 In the past 12 months a mini new member joined the family: my second son, Kingston. Coming into my world just over a month into this past year, he went from adorable, helpless bundle of joy to willful, speed crawler and dedicated sand eater! (Yeah, I've got some work to do on that last one…)
In the past 12 months I somehow still managed to spend time on the shores of Great Exuma, Little Exuma, Staniel Cay, Bitter Guana Cay, Black Point, Trinidad, Antigua (twice), Barbados (twice), The Dominican Republic (three times), and New Providence in The Bahamas a whopping five times. Arguably some of the most beautiful destinations anywhere.
It wasn't always great.
In the past 12 months close friends have struggled with health issues. The trip to Trinidad was the result of a tragic death in our family. And I can probably count on one hand the number of days I've spent without countless unfinished (or not even begun) projects, hopes, and/or dreams looming in the background.
But all-in-all during the past 12 months, I've had… Well, I've had one of the best years of my life.
And I hope you don't mind me taking this space to say "Thank you."
So much of what's been so amazing these past 12 months is thanks to you, our readers.
I appreciate you letting us into your lives everyday. I value every second and hope we add a little warmth to your routine, a little inspiration to escape in your own way, and a little help planning your next adventure.
There couldn't possibly be a better birthday gift than the one you've already given.
Again, thank you, so very much.
Related Posts