Banana Bread Recipe Redux – Perfected For Mom
Welcome back to Recipe Redux, the occasional UC department where we try our hand at making dishes shared previously on our site. In this edition, I revisit the banana bread recipe printed in the famed Naparima Girls' High School Cookbook. I bake this dessert treat frequently for my family and friends, most of whom feel I've perfected it! Read on to see how I did it, and discover why my mastery of banana bread means so much to me…
My mother was a magician in the kitchen. Recipes, measurements, and other constraints of cooking mattered little to her. She had an innate ability to add just the right amount of this or that at the time most optimal to maximize flavor. To see her in the kitchen was to watch an artist at work. The enticing smells of whatever she was crafting further confirmed her culinary genius. In a word, as a chef, my mom was incredible.
In another word, to your storyteller, then a young boy keen on learning her culinary tricks, Mom was intimidating.
I mean, she never looked at recipes, yet always knew exactly what ingredients to add, when, and at what amounts. How, I remember thinking, would I ever live up to that?!
You might also like: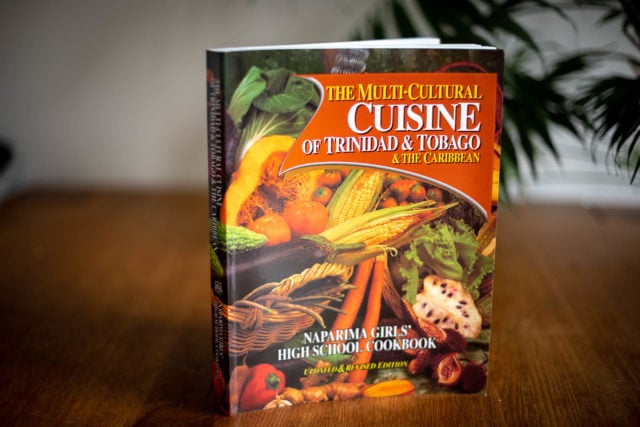 Naparima Girls' High School Cookbook *BEST PRICE*
The Naparima Girls' Cookbook is the ultimate tome of Caribbean cooking that deserves a place of honor in Caribbean kitchens everywhere.
My First Try At Baking Banana Bread
Fast forward to six years ago and my very first attempt at making the banana bread recipe from the Bible of West Indian cooking, the Naparima Girls' High School Cookbook. Those who recall my post documenting that initial effort will remember that it didn't turn out perfectly. Mistakes were made, though I frequently referred to the recipe. One photo in the post even shows the cookbook open at page 187, the recipe clearly outlined for me to follow.
Mom may have been proud at the effort, but not the result.
Ever since that first semi-failed attempt I've made a mission of not only perfecting the recipe, but baking it like Mom – no peeking at the recipe.
Many, many attempts (some semi-failed) later, and yeah… SUCCESS!!
My Perfect Banana Bread Recipe
So, what's my secret? What changes did I make to the original Naparima Girls' recipe?
Answer: None.
Okay sure, I added chocolate chips. If you're a chocolate lover like me, this is an essential add! (Note: I always try to opt for 100% real chocolate mini semi-sweet morsels. Larger chips tend to dominate the banana flavor too much for me.)
I also found a sweet spot for banana spoilage. The rich banana flavor I like tends to shine through most when using bananas that aren't quite overripe. If the skin is pure black, to me, it's too far.
Those special touches are nice, but they don't measure up to the real key element that makes any cooking great: trial and error.
Like Mom used to tell me back when little boy me wasn't quite ready to learn, all I had to do was keep trying.
You'll get it.
Thanks, Mom… I finally did!
Carrying On Mom's Legacy
I have kids of my own now. Identical twin boys, age 16. I was the same age when my mom passed away.
My guys show occasional interest in my culinary adventures. As with most teenagers, though, it's often a chore getting them to help in the kitchen.
Things are easier, though, when I'm baking banana bread. Nothing I make gets them more excited, a plus that generally yields some of the same parent–son bonding moments I used to have with my mom. The latest of these occurred a few weeks ago.
My son, Jacob, studies Sports Broadcasting in high school. Current quarantine conditions not only afforded him some time to help me bake up my last batch of banana bread, he also got to put his budding filming and editing skills to use in documenting my technique. Check it out…
Not bad for his first contribution to Uncommon Caribbean, right..?
This time, I'm sure, Mom/Grandma would've been very proud.
For the full Naparima Girls' banana bread recipe, be sure to check out my post documenting my initial semi-failed attempt. Or better yet, visit our online store and order your very own copy of the updated and revised edition of the Naparima Girls' High School Cookbook today!
Related Posts