Browning Sauce Makes Everything Better — Easily
Few are the secret ingredients more essential to creating that uniquely West Indian flavor we all know and love than simple browning sauce. Even if you've enjoyed Caribbean food your whole life, it's entirely possible you've never heard of this stuff, so understated and surreptitious are its magical methods.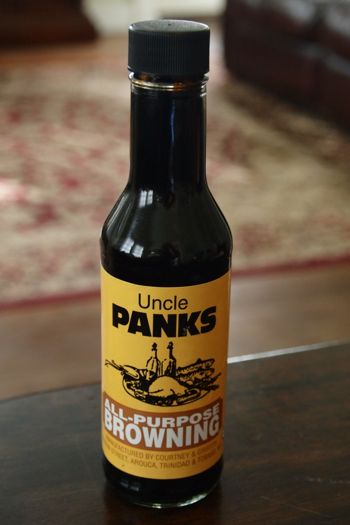 A bottle of browning sauce
The proverbial straw that stirs the drink of so many island favorites (oxtail stew, peas and rice, stew chicken, stew beef, even black cake)browning is absolutely essential in any West Indian kitchen. And yet, you won't find a bottle of it like this in many of them.
This is Uncle Panks All-Purpose Browning from Trinidad & Tobago. As you can see front and center on the label, it's good for adding Caribbean flavor to seafood, poultry, beef (not pictured) and just about anything else.
It's good stuff, or so says my sister-in-law, Kathleen, who used this very same bottle in making the fantastic Black Cake I received this past Christmas.
If you can't find yourself in Trinidad any time soon, Grace's Jamaican Browning Sauce is easy to get your hands on.
So, why won't you find this in the kitchen cupboards of many households throughout the Caribbean?
DIY browning sauce
Well, truth is, browning sauce is just so easy to make that it almost seems more trouble to buy it than to mix up a batch of your own.
The proof is in the paltry list of ingredients featured right on the bottle of Panks. It's just caramel color and water. That's it!
I hear your doubts: how could something so simple add so much goodness to so many different dishes?
I know it's hard to believe, but it's true! It's also true that there's more to most homemade browning sauces than the Panks label implies.
What is browning sauce?
At its core, browning is really just burnt sugar. Burnt brown sugar, actually. My Dad taught me how to make it years ago to add extra color and sweetness to the beef cubes I usually like to include in my red beans and rice.
Browning sauce recipe made easy
Basically, you just pour a tablespoon or two of cooking oil in your pot. Then mix in a couple of tablespoons of brown sugar. Heat it up until the mix starts to caramelize and smoke a bit. Congratulations, you've made browning sauce!
For my beef cubes, I next add the beef to my browning and sautéing them. Along the way, the Browning adds a deep dark-brown color and a wonderfully smoky, molasses-like scent.
It's a kitchen bouquet that transports most anyone who grew up in a West Indian household right back to their mother's kitchen. Visitors to the region may also be reminded of an authentic island restaurant or a visit to a local friend's home.
Either way, it's hard to add a more authentically West Indian dimension to almost anything you're cooking… and best of all, it couldn't be any easier to make!
Related Posts