Caribbean Travel Packing list 2019: The Ultimate Checklist
The Caribbean travel packing list; this most essential of pre-travel checklists is something that I've been working on for years.
As you'd expect, we travel a lot around here. Sometimes, we travel with little or no notice. And sometimes, we return home only to turn around and hop on a plane to some other tropical destination mere hours later.
Tough life, I know.
But while the actual travel may sound like fun, not having the items we need when we land is not. To bring you all the content we create, we need to smoothly transition from capturing photos, to exploring caves, to sailing, back to land for sampling rums, and more without missing a beat. And that takes planning.
So, over the years I've honed my Caribbean packing list into a master checklist that allows me to get my checked bags or carry-on from empty to perfectly outfitted in around 15 minutes flat.
Now, to help you do the same when packing for a Caribbean adventure, I present my ultimate packing list! Be sure to read all the way to the end for a bonus item that may just change your life—no matter where your travels may take you!
OK, while this one may seem like a no brainer, it's not. In fact, this item is a recent addition to my list!
Sure, I've been traveling with our blue Uncommon Caribbean logo t-shirt for years, but recently we added this new grey shirt. The reason? It's insanely soft. I mean, like your-favorite-shirt-for-years-and-years soft.
I now exclusively fly in these t-shirts since they resist the funk some shirts can pick up from you sitting around on a plane for hours. Plus they feel light and comfy when I step out into the West Indian heat. I highly recommend you give one of these a try for yourself. You won't believe how buttery soft they are.
The right shorts are essential for any Caribbean travel adventure and these Helly Hansen shorts are more than up for the challenge.
For one, as the name states, they dry quickly. Splashed from a wave, surprise rain shower, or spilled rum? No problem.
And secondly, they look great. The cut is fairly athletic and the zippers on all the pockets mean you won't have to worry about keys, wallets, or cell phones falling out in a random rum shack.


Sometimes, I mainly focus on function without stressing fashion. That's the case with my Quiksilver Board Shorts. I'm not looking for crazy patterns. I just want shorts that have a good cut, fit well, and look good on me whether I'm on the beach, at a beach bar, or leaping off a sailboat.
For all those reasons, these are a solid choice.


I've said it before, and I'll say it again: I hate flip-flops! It's all the flipping and flopping. I want stable shoes that let me climb around ironshore or hike through the bush. All that said, though, often the flip flop is the only way to go—especially when there's a beach involved.
So, for me, my sandals need to not only look decent (which these do), but they also have to bring something more utilitarian to the trip. And with a bottle opener in the sole, these flip-flops become indispensable! You have no idea how many times that opener has saved the day in our travels.


There are a few places where you just gotta wear shoes on your Caribbean adventures. Some that immediately come to mind are flying, hiking, and scrambling over rocky shorelines. For all these moments, my pick is the New Balance Men's 10v1 Minimus Running Shoe.
This shoe is super light and airy. My feet never overheat. They clean up quickly by going from mud-covered to presentable in nothing more than a dunk in the water. They're as close as they need to be to dedicated water shoes. Plus, they pack up teeny tiny in my bag.


I love the sun, but there are few things I hate more than sunburn. Not only does a sunburn hurt like hell, but you also look like an idiot when you have one! To protect me, while still looking good, I choose the Billabong Loose Fit Rashguard.
The relaxed fit means you can wear it all day without feeling like a tightly wrapped sausage. And if it's comfortable, you wear it. If it isn't, you don't—and suffer the consequences.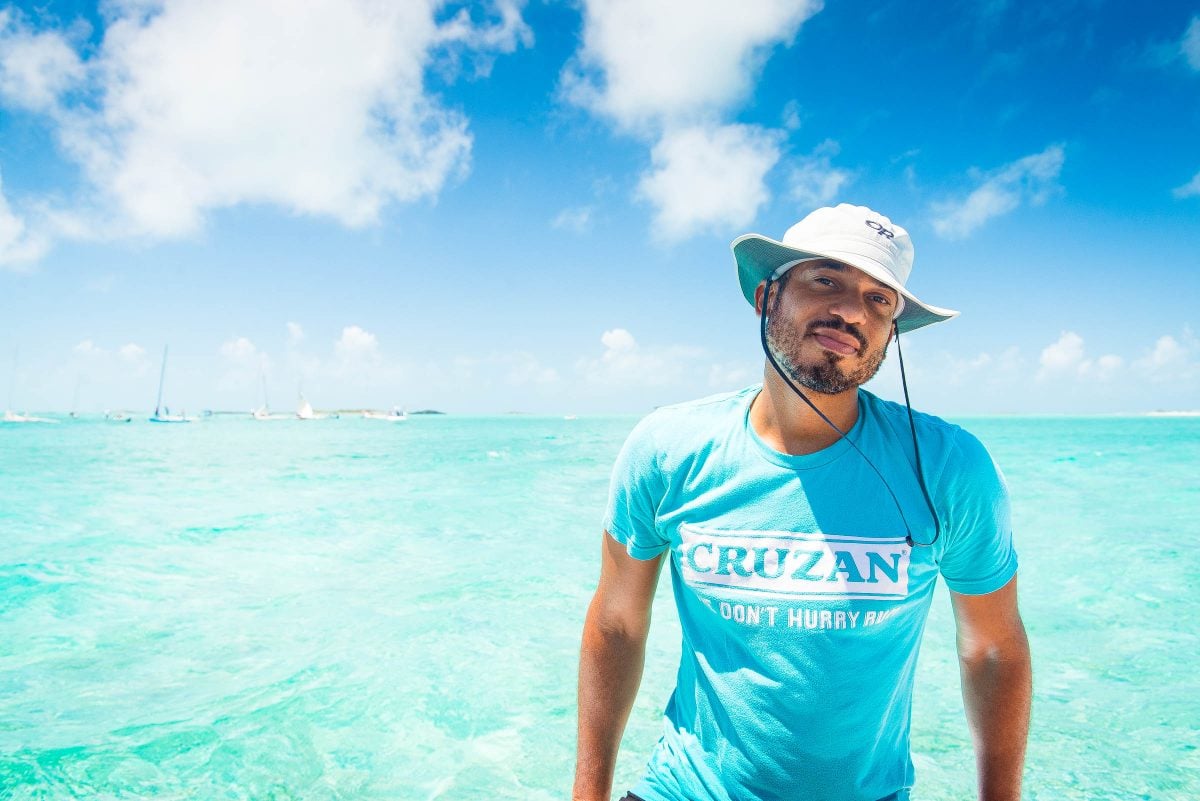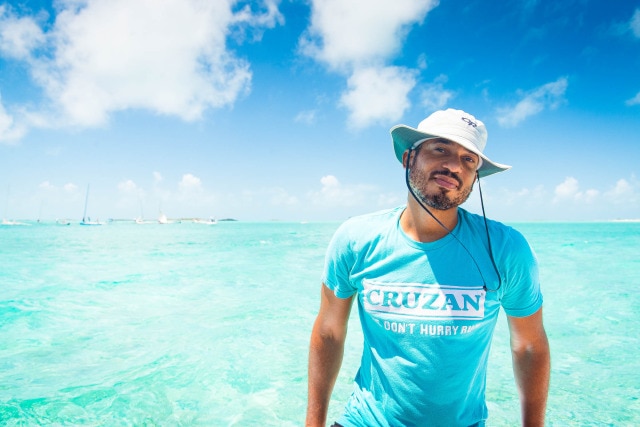 If you follow this site, you've seen this hat. I've been wearing it for 10 years! In all that time, I'm still only on my second one! I cannot stress how essential the Outdoor Research Helios Sun Hat is to my Caribbean travels.
I call it my "adventure hat" because once I slap it on my head, I know I can do anything. It'll protect my whole head from the sun and the drawstring on the bottom means it stays on even when I'm sailing in 20-knot winds. (When I'm not in windy conditions, I tuck the drawstring into the hat so it doesn't hang down.)


While we're on the topic of sun protection, it'd be unwise to travel to the Caribbean without sunscreen. But you wouldn't want to leave the pristine waters of the West Indies worse off than how you found them, right? Then it makes sense to choose reef safe sunscreen.
To make sure you don't become extra crispy and our reefs remain for generations to enjoy, try Australian Gold Botanical Sunscreen. I've found that it rubs in well (even on my color skin), stays on for quite a long time, and protects as well as you'd expect.


This may be as surprising as my total distaste for flip-flops, but I'm also not a huge fan of sunglasses. I'm not 100% sure why. I just prefer to have my eyes uncovered whenever I can.
Another issue with sunglasses is that I lose them. A lot. Left in bars, rental cars, hotel rooms, and more—I've lost more sunglasses than I care to remember.
That's why I love Shady Rays. They're good looking in that classic sort of way, plus they're inexpensive. But notice I didn't say "cheap." Nope, their Signature Series feels solid on your face and the polarization on the lenses slices through the Caribbean glare like a machete through bush.


I swim. In the ocean. So, I need goggles. Like my board shorts, my goggles are essential, but not overly engineered. These Speedo Vanquisher Goggles are perfect without being anything fancy.


This is one of those items most unseasoned Caribbean travelers forget: a rain jacket. People, the Caribbean is full of rain forests. Why? It rains! In fact, it rains quite a bit.
To make sure anything from a tropical wave to a light sun shower doesn't put a damper on your Caribbean travels, you should always pack a rain jacket.
For me, it's gotta be the Gill Marina Jacket. It's feather light, packs up small, and with the bright colors I'm liable to be found if I ever fall overboard!


Should you end up getting wet anyway, it pays to pack your own travel towel. Sure, your villa, hotel, cottage, whatever may come with beach towels to carry with you on your adventures, but they're usually bulky. Too bulky to take with on a hike, or canyoning, or practically anywhere else off-the-beaten-path.
For that, you need the Rainleaf Microfiber Towel. Again, it folds up into a tiny package perfect for your suitcase or backpack. That means it's there when you need it without weighing you down.


Mugsy Jeans – Studio Blues
One thing that some people also don't consider when traveling to the Caribbean is that we're a pretty conservative culture. Most people don't wear shorts going about their daily business and they certainly don't wear shorts when going out at night. In fact, many of the destinations with a British influence will not seat guests at dinner should they arrive in shorts and flip-flops.
So, it pays to bring some pants with you. For me, I choose Mugsy Jeans. For one, they look great—the athletic cut is sharp. For another, they're super light which means you don't suffocate when wearing them in the heat. But perhaps more importantly, they're also super soft thanks to a blend of stretchy material.
As a result, they're my go-to travel day pants, but are also excellent for a night out.


Music is life. I can't travel without my tunes. To make sure I can pump my tunes whether I'm at the beach or sipping rum with friends at an off-the-beaten-path roadside stop, I choose the Ultimate Ears BOOM 3.
This tower of power is loud, waterproof, and you can even chain multiple speakers together for bigger fetes!


If you want to pack a little lighter, the Ultimate Ears WONDERBOOM is the way to go. It has a lot of the same features as its bigger brother, but it comes in a considerably smaller package.
With the WONDERBOOM, you can even clip it to your backpack to keep the music going wherever you roam.


Ok, I know I've been saying a lot of the items on this list are essential (they are), but in today's world, with all the electronic devices we bring with us on travels from speakers, to cameras, to phones, to even laptops; you're going to need a recharge at some point while on the go.
The Anker PowerCore+ 26800 PD sports two USB-A ports (your standard USB) and one USB-C. Not only can it fully charge an iPhone X around 10 times, it can also fully recharge my MacBook Pro on the go! This thing is a lifesaver.


OK, let's get into some of the higher end gear I bring with me specifically for capturing all the amazing photography and video that graces our Instagram and site.
For years, I carried around a huge DSLR, specifically the Nikon D750. But I just made the switch to mirrorless cameras. Why? Mostly size.
The new Nikon Z6 weighs around 1.5 lbs while the D750 tops 2 lbs. The dimensions are also smaller.
But most importantly, the images are even better! Right now, all the camera companies are focused on creating great mirrorless cameras. They're putting all their effort into granting them the best autofocus, picture quality, and lenses. So, it's never been a better time to finally make the switch.
It's not cheap, by any means, but if you're interested in capturing great photos and videos, I recommend the Z6.


We've established that I don't like to bring nonessentials and multiple lenses, for me, are nonessential. So, I pack one lens: the 24-70mm. It's the most versatile lens you can find. And I can pretty much get any shot I'm trying to capture with this lens.
Again, not cheap, in any way, but for me, it's perfect. (For a cheaper version, try to 24-70mm f4 S)


Hey, I love my new Nikon and that's exactly why I keep it away from water. For all the wet and wild moments, I still pull out my trusty GoPro. These things do the job and they do it well.


We shoot a fair amount of drone footage around here. To make sure our islands look amazing, I use the DJI Mavic 2 PRO. It packs up tiny, flies like a dream, and the footage is stunning.
Just make sure you look online for any laws governing drones at your next Caribbean destination before you pack this one.


Ok, let's start to put this stuff in bags! For all my camera gear, that means both the Nikon and the drone, I put it all into this Peak Design Camera Cube. It means I have all my equipment in one easy to access place.
It also means that when I don't need to bring all that gear with me, I can just leave one bag behind and not have to worry about unpacking each individual item.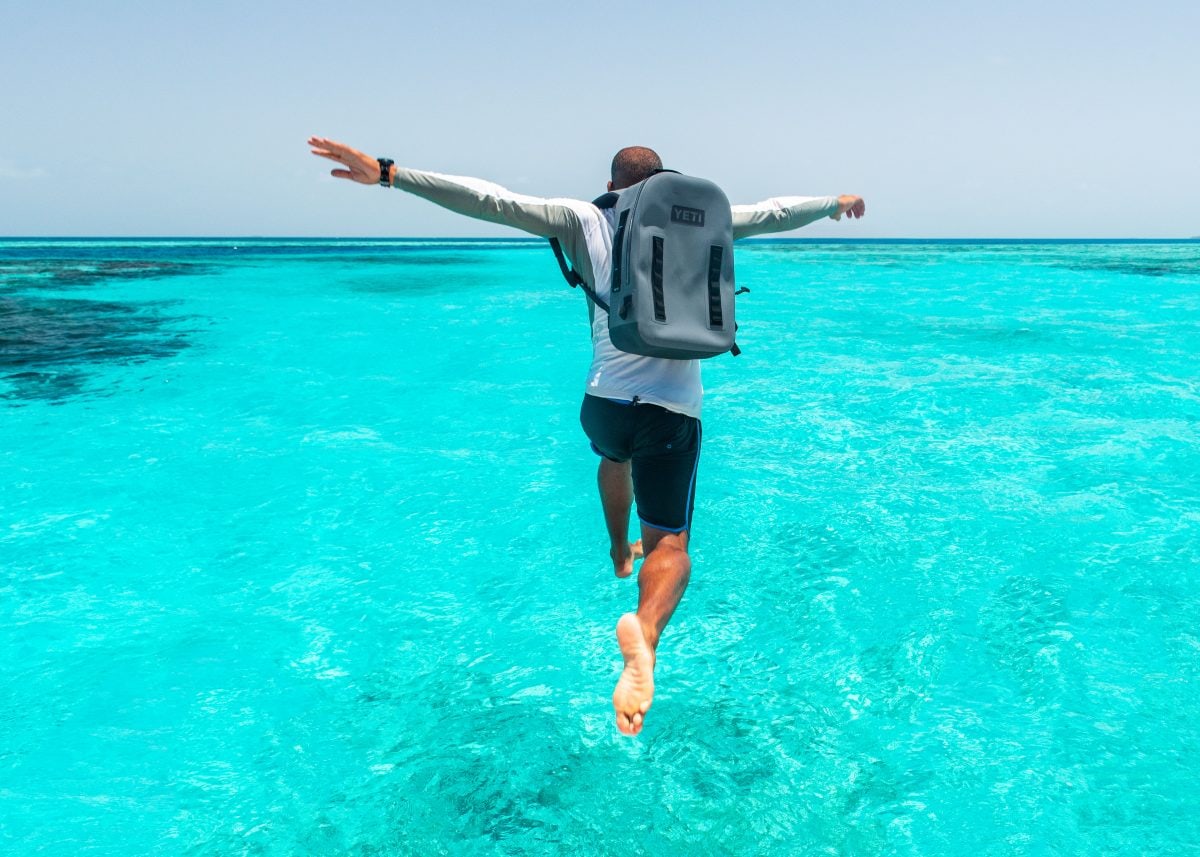 For when I'm on the go, the camera cube, towel, speaker, rain jacket, and any other essentials are packed into my YETI Panga backpack. Everything fits perfectly and, most importantly, everything is protected from the elements.
I've sung the praises of this waterproof bag in the past and it continues to live up to my original glowing review.


Everything else (like clothes, shoes, etc) go in this roller. Not only is it pretty stylish, it's also tough. I've been traveling with one for nearly 10 years! While the shiny part of the shell has picked up some scratches, the rest looks amazing.
As an added bonus, the neon wheels make this bag easy to pick out from the pack on a conveyor belt.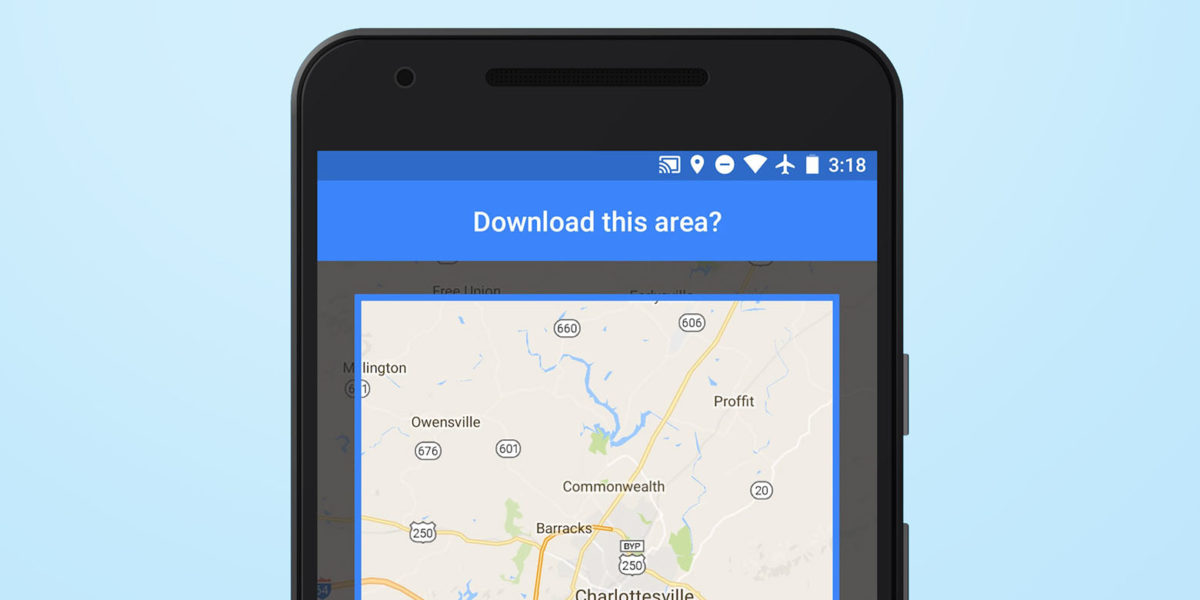 OK, I promised this bonus item on my Caribbean travel packing list could totally change how you travel and it just might.
Did you know you can download maps to your phone to use without any cell service with Google Maps? Well, you can. That means, when you're at a destination, without any cell service, you can still pull out your phone and not only pinpoint your current location, but also get directions to wherever you want to go!
This is the first thing I do when I begin packing. And it's easy to do:
On your iPhone or iPad, open the Google Maps app.
Make sure you're online and signed in to Google Maps.
Search for a place, like Anguilla.
At the bottom, tap the name or address of the place and then tap More.
Select Download offline map and then Download.
That's. It. You now have a fully interactive, offline map of Anguilla for your trip. No data cost. No getting lost. No problem!
Caribbean travel packing list final check
While we're being thorough and checking everything off our Caribbean travel packing list, let's not forget:
Socks (I like these)
Underwear
A button-down shirt or two
Toothpaste
Toothbrush
Deodorant (I wear the scent of adventure! Seriously.)
Face wash (you sweat a lot in the Caribbean, so if your skin is anything like mine, you'll need to keep it clean)
Dramamine (in case you find yourself on a boat and are unsure whether you're prone to sea sickness)
Headphones (I like these)
Your passport!! (Unless you're traveling from the US to the USVI or Puerto Rico, you'll need it.)
So, that's it. My Ultimate Caribbean Travel Packing checklist. I hope it helps ease the anxiety a lot of you might feel when getting ready to go on your next trip.
Happy travels!
Related Posts