Effortlessly Curate Your Own Uncommon Caribbean Travel Experience With Pinterest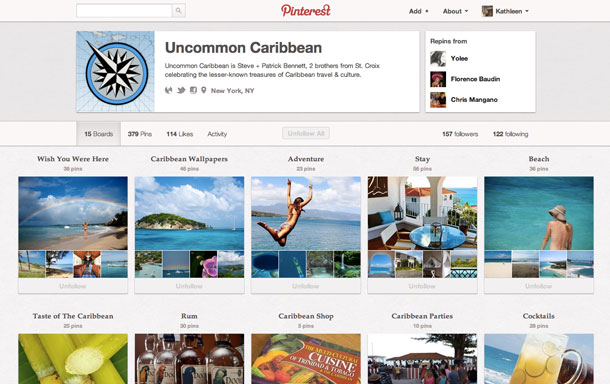 Pinterest may be a young entry into the social networking landscape, but in recent months this fledgling service that lets you "organize and share all the beautiful things you find on the web" has literally exploded with interest and activity. By one report, released a couple days ago, Pinterest is the third most popular social network in the United States, behind only Facebook and Twitter!
Pinterest's success is easy to understand once you take a look at our page on their site. If you've ever wanted a simple, visual way to get your Uncommon Caribbean fix, this is it. You can easily see all our Wish You Were Here photos in one place, or peruse every Caribbean Wallpaper Wednesday entry effortlessly. We've also shared some of our favorite adventure, hotel, beach and Caribbean cuisine photos among other items like those found in the Uncommon Caribbean Shop. But us sharing with you is only the tip of the tropical iceberg!
Pinterest really shines when you use it to organize and plan. 
Say you're thinking about a trip to Barbados. Using Pinterest, you could create a "board" for your trip, then start "pinning" all the things you hope to do when you get there! Of course, you'd add Cottonhouse 2 as the perfect place to stay, plus Tapas Restaurant and Lobster Alive as some key places to dine. And of course, no trip to Barbados, the home of rum, would be complete without sampling some fine spirits, so you'd also want to add some Doorly's, Old Brigand, and falernum, too. All the "pins" you add to your board link through to our posts, so you can always read the complete story.
As you can probably already see, Pinterest can get pretty addicting!
We'll be adding much more of our favorite photography and videos over the coming weeks, so head over to the Uncommon Caribbean corner of Pinterest and join the hundreds of island lovers who already follow us. Also, look for the Pinterest buttons throughout our site to add items to your pinboards.
Happy pinning!
Related Posts