Friday Happy Hour: Rum 101 Classes Aboard Island Windjammers
There are lots of different places you can go to learn about rum. Websites like Ministry of Rum, Got Rum?, and Rob's Rum Guide are good places to start. Informative seminars and special tastings held during annual events like the Miami Rum Renaissance Festival are a natural next step, while the knowledge gained by actually visiting the many rum distilleries around the Caribbean really can't be beat.
For a truly uncommon rum 101 course, though, you'll want to secure a spot in the seagoing schoolhouse pictured above.
This is the S/V Diamant, one of two Old School tall ships included in the Island Windjammers fleet.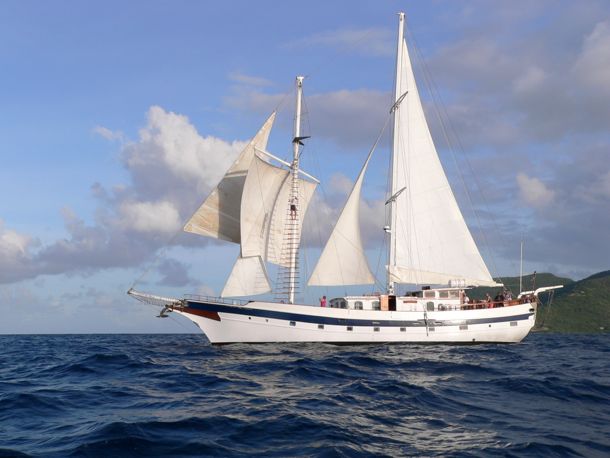 Occupying the happy middle ground between the typical and all-too-touristy traditional cruise vacation and the pricy prospect of chartering a private yacht for yourself, Island Windjammers sailing adventures are intimate experiences that recall the romance of yesteryear across the islands without breaking the bank.
On select sailings each year, they also recall noted rum expert (and our good friend) Dave Russell of RumGallery.com fame to host educational Rum Cruises.
Tall, handsome, and California-cool in every way, Dave couldn't possibly be more tailor-made for the gig. His two main passions are sailing and rum, he's funny, full of good stories, and routinely flashes one of the more genuine smiles you'll ever come across.
Yeah, I think you'll like him just fine.
Dave's also visited more rum distilleries than most people have ever heard of, and is a frequent judge at rum competitions around the world.
Yeah, he really knows his rum.
Over the week-long Rum Cruise itinerary, Dave instructs guests on the history of rum and the various ways in which it's made. You also learn how to mix the perfect rum cocktail, while sampling (lots of sampling!) a wide array of rums – whites, darks, aged, spiced, flavored, and even overproof(!!) – along the way.
The next scheduled Island Windjammers Rum Cruise is slated for November 16-22, 2014 aboard the S/V Sagitta departing from St. Maarten. Solo cabin rates are set at US$1,499, while standard cabins are priced at US$1,799. Rates include daily rum samplings and all other rum-related activities hosted by Dave Russell.
To get in on all the educational rum fun, be sure to visit Island Windjammers online and enroll reserve your cabin today!
Photo credit: Flickr user Lee Coursey.
Related Posts