Green Seasoning: Piquant All-Purpose Taste of the Caribbean
When meat, chicken, or fish are on the menu in most of the Caribbean (when aren't they?), it's a good bet that the green and gooey stuff in the bottles below is being employed to add just the right amount of island spice and flavor. It's called green seasoning, and like kuchela and adobo, it's a staple of many Caribbean kitchens.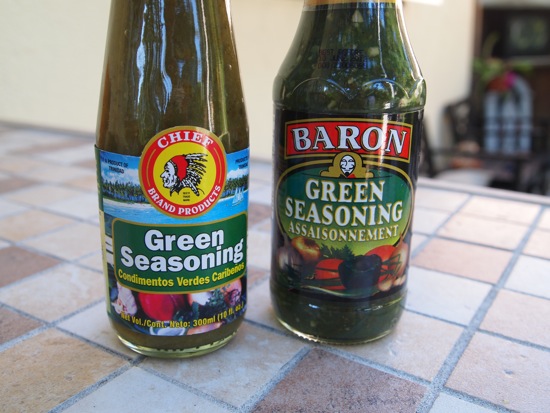 What is green seasoning
Onion, garlic, thyme, bell pepper, salt, and vinegar are among the core ingredients often found in green seasoning. Individual islands, though, combine different herbs and spices in varying amounts to produce wide varieties.
You can see this, to a certain extent, in the photo above. The pea-green very fine blend of the Chief Brand on the left is from Trinidad. It includes papaya, scotch bonnet pepper, and corn starch ingredients not found in the darker green Baron bottle from Saint Lucia on the right. You can also see that the Baron brand is chunkier, with bits of parsley, celery, and onion plainly visible.
I've read that celery is also widely used in Guyana's green seasoning. Barbadian friends tell me that cinnamon is sometimes thrown in the mix as well.
Green seasoning is used in many different ways in Caribbean food. Its magical talents as a marinade for meats, though, are what draw most people to it. A grilled steak soaked overnight in this stuff yields an amazing spicy flavor that will put you right back in the region with one bite. I also like to use it to saute beef cubes that I sometimes add to red beans and rice.
How to make green seasoning
Basically, there are as many different ways to make green seasoning as there are islands in the Caribbean Sea. So, if you can't get your hands on a bottle of Chief or Baron's, you can make your very own by following simple recipes like this one from our friend, Chris, at CaribbeanPot.com.
I particularly like this recipe, and all of Chris's recipes for that matter. He does a great job of suggesting replacements for unique island ingredients not easily found outside of the Caribbean. It's a great resource for West Indians in exile, or anyone keen on bringing Caribbean flavors to wherever they call home.
Bon Appetit!
Related Posts