Lemongrass Tea: A Caribbean Cure That Beats Colds and Flu
When we were kids back in St. Croix and my brothers and I would come down with colds, the flu, or other assorted sicknesses, our Trinidadian Mom would often eschew modern medical science and instead treat us using more natural methods. She wouldn't do this 100% of the time, but common medicines like Tylenol and Pepto-Bismol would more often play a supporting role to whatever concoction she could whip up herself.
Once she had to pick me up from school early because I had a bad cold. On the way home, she stopped to check out some bushes growing wild on the side of the road. I remember her carefully studying a few different plants before finally cutting several strands from one in particular and getting back in the car.
Later, at home, she boiled up that bush, creating a hot drink that she commanded me to drink. I have no idea what bush she used, or what she made, but I wouldn't be surprised if it's the same stuff pictured here that I make today whenever anyone in my house gets sick.
What is lemongrass tea?
It's called lemongrass tea, or fever grass tea, and it's good for all sorts of ailments.
There are more than 50 different varieties of lemongrass, and not all of them offer the same benefits. The most common type is known popularly as West Indian lemongrass, though there are even two different types (Cymbopogon citratus and Cymbopogon citriodora) sharing that same name. Both work similarly, though, so you should be good to make the tea if you can get your hands on any lemongrass with "West Indian" in its name.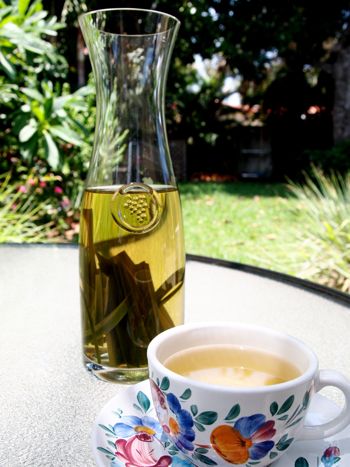 Health benefits of lemongrass tea
So, what are the effects of lemongrass tea? Indigestion, anxiety, skin disorders, coughs, colds, fevers, nasal congestion, decreased blood pressure; this tea is said to fight them all. Some scientists have even found lemongrass to kill cancer!
It all starts with Antioxidant properties. Specifically chlorogenic acid, isoorientin, and swertiajaponin all combine to scavage free radicals throughout the body. This translates into reducing the risk of many diseases, including heart disease and even certain cancers.
Then there's the citral and geranial. These two anti-inflammatory compounds positively impact many aspects of your body. Think benefits protecting your body from heart disease, arthritis, diabetes, lung disease, some autoimmune disorders, and even Alzheimer's disease.
There are also digestive benefits. Studies have shown drinking lemongrass tea to fight off gastric ulcers. And like anything that makes you feel great, there are weight loss implications to a nice cup of lemongrass tea.
How to make lemongrass tea
To make fresh lemongrass tea, fill your kettle and get it boiling. While the water is heating up, cut off three of four young stalks of lemongrass. Clean the stalks with cold water, cut them into manageable lengths, and place 'em in some sort of heat-tolerant container. I usually use a glass bowl or a carafe like the one pictured above.
Once your water reaches a boil, add it to the lemongrass, cover and let steep for at least five minutes. Finally, pour some into your teacup, sweeten to taste with sugar or honey, and enjoy!
Now, you don't have to be sick to take advantage of all that's wonderful about this tea. It has a fantastic lemon-herb scent and provides a calming sensation that settles nerves in a magical way that will get you smiling anytime.
If you can't get your hands on a lemongrass plant to add to your garden, you can buy lemongrass tea bags here.
Enjoy!
Related Posts