Lucozade – The Uncommon Energy Drink that Tastes Great
You know what 2:30 in the afternoon feels like, right? Sleepy? Groggy? Dying for a nap? What do you do? I don't know about you, but the first thing I do is change the channel! (I hate that friggin' commercial). Next, I grab a Lucozade!
Lucozade and the Caribbean
Like Peardrax, which we profiled before, Lucozade is a UK product adopted and fully integrated into the Caribbean cultural milieu over time. The drink was originally conceived in Newcastle to help combat the common cold and flu. At the time, it was known as Glucozade, and only available in hospitals. In 1929, the name was changed to Lucozade, but it wasn't until the early 80's that the drink became known for its sports energy attributes, rather than any medicinal value, thanks to a little marketing magic.
The old slogan, "Lucozade aids recovery" was replaced with "Lucozade replaces lost energy", and all of a sudden young athletes across the Caribbean couldn't get enough of the stuff.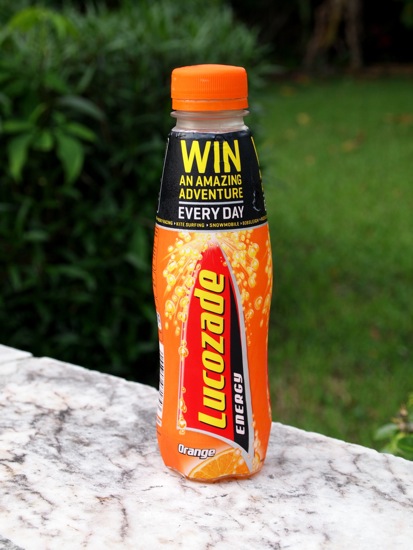 The sweet taste of Lucozade
I was a teenage member of the St. Croix Dolphins Swim Team back at the time of the medical elixir to energy drink switch, and would often pair a cold Lucozade with a PowerBar ahead of 5:30 a.m. swim practices. I still occasionally reach for one today, whether it's 2:30 p.m., 5:30 a.m., or any other time I need a little kick.
Like most energy drinks, the kick in Lucozade comes from sugar… and lots of it. A typical bottle contains 85 grams (21 teaspoons!) of the sweet stuff, which may explain why my teeth got worse as my swimming got better.
Lucozade may have started out as a medicine of sorts, but it sure doesn't taste like one. If you ask me, it tastes great! The orange flavor pictured here is crisp and refreshing with no hint of the horrid medicine-like flavor of most energy drinks on the market today.
Whether you're in the Caribbean for the nightlife, hiking, or any other active vacation pursuit, give Lucozade a try. It may not be good for you, but at least it can help you do more things that are.
Related Posts