German Rum Festival 2011: The First-Annual Celebration in Berlin
When my wife married me, she joined a family that calls the West Indies home. Suddenly, "having to visit home" meant she'd be joining me on trips to Buck Island, to Point Udall, the Jungle Bar and more on St. Croix.
In return, I also gained the pleasure of getting to visit where she's from… the former East Germany.
Yes, my wife grew up behind the Iron Curtain in a small town named Gera, deep in the heart of Thuringia. This time of year, visitors can expect the sun to almost never peek out from behind a dark layer of clouds, an average temperature hovering in the '50s, rain most days, a steady stream of all manner of sausages for breakfast lunch and dinner, plus such adventures as excursions to newly opened tomato farms in nearby Dorfs.
I try not to dwell on the fairness of this deal…
So it was, this past Sunday morning, that I found myself in my mother-in-law's kitchen, in the cold, dark heart of the Fatherland with one thing on my mind: my beloved, warm, bright Caribbean homeland.
Then I remembered an invite we'd recently received from one of our excellent friends and rum connoisseur, Kristina Wolf. A German native herself, she'd invited us to attend this year's German Rum Festival in Berlin as her guests. How could I have forgotten? An auditorium overflowing with sweet, sweet rum was just two hours away!
There and then at breakfast, I announced my need to "get some work done" by making the trip to Berlin. I grabbed my wife, handed my infant son to my mother-in-law and made for the door… Only to return for my screaming child before setting off for the Autobahn.
With Gera in my rearview mirror, giant forests of wind turbines spinning past the windows, and the speedometer pushing 170 k/h, we were in the big city before we knew it. Katrina met us at the door, and we were in.
Rum. Everywhere! One taste was all it took to warm my soul.
The first booth we stopped at was Tres Hombres Rum where we spent some quality time sipping their Dominican Republic sourced rum and chatting with mastermind Andreas Lackner. The rum shares the name Tres Hombres with the company's recently constructed, large sailing vessel. With this modern classic pictured on the bottles, they transport not just the rum, but also chocolate, spices, fruits, cigars and more between Holland, New York, the DR, down to Grenada and back again.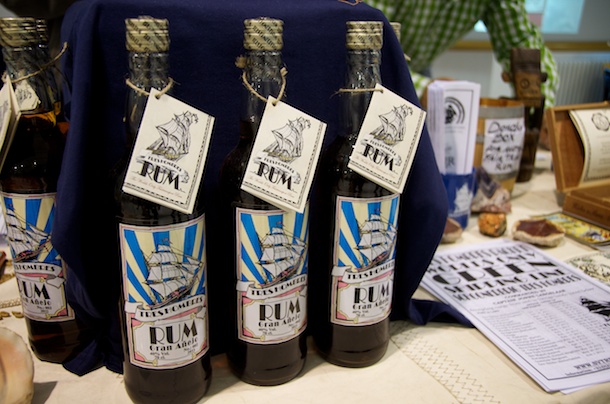 As old-school as you can get, Tres Hombres uses no motor in the transport of their products. A process they call "fair transport." This then earns Tres Hombres Rum the distinction of being "The world's only fair transport rum." Certainly uncommon, but you might be asking, "how does it taste?" Luckily, this is more than just a greenwashing-gimmick. Tres Hombres Rum is the real deal and tastes like the rich smell of a West Indian sun-shower.
Depending on the whims of the weather gods, it takes around six months for Tres Hombres to make the journey from Holland, to the U.S., down through the Caribbean and back again. The best part: there are 10 cabins available for those looking for a truly uncommon Caribbean style journey. Not only can you see Europe, America and the Caribbean as sailors did hundreds of years ago (minus the pirates, of course), but the crew also teach valuable lessons in sailing, navigating, fishing and perhaps most importantly, rum. As tempting as the full six-month journey is, those less inclined to leave everything behind for such an extended period can also sign on for segments of the expedition as well.
With thoughts of again sailing the Caribbean pulling at our heartstrings, we continued deeper into the festival. There we met another good friend: Mike Streeter of RumConnection.com. You couldn't ask for a better partner for enjoying this wide selection of rums. This man is truly a connoisseur and all-around good guy. So, naturally, we joined forces and pressed further into the very well mannered throngs.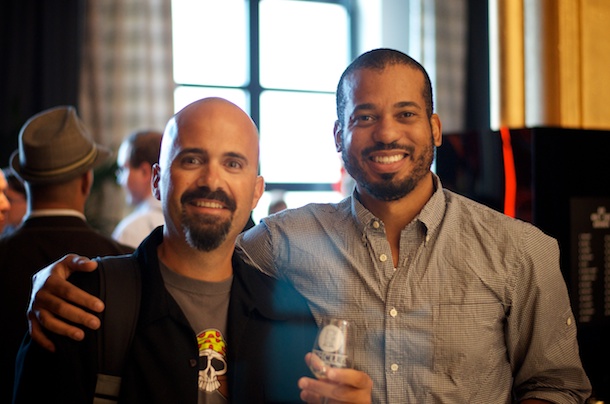 Sidestepping a dancing red pirate and ducking into a romantically lit alcove put us at the Ron Zacapa bar. Here, they featured their new black label, Etiqueta Negra, 23 year-old rum. We lingered, sipped liberally and chatted with the schoene Frau generously dispensing this nectar of the gods.
Then Pampero, Plantation, and familiar faces at Doorly's Bar, the Seales of Barbados R.L. Seale fame. Time for some Foursquare, Sixty Six and reminiscing on Bim. Of course, they'll be hanging with Steve when he visits later this month to judge the Barbados Rum and Beer Festival on-island, but for a moment, I almost felt like I was back in Barbados myself, looking forward to another full day of surfing.
We enjoyed our brief time with the Seales in Barbados so much, we paid the Mount Gay bar a visit next to shoot the breeze with Chester Browne, international man of mystery brand ambassador and mixologist for the world's oldest rum. As he expertly crafted libations for the lucky attendees, we chatted about how receptive Europeans, and Germans, in particular, have been to the pleasures of fine West Indian rum.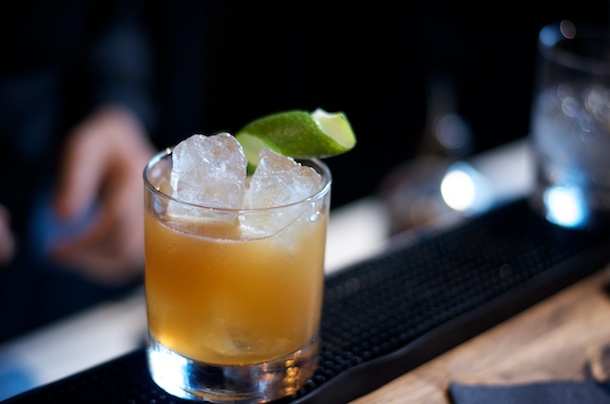 It's an interesting history in this part of the world since Germans have been drinking rums for hundreds of years. Usually, though, these spirits were of fairly low quality and just used as a mixer in hot toddies on cold winter nights, or while out on the slopes. Getting the masses to acknowledge the rich heritage or West Indian rum and its stellar level of quality has been a bit of an uphill battle, but as was evident by the healthy turnout at this year's festival, progress was definitely being made.
We continue on around the bend and what do I see? Pusser's! It's like I just got within a stone's throw of home by paying a quick visit to the British Virgin Islands. From there, we sipped our way through the bars for El Dorado, Angostura, Appleton, and Clement.
Finally, we were at the New Grove Rum bar attended by none other than our good friend Kristina Wolf. As she poured glasses of this fine rum (actually from Mauritius), I poured out my thanks for letting us taste a little lot of my Caribbean home so far away from those sandy shores.
Like all good things, though, our day of island hopping via an extensive list of some of the world's finest rums had to come to an end. On the ride back to Gera, with feelings of the Caribbean dancing in my mind, I just didn't feel like taking advantage of those famously high-speed limits on the autobahn.
Save
Save
Related Posts