Open Caribbean Islands: Where and How Travel Resumes
How are governments, hotels, airlines, restaurants, and more planning to lift travel restrictions and open Caribbean islands for visitors?
As you can imagine, attempting this task safely for both visitors and our friends/family living in the region is extremely complicated. To complicate things a little further for us travelers, different destinations are handling reopening differently.
We checked in on our friends throughout the Caribbean to build this comprehensive guide to open Caribbean islands. We'll continue to update this post as things change.
Open Caribbean Islands similarities across the region
While there are differences, there are also some similarities.
Before even thinking of traveling to many Caribbean destinations, you first need to figure out how to get a COVID-19 test within 48 hours of your flight.
With that certified negative result, you should be in a good position to get into wherever you want. Don't be surprised, though, if you still need to take an additional test upon arrival.
Practically every destination is stepping up cleaning protocols for hotels. Many hotels are also implementing contactless check-ins and additional precautions around dining services, housekeeping, and even personal greetings.
Social distancing and mask requirements are also fairly uniform across all the destinations. It should be noted, though, that such precautions are not mandatory everywhere. For instance, Aruba only encourages face masks.
Also across the board is a focus on keeping cruise ships away. (Can't say that we're too upset about that for various reasons.) Cruise ships won't stay away forever, of course. Let's hope that better oversight of their operations in the Caribbean becomes a silver lining of the pandemic.
Now, on to what we know about the individual destinations.
Antigua and Barbuda is open! (reopened to U.S. travelers June 4th)
Flights from the U.S. to VC Bird International Airport restarted on June 4, 2020. The first flight was via American Airlines out of Miami. Barring any unforeseen issues, flights from New York should begin a month or so after that.
Immediately upon touching down in Antigua, passengers will need to provide proof they've tested negative for the coronavirus.
Other new protocols in Antigua include having hotel employees live on-property to limit exposure to their communities, and mandated breaks for taxi drivers to wash their hands.
The most notable change, though, is that visitors will likely be discouraged from roaming far from their hotels and mingling with locals.
This, of course, impacts how we love to travel here at Uncommon Caribbean, but we're also very focused on keeping our Antiguan friends safe. So, we'll be following up on this point to see how it works in actual practice.
Aruba reopens July 1st… And 10th
Aruba has already reopened its borders with its other neighbors in the Kingdom of the Netherlands, Curacao and Bonaire, as of June 15th, albeit with reduced airlift. Divi Divi Air, EZ Air, and eventually Aruba Airlines will connect the islands four times per week.
As for the rest of the world, there will be a phased reopening. Canada, Europe, and the rest of the Caribbean (excluding the Dominican Republic & Haiti) are welcome July 1st.
Americans will have to wait until July 10th.
American Airlines, Delta Airlines, United Airlines, and JetBlue have all committed to returning to Aruba with a significantly reduced schedule just as soon as the borders open.
Expect new screening measures upon arrival in Aruba as well. Some elements will include a self-health declaration 72 hours prior to travel to Aruba and an "optional" upload of documentation indicating a negative PCR test results 72 hours prior to travel to Aruba.
I say "optional" because if you don't provide a negative PCR test, you'll have to pre-pay for a mandatory test that will be administered upon arrival at the Aruba Airport.
Additionally, all travelers must wear a mask while in-flight to Aruba.
The Bahamas is open… If you have a boat or private plane (reopens July 1st)
The Bahamas have already relaxed certain restrictions on some of the Family Islands or "Out Islands," including Cat Island, Long Island, The Abacos, and Andros.
As of June 15th, The Bahamas have reopened to boaters, yachters, and private planes. Travelers must submit a Travel health form prior to arrival. And a negative PCR test upon arrival. Face masks are also mandatory while traveling.
On July 1st, The Bahamas will open to everyone else but expect many new protocols including things like a moratorium on buffets and reduced capacity at hotels and excursions.
Barbados should open in July
Barbados has been phasing its reopening. Beaches and businesses have reopened with limited times. And thankfully, Barbadians can buy rum again! (I couldn't imagine having to go through all this with a ban on purchasing alcohol.)
As for when the airport will reopen, right now we only know it will remain closed until June 30, 2020. So, will it open in July…? Not sure.
The British Virgin Islands open to you around September 1st
Yes, you read that correctly. The BVIs are taking a cautious approach to reopening which we find commendable. Our people are our greatest natural resource and they deserve protection.
Cayman Islands reopening date uncertain
Here again, is a bit of uncertainty. In mid-May, the tentative date for the Cayman Islands to join the other open Caribbean islands was September 1, 2020. Within weeks, though, that date was said to be "not looking good."
So, when will the Cayman Islands reopen? We'll let you know when we hear more!
Cuba reopens July 7th
American Airlines will resume flights to Havana on July 7, 2020. When you consider that Cuba is home to some of the best medical professionals in the Caribbean, it wouldn't be a bad bet as an initial post-COVID-19 travel destination.
The Dominican Republic is uncertain
The Dominican Republic has been hard hit by the coronavirus. Still, it's moving through its reopening phases.
If those phases go according to plan, hotels, airports, and restaurants will reopen July 1, 2020.
That does not necessarily mean there will be flights, though…
Grenada is already sort of open! (Airports reopen July 1st)
As of May 25, 2020, Grenada is accepting yachts! But, don't think you can just sail into Port Louis, dinghy ashore, grab a rum, and a kick up your heels.
All yachts must be (1) pre-registered, (2) greeted by government officials at a designated dock, (3) subjected to immediate screening protocols, and (4) entered into a mandatory 14-day quarantine.
Grenada Airports Authority Reopening
As for flights, the date is July 1st. As with other destinations, all visitors to Grenada will be screened with the rapid Covid-19 test as part of the arrival process.
Jamaica reopened June 15th
Jamaica is taking an interesting approach to reopening by limiting visitors to a "coronavirus-resilient corridor" along the island's north coast. So, from Negril to Montego Bay to Ocho Rios and on to Port Antonio. And even then, focusing on "all activities within that area just along the main road."
Jamaica Tourism Minister Edmund Bartlett said it "..the most important thing is to be able to trace the visitors and to contain their movement."
Here, too you can expect physical distancing being enforced on beaches, no self-service buffets, and limited capacity.
St. Kitts and Nevis reopening uncertain
Although St. Kitts and Nevis haven't reported a new case of COVID-19 in over a month, the government is still taking a measured approach to reopening. As of now, no firm date has been set for when the dual island destination will reopen.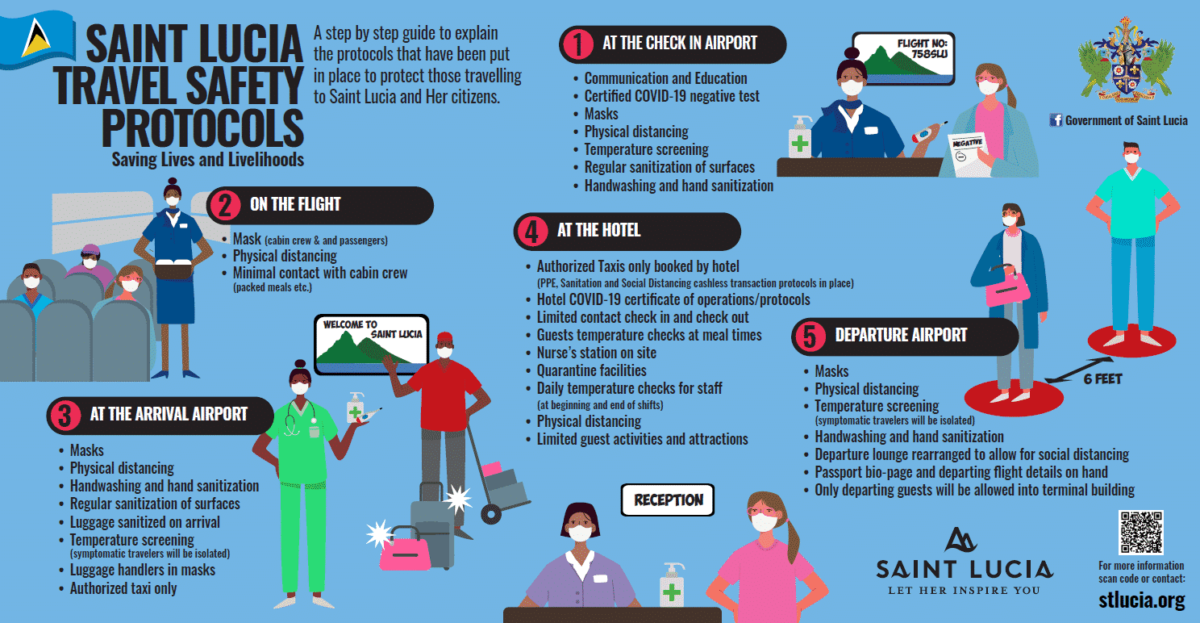 St. Lucia reopened June 4th
St. Lucia is one of the destinations requiring travelers to present their certified negative COVID-19 test results before they board their flights.
The St. Lucia government is mandating that all air passengers wear masks for the entirety of their flight and then have their temperatures checked upon arrival.
Additionally, don't expect to rent a car in Saint Lucia. You won't be able to. Authorized taxis booked through hotels will be the only way to get around.
Not all hotels will open right away either. Only hotels that have passed new government regulations will be allowed to accept guests. Notably, they will all have nurses on call, quarantine facilities, enhanced cleaning, and social distancing.
And beyond the hotels, not much will be open. No restaurants for dine-in and no attractions. So, again, the goal is to limit the exposure of locals to visitors.
St. Martin/St Maarten is sort of open, just not to you quite yet (Airport should reopen July 1st)
Basically, all of the most restrictive measures have been lifted on St. Martin/St Maarten. Beaches are open. Schools are open. Some businesses are open.
All that said, the border between the two sides of the island is still restricting non-essential crossings. Gatherings of more than 10 people are also still a no-no.
The only problem: Princess Juliana International Airport and Grand Case Airport remain closed to visitors. Fort Louis Marina in Marigot is also closed.
It should also be noted that authorities here are very clear when they say "cruise ships are not welcomed until further notice."
So, when will the borders open? Right now, it's looking like July 1st.
St. Vincent and the Grenadines technically never closed
Throughout the pandemic, the borders of St. Vincent and the Grenadines have been open. However, you can't just fly into Argyle International Airport. The airport has been closed making the only way to visit via boat.
On top of that major limitation, new procedures were put into place for arriving boats. For instance, all yachts and pleasure craft are required to clear immigration immediately at specific ports, only. They are Kingstown, Blue Lagoon, and Wallilabou. Other ports of entry are closed.
Additionally, visitors are required to quarantine ashore (not on their boat) for 14 days at their own expense. After those measures are taken, it seems like visitors are fairly free to move around the country.
Trinidad and Tobago remaining closed
Prime Minister Dr. Keith Rowley has made it clear that reopening the borders to visitors will be the very last step Trinidad and Tobago will take in reopening their economy. The government has also mentioned that it may phase reopening beginning with allowing nationals to travel abroad without letting visitors in.
More recently Chief Medical Officer Dr. Roshan Parasram had this to say:
But for now, because the pandemic has spread so quickly throughout the world, the situation in no particular country has reached the stage where we can allow entry from any one territory as yet. So hence the reason we had made the recommendation to have the borders continue to remain closed.
The Turks and Caicos Islands reopening July 22nd
For a while there, the plan was to reopen The Providenciales Airport on June 1st. Unfortunately, that date has been scrapped.
The new date is July 22, 2020 for when visitors will once again be able to visit the Turks and Caicos Islands! The details of the new protocols being instituted are still yet to be defined. But as soon as we hear, we'll be adding them.
We are eager and excited to reopen our borders and safely welcome travelers back to the picturesque Turks and Caicos Islands later this summer
That was the statement from Pamela Ewing, Director of Tourism for the Turks and Caicos Islands Tourist Board.
U.S. Virgin Islands reopened June 1st
Although the measures imposed by the state of emergency in St. Thomas, St. John, St. Croix won't be lifted until July 11, 2020, the territory reopened to leisure visitors on the first of June.
Here too, visitors should expect new procedures for hotel arrivals, housekeeping, dining, and taxis. Restaurants and bars also have new guidelines, including a mandate that all servers and employees wear face masks.
The Bottom line on how to open Caribbean Islands
There's no simple solution to reopen the Caribbean. The region is heavily dependent on tourism, but in today's health environment that brings tremendous risks to visitors and locals alike. We all want to travel as soon as possible, but we all want to do it safely. And the bottom line is that right now we're all just figuring out how these two desires can safely coexist.
On the way to achieving these plans to reopen, things will change, of course. As they do, we'll update this page as much as we can.
Stay safe out there!