Reason No. 462 to Take Your Kids to the Caribbean: Memorable Tooth Fairy Treats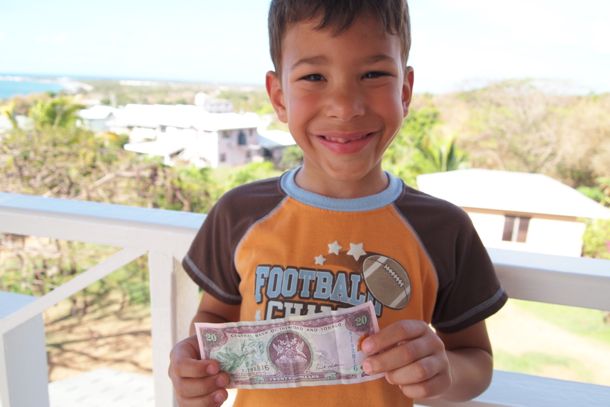 A) Stay home.
B) Leave the kids at Granny Camp.
C) Bring 'em along.
For most parents of young kids planning a Caribbean escape, this multiple choice conundrum carries two easy answers, and "C" is not one of them. It's just tough carting kids around the islands, especially if you're predisposed to uncommon wanderings and adventures.
In my experience, though, the effort is infinitely worth it, as anything you might lose (hairs, patience, sanity) is more than compensated by memorable scenes like this one.
The handsome guy in the photo is my son, Austin, pictured here during our 2010 family trip to Tobago. He holds in his hands $TT20.00 (roughly US$3.13), a prize left under his pillow the previous night by the Tooth Fairy.
It's true, the Tooth Fairy delivers in Tobago, and everywhere else in the Caribbean, leaving fancy foreign currency notes much to my son's delight. Not only was this bill unique in its texture, coloring and markings to my son, but it also opened up an opportunity for us to learn a little bit about the special characteristics of Trinidad & Tobago.
The images of the hummingbird, for instance, are in reference to the country's "Land of the Hummingbird" nickname, so earned because of the 16+ different species of hummingbird recorded in the sister islands. We Googled that bit of info during our trip and had fun noting the many different hummingbirds darting about during the remainder of our time in Tobago.
The country motto, "Together we aspire, together we achieve," also got us talking about Trinidad's colonial history, while the steel pans pictured on the flip side probably made some nice connections for him when we were listening to local radio.
Any visit from the Tooth Fairy is a thrill, but how many kids really remember any of them? I asked Austin last week, and he definitely still remembers this one – where it happened, how much he got, and most importantly, how much we all got out of it.
Related Posts