Sargassum, Yuk! How to Avoid it on Your Next Caribbean Escape
Never mind food poisoning, scam artists, or even hurricanes. The number one thing most likely to ruin your next Caribbean escape is sargassum. This smelly scourge of the sea has been on the rise in recent years… BIG TIME. Most everywhere you look across our islands, usually pristine sandy shores and azure bays are being choked out as never before. In the Caribbean, though, sargassum is nothing new.
What is Sargassum?
Sargassum is a unique species of seaweed denoted by its small, air-filled berries. It's yet another "discovery" credited to Columbus, who, in 1492, penned accounts of enduring "the doldrums" in the Sargasso Sea en route to the West Indies. The seaweed is natural and provides a rich marine habitat for all manner of sea life. Sea turtles, crabs, shrimp, tuna, marlin – they all benefit from sargassum.
At the same time, though, too much of the "gold tide" is not a good thing. Large swaths that get trapped in bays decay along shore lines. The effect literally chokes out sea life. Corals, sponges, and sea grass, in particular, bear the brunt of the negative impact.
The impact on us humans isn't much better, particularly among those with respiratory issues. Decaying sargassum emits a distinctly disgusting smell akin to extremely rotten eggs.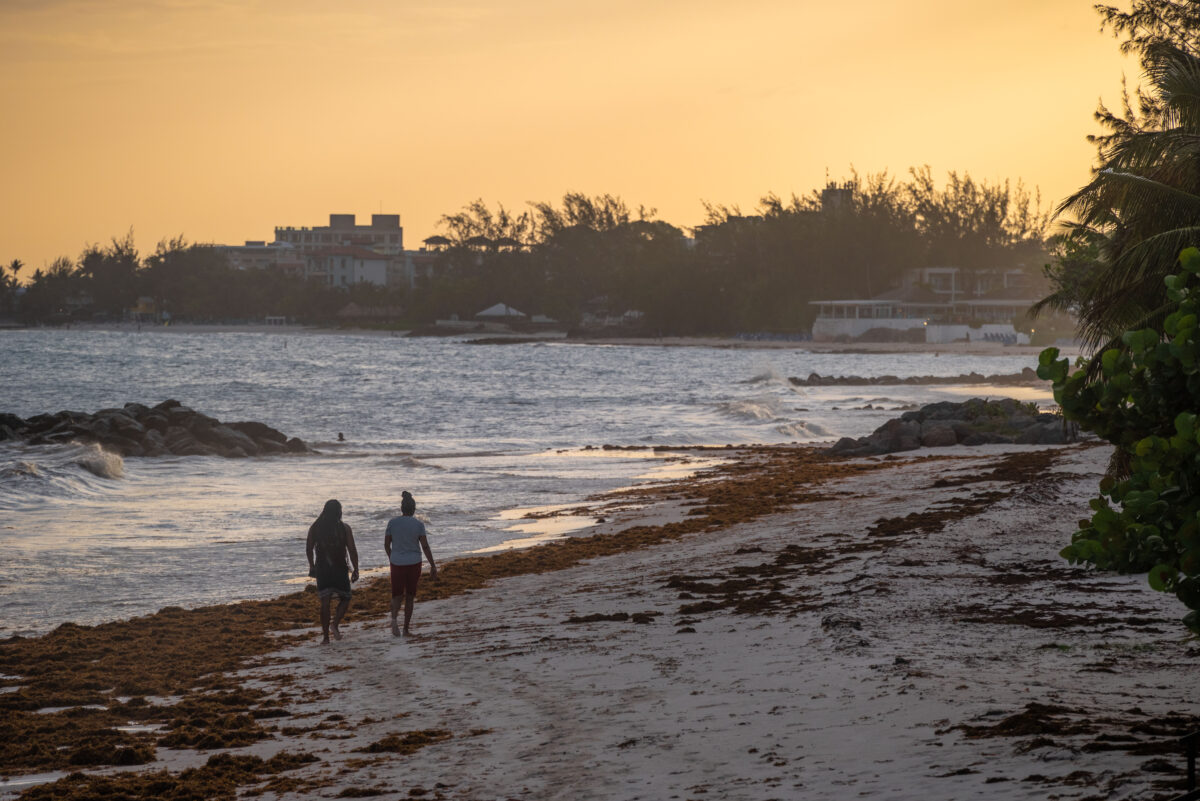 As a kid growing up in St Croix, I vividly remember seeing (and smelling) the foul floating masses. They came every summer, rendering a scant few beaches off limits.
Our no-go periods, however, were always brief and thankfully confined to a few unlucky bays.
These days, unfortunately, things are different.
Huge swaths of sargassum have seemingly began showing up earlier (and sticking around longer) each of the past few years. Why, and is there anything you can do to make sure sargassum doesn't ruin your next Caribbean escape?
For answers, we turned to Professor Chuanmin Hu.
The Science Behind the Stink
Who is Prof Hu?
The simple answer is he's a Professor of Optical Oceanography at the University of South Florida. Put even more simply: he's an expert in all things sargassum.
He's also the type of cool and accommodating professor you'd want as an instructor, especially if you're a science-challenged rube like me.
As nice as he is, though, Professor Hu didn't really have a lot of good news to share with me when we spoke via phone in March 2023. For one thing, he confirmed that no one really, definitively knows why there's so much more sargassum these days.
There are some speculations, but no concrete scientific evidence.
The professor highlighted some "plausible hypotheses" relating to higher than usual east–west wind patterns since 2010. These increased winds have been pushing more sargassum into the West Indies.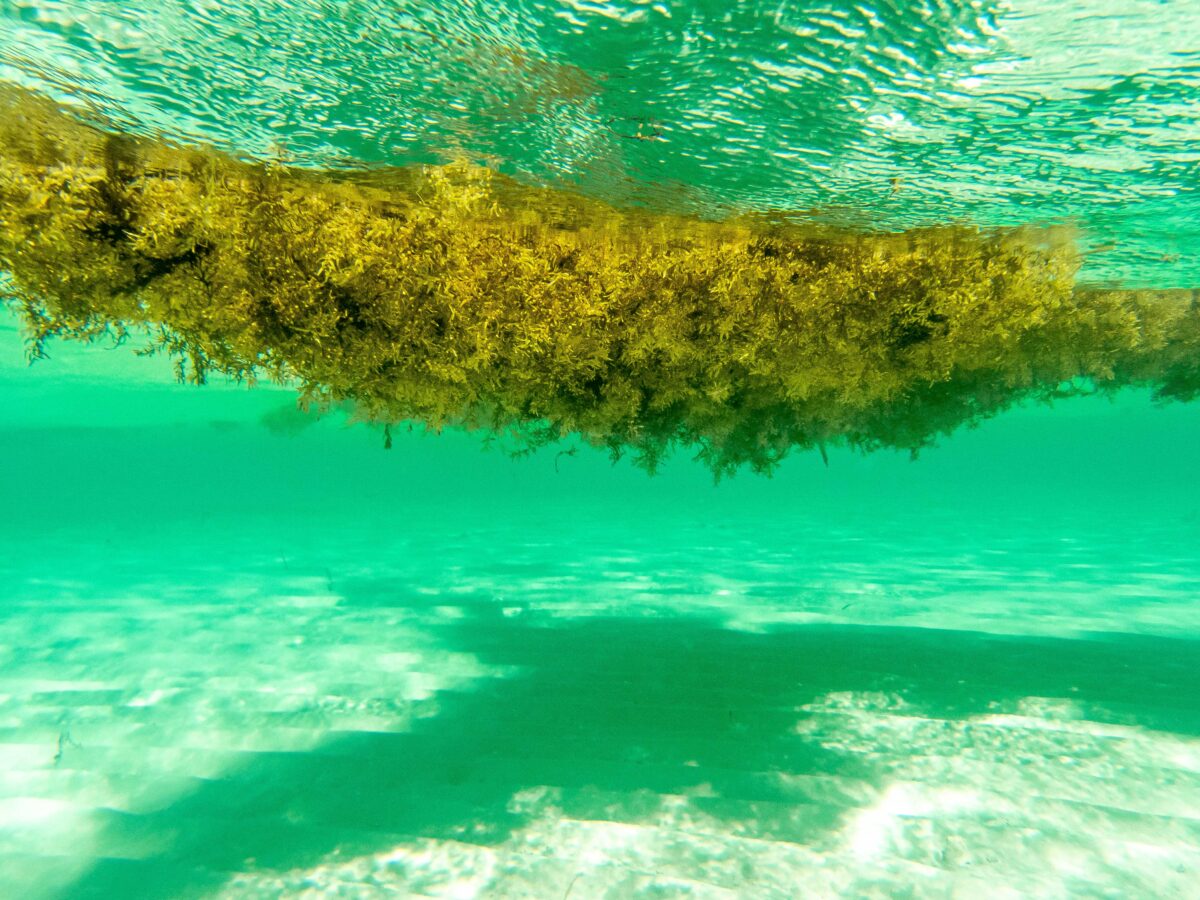 Once in our region, the higher levels of sunlight, waterborne nutrients, and warm seas endemic of the Caribbean cause the sargassum to expand…a lot.
Truly, though, no one has any real answers as to why. On the other hand, Professor Hu was more sure about one thing…
2023 Sargassum Forecast
I'm not saying it's going to be a record, but 2023 will be another major sargassum year.
Ugh.
The Prof's data definitely supports the likelihood of more and thicker swaths of sargassum this year. Measurements taken in recent months fuel the gloomy forecast.
According to Professor's Hu's data, sargassum levels in the Caribbean doubled each month between November 2022 and January 2023.
January [2023] had a historical record amount of sargassum…higher than any previous January.
Remember when I said that the stinky stuff only used to come for brief periods in the summer? Yeah, we're living a new (and definitely not improved) normal now.
(Editor's note: For more on how Professor Hu and his team monitor and measure sargassum levels in the Caribbean, visit the USF College of Marine Sciences website.)
On the plus side, though, Prof Hu noted that sargassum levels decreased by 15–20% in February. (Yes, that map above actually shows encouraging signs!) He also noted that 2016 saw decreased levels, the only such year since 2011.
No Easy Answers
Still, the peak months of June and July are right around the corner. Is there any way to ensure you avoid sargassum?
Professor Hu's answer was about what you'd expect…
No, from scientific point of view. Everything depends on the tides, winds, and ocean currents.
On the plus side, though, the Professor did note that he could provide a "historical perspective" based on past data. In general, he noted that the southern Caribbean tends to see less sargassum than the Lesser Antilles. Nowhere in the Caribbean (or Florida, for that matter) is immune.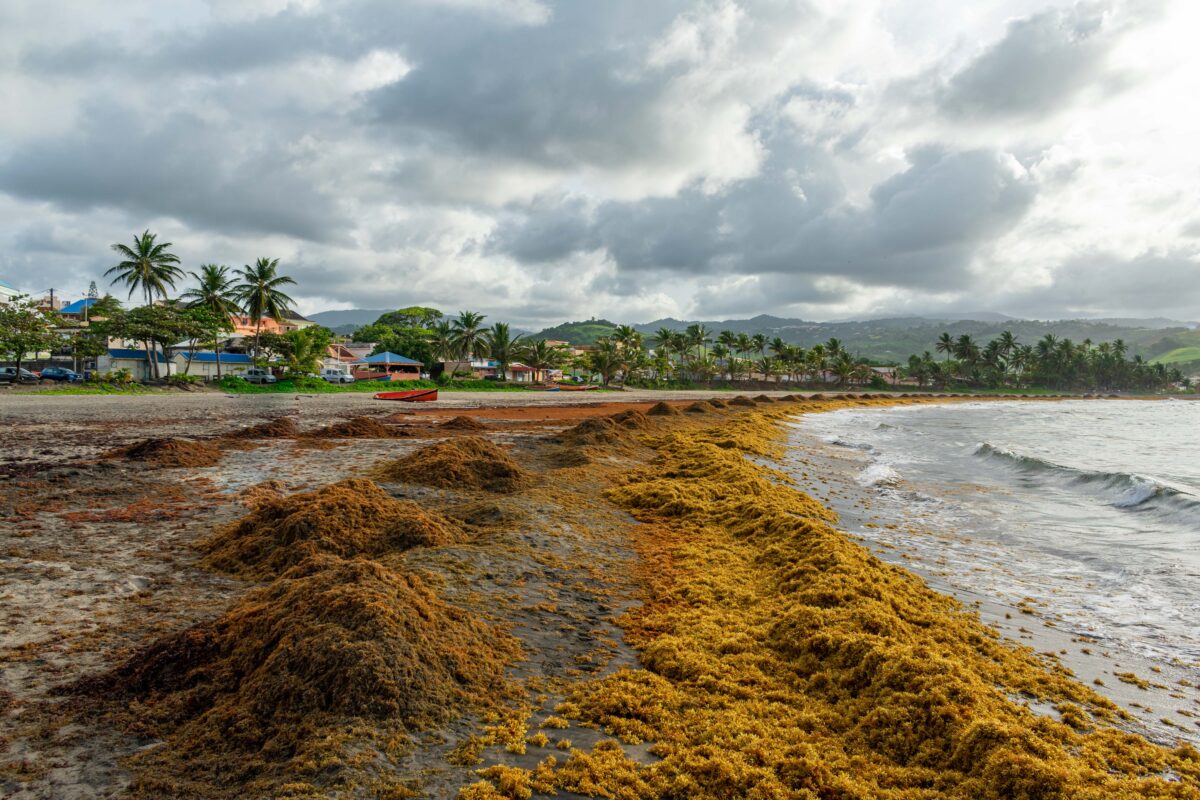 So what can you do? Here are a few of my own personal tips that, though imperfect, might help…
Sargassum-free Caribbean Travel Tips
Book off-beach accommodations
Yes, an idyllic beachfront stay fulfills most everyone's idea of a dream Caribbean escape. Believe me, though, that dream will be a nightmare if your hotel of choice rests along sargassum-filled shores. Accommodations off the coast (think inland, or hilltop/mountain hotels and villas) give you the flexibility to explore and enjoy a multitude of different beaches. If you show up at a sullied one, simply drive on to the next.
Stay west
If you insist on beachfront digs, though, focus your hotel search on your destination's west coast. As Prof Hu noted above, sargassum rides the tides into the Caribbean from east to west. It only follows, then, that the region's east coast beaches stand at greater risk for sargassum issues. As the Professor also noted, though, nothing is guaranteed. Currents, winds, and tides are unpredictable. They can deposit sargassum anywhere in the tropics. Staying west, though, may be a good bet, especially if you…
Call ahead
Resorts and hotels across the Caribbean want your business. They want you to be so happy with your stay that you'll want to return again and again. If you have sargassum concerns, call them. No one can 100% predict where and to what degree sargassum might impact a beachfront. Hotel personnel, though, can certainly give you a sense of what the impact has been in prior years, as well as what steps the property takes to mitigate any issues.
Stick to winter
We, of course, love avoiding crowds during off-peak summer travel periods to the Caribbean. These bargain-priced, crowd-free months, though, are also when the sargassum scourge is at its worst. While Professor Hu notes that the November 2022–January 2023 periods were very active, the winter totals are still much less than the summer. Again, there are no guarantees. If you're playing the odds, though…
Related Posts