Save Your Skin and Coral Reefs With MANDA Organic Sun Paste
The news hit me with all the force and malice of a sucker punch to the gut. The biggest, most expansive living thing on the planet, dead after 25 million years…
Or so Outside Magazine wanted us to believe.
Indeed, as noted in an avalanche of follow up stories posted all over the Internet (like this one), the Great Barrier Reef is not quite dead yet. Not 100% anyway, though it, like all of our very own Caribbean reefs, is very much in peril.
The culprit, of course, is us. Man-made environmental stresses have had a profound impact on reef systems around the world.
What can you do to help?
Buy MANDA Organic Sun Paste.
It was skin cancer that spawned MANDA. Specifically, it was the skin cancer contracted by pro surfer Cyrus Sutton's dad six+ years ago. The diagnosis got Cyrus going on a mission to develop a better sunscreen. Something offering maximum protection for humans, while at the same time having zero impact on the environment.
MANDA is just that, employing a dynamic mix of food-safe natural ingredients to feed and protect your skin. Cocoa butter, shea butter, coconut oil, beeswax, cinnamon oil, cacao powder, non-nano zinc oxide – all of it 100% organic – is all in there.
Give Thanks for Thanaka
The special ingredient that makes MANDA uncommonly different, though, is something called Thanaka. Derived from the wood of a small tree found in Myamar, Thanaka has been used by the people of Burma to protect their skin from the sun for more than 2,000 years. So yeah, it's been thoroughly tried, tested, and proven effective.
Still, I was a little skeptical when I received the tester sample of MANDA pictured above earlier this summer. To me, MANDA smelled too good, too much like a mocha treat to take seriously. I had trips to Provo and Aruba circled on the calendar for my trials, both promising tons of time in the sun and in/out of the water.
Would MANDA make the grade?
Answer: Yes!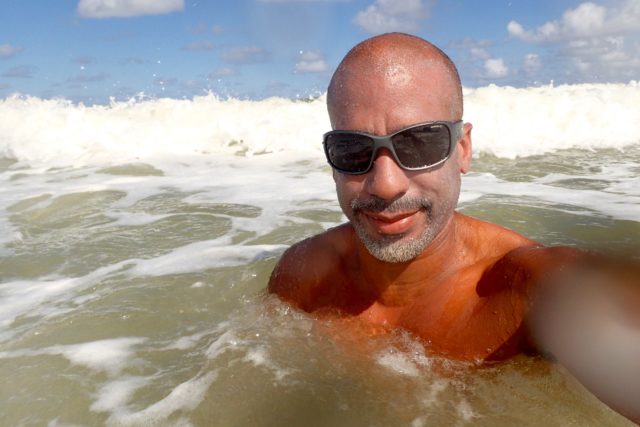 My Experience With MANDA
In keeping with its origins in the surfing community, MANDA performed exceptionally well throughout all manner of waterborne fun. One application each day kept my face, bald head, and the tops of my ears (a prime burn spot for me) absolutely sunburn-free.
I only used MANDA on my face, which was pretty obvious to anyone who saw me. MANDA is a physical sunscreen, after all. You know you're covered in all areas of your skin where you can actually see it. This may prove a drawback for some of the more vain among us, but it didn't really bother me.
Best of all, it felt great knowing that the reefs in the waters everywhere I went were just as safe as the skin on my face thanks to MANDA. From the company website…
Ingredients commonly found in chemical sunscreens, such as Oxybenzone, can awaken coral viruses. The coral then becomes sick, expelling their life-giving algae. Without these algae, the coral "bleaches" (turns white), and prematurely dies. Each year an estimated 8 million lbs. of sunscreen washes off ocean-goers into coral reef environments.
I won't be counted among those polluting our seas with common commercial sunscreens anymore. To join me, order your supply of MANDA Organic Sun Paste here today.
Save
Save
Save
Related Posts