Spiny Caribbean Lobster—Not Your Average Maine Lobster
It would be too easy to be drawn into the debate about what's the tastiest lobster. Naturally, most anyone from the northern half of the United States would quickly reply (in all caps): MAINE LOBSTER! They would probably add that it's the only "true" lobster, whatever that means. And just as naturally, almost anyone from the West Indies would loudly retort: CARIBBEAN SPINY LOBSTER IS 'DE BEST!
Caribbean Spiny Lobster vs Maine Lobster
Rather than stoke the fires of the Caribbean spiny lobster (Panulirus argus) vs Maine lobster (Homarus americanus) debate (I think you can guess my allegiance), I'll just say there are two things that factor into the tastiness of a dish that go beyond the usual debate.
The first is freshness and the second is a more nebulous "spice" that at times could be called authenticity, or nostalgia, or even an experiential quality. Basically, everything tastes better when it's both fresh and an experience.
No, our lobster (also known as Caribbean spiny lobster), native to the warm waters of the Atlantic Ocean, Caribbean Sea, and Golf of Mexico, is not a close relative of the cold water Maine lobster. No, spiny lobster doesn't have oversized front claws full of tasty flesh. No, spiny lobster isn't what many Americans grew up with from visits to the likes of Red Lobster.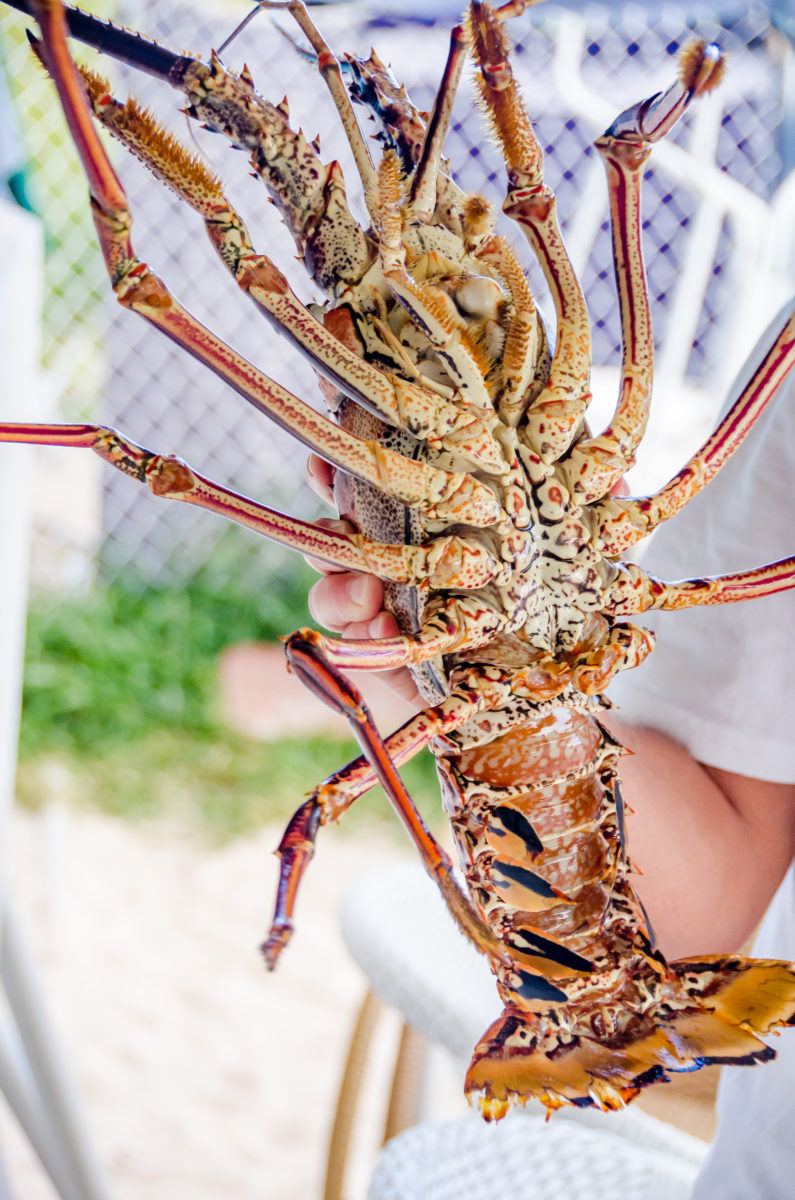 What is spiny lobster?
What spiny lobster is, however, is one of the most so-fresh-it-was-alive-when-I-got-there, thoroughly authentic, experience making dinners you can have in the West Indies. And that's what makes spiny lobster without claws the most delicious type of lobster on the planet… At least at the moment you're eating it.
Best places to eat Spiny Caribbean Lobster
OK, so you're sold on spiny lobster and dying to try some for yourself. No problem. First, make sure it's lobster season which varies by every island's fisheries management organization, next check out a few of these amazing eateries that we love.
Rhythms at Rainbow Beach, St. Croix
Right on the water "in west," Rhythms is the spot late Sunday afternoon for a proper "lime" with music, beach, rum, and, of course, lobster. A raucous time is had by all. And things only get more fun as the day dips into night. There's plenty on the menu, but be sure to catch some lobster while you're there.
Bumpkins Beach Bar, Antigua
Right on the northern corner of Pigeon Point, Bumpkins brings a local vibe that ensures you're in for a real Antiguan vibe.
That is to say, relaxed, friendly, and quick with a rum punch. The menu also boasts solid BBQ, jerk chicken, fresh seafood, and even burgers for the more, shall we say, boring in the group. But again, definitely try the grilled lobster. You'll be happy you did.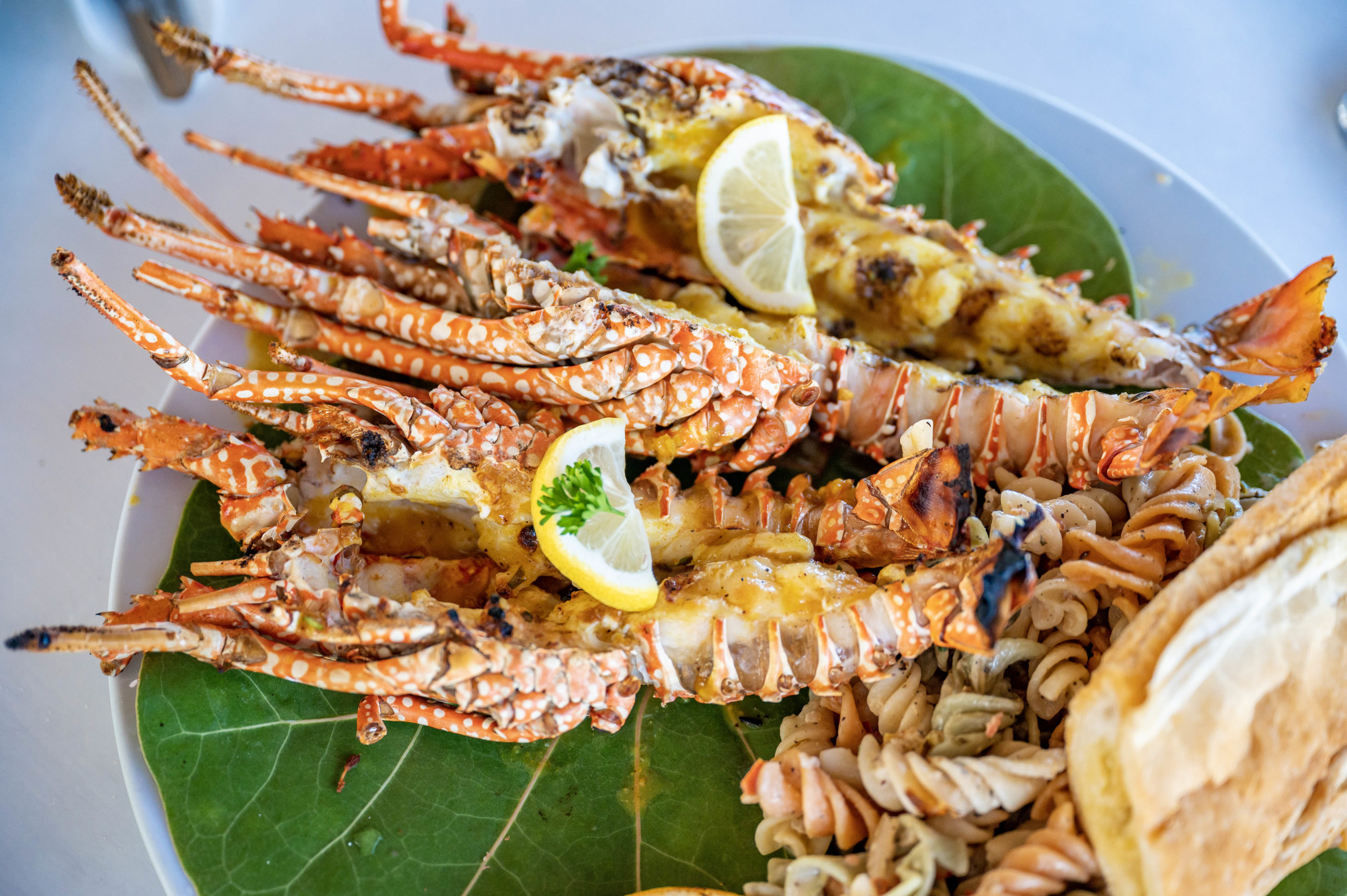 Scilly Cay, Anguilla
Anguilla is more known for something called crayfish—which is neither the creature you may be expecting nor exactly spiny lobster. That said, wonderful spiny lobster can be found on plates all over the island. For us, though, one of the best places to sample some is Scilly Cay.
Tucked right into the bay at Island Harbour, this bar and restaurant on a tiny coral cay is the perfect spot for a day of fun, food, and friends. Their grill is guaranteed to be covered with all sorts of fish and wildlife (including the aforementioned crayfish), but for me, it's gotta be the lobster!
Caribbean Lobster Recipe
Of course, if you're not near the Caribbean sea, you can still spice your meal with nostalgic memories of time spent in the sunny islands by picking up some spiny live lobsters of your own and fixing up some at home. (Usually, it would be from spiny lobster fisheries near the Florida Keys.) This Caribbean lobster recipe with rum-jerk butter comes from the fine folks at Mount Gay Rum from Barbados, which also happens to be home to the excellent Lobster Alive.
Lobster Alive is the ultimate place to sample spiny lobster tail on Barbados because it's the freshest place to get lobster on the island. This distinction is thanks to the efforts of Art Taylor.
Every week, he flies himself to Bequia in the nearby Grenadines. Here, the waters are shallower than around Barbados and overflowing with coral reefs. Perfect locations for spiny lobster traps! So, thanks to his relationships with the commercial fishery in the area, he flies home with a planeful of lobsters—their long antennae waving in the air.
Now, back to the recipe.
Ingredients:
two to three 1-2 lb Caribbean lobsters (or tails) halved and cleaned
1 tbsp melted butter
½ cup chopped onion
1 tbsp jerk seasoning
½ cup chopped sweet pepper
¼ cup Mount Gay Eclipse Rum
2-3 tbsp butter
¼ cup fresh lime juice
¼ cup chives and parsley chopped
½ cup tomato concasse for garnish
Directions:
Parboil your Caribbean lobster until bright red, then put into a 300 F oven with a little melted butter until the sauce below is done. Sauté onion, jerk seasoning, and sweet pepper in remaining melted butter and cook until onion turns translucent. Removing from heat pour in the rum and add butter stirring until it has melted evenly and turns creamy. Add lime juice and herbs, stirring together.
Take each lobster tail and cut in half keeping shell in place. Pull all lobster meat from the rest of the lobster. Keep the body shell for plating your dishes.
Place a bed of greens on each plate. Next, place a hollowed lobster shell on each plate on top of the greens.
Add lobster meat in a mound next to the shell opening and place lobster tails on a plate. Pour sauce over lobster and serve the rest in dipping bowls. Garnish with chopped tomato concasse.
It may not be as fresh as the lobster pictured above that moments later went into my belly (accompanied by a classic daiquiri) during a recent visit to Lobster Alive in Barbados, but if you close your eyes while savoring that sweet meat, you might be able to hear the sounds of Caribbean waves lapping against the beach.
Enjoy!
Related Posts