Tuesday 2 Cents: RumShopRyan Offers a Little Help With the Ladies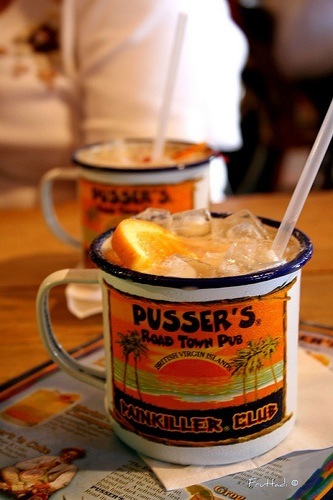 Ryan VanDenabeele, better known as RumShopRyan, is a pretty cool dude. Originally from Kansas, he's spent the better part of the past year turning his passion for rum and the islands into 1 of the best spots on the web for an attitude adjustment. We caught up with him recently to get his unique perspective on rum and the fairer sex…
You're in a bar and trying to impress an attractive woman – what's your drink?
That's actually an interesting question. I could go with Diplomatico, a Venezuelan rum, and just sip it straight, but that's not my style. I'm more laid back. What you drink I think can say a lot about you. I usually go for Pain Killers with Cruzan dark rum or Pussers. I also like Rum Runners with light or dark rum and a 151 proof floater – knock you down powerful. What does that say about the drinker? Hopefully that he's exciting, knows how to have a good time and loves the islands.
What similarities are shared between an ideal rum and an ideal woman?
Love this question! I like my rum and women to be smooth with a touch of spice. They need to have a light golden brown color with an attractive display. They need to be able to knock you off your feet and comfort you at the same time. Is it hot in here?
What's the best rum to drink when you've got the blues – you know, like when you're trying to get over a former flame?
I'm not really sure about this one. I never get the blues. If I feel any hint of displeasure I just head 3 miles down the road and sit on the beach. That makes any negative emotion float away with the tide. I'll take a Pain Killer while I'm there, though. Cheers!
I know from experience that you should never travel for sex, but what about rum? Is there a rum you would hop a flight to get if you couldn't find it locally?
I'm a history nut, so if I couldn't buy it here I would definitely travel to Barbados and stock up on the Mt. Gay flavors. Barbados is the birthplace of rum. Mt. Gay has so much history and flavor that it sucks you in. They've been doing it for so long and it shows.
Anything you want us to mention about coming attractions on your site…?
There is always something fun going on at RumShopRyan.com. We're putting together a name for our great fans. I know that the readers and fans are the ones that make RumShopRyan.com so great so we need to reward them with recognition and a cool wrist band. We will continue to have the Wednesday Boat Drink cocktail recipes to help readers get through the week. Then our weekly island webcam posts are always popular as well. If you can't be there to see the waves crash on your favorite island, watching online is the next best thing.
Thank you Uncommon Caribbean! Love your site and keep up the great work.
Related Posts