Uncommon Beauty: The Sexy Sailing Adventures of Alex & Taru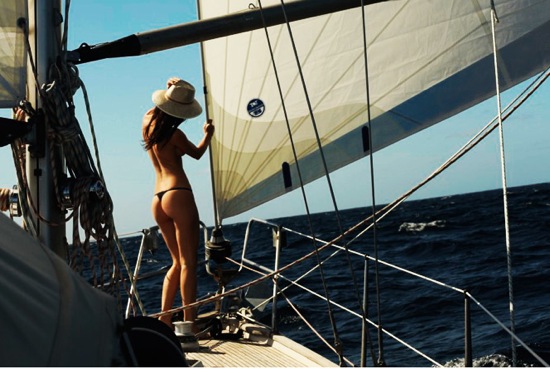 As Patrick pointed out recently, one of the many great things about traveling the Uncommon Caribbean way is all the cool and interesting new people you get to meet. Remember Chef Hot Pants in Martinique? Or how about St. Martin's master of rum infusions, Kali? And who could forget our surf instructors, Boosy in Barbados and Jason Apparicio in Tobago? They're just a few of the many new friends we've made over the past year who've helped us show that the authentic side of our home region, the Caribbean beyond the crowds and tourist traps, is still alive, well and waiting for you to explore every inch of it!
We haven't had the pleasure of meeting all of our new friends in-person, though. Some, like Alex and Taru, we've come to know through the magic of social media and the blogosphere. Who are they? Oh, just another great-looking, young couple living the incredible dream of running away and sailing around the world.
Editor's note: Yes, I typed that last line with tongue firmly implanted in cheek as there's clearly nothing common about these two…
Alex (37) is an engineer, musician and experienced sailor from France. Taru (29) is a photographer, web designer and artist from Finland. Together, they've left life as most of us know it far behind, choosing instead to truly live each day. As Taru puts it:
It took us one sweet turn around the Mediterranean sea, some hot stops in Morocco and a 25 days sail across the Atlantic ocean to get here but finally we're in our new 'home'. Yeah, we have kind of established a new place to call home here on our boat, having new beautiful anchorages and deserted beaches as our terrace for each and every day and it feels fantastic. Magical.
Currently, that magical new "home" of theirs is, of course, the Caribbean. They've spent the most time in Barbados, St. Lucia, Martinique and Guadeloupe thus far, though the plan is to see as much of the Caribbean as possible before continuing on into the Pacific in 2012.
Thankfully, they've invited us all to accompany them (at least via the Internet) by way of their amazing blog, The World Tour with Alex & Taru. There, you can track their adventures in discovering the Caribbean's rich cultural traditions, cuisine, music and more through the perspective of this vibrant European couple. Gorgeous photos like the one above offer a good reason to check back often as well…
We plan to keep in close touch with Alex and Taru so we can share a few choice details of their adventures with you as well. In the meantime, click here to visit them online, and be sure to tell them Uncommon Caribbean sent you!
Related Posts