Uncommon Caribbean Photos of the (Crazy Quiet) Year – 2020
There are silver linings to every dark cloud, even those that have come to define this most challenging calendar year. Maybe it was a little (okay, a lot) of extra time spent with loved ones. Or perhaps you finally devoted some time to sharpening your skills at baking banana bread, or some other such culinary treat. Either way, most of us, hopefully, can find some positives amid the tumult of 2020.
For us at Uncommon Caribbean, this post represents one of our 2020 silver linings. You see, every year around this time, we set out to publish a "Photos Of The Year" story. Like similar such retrospectives that you've no doubt seen elsewhere, our annual photo round-up was always intentioned as a visual celebration. A chance to revisit all of the amazing people, places, and experiences from the previous 12 months.
Thing is, though… we never actually got around to producing any of those posts.
That's right. Uncommon Caribbean has been going for 10 years, and this is the very first time that we've ever gotten around to publishing a "Photos Of The Year" post.
Some might blame the lapse on the always busy Holiday Season. Others may point to rum, or utter laziness.
The real truth, though, is that we always have waaaaayyyy too many photos to choose from.
Patrick and I literally snap thousands of photos on every single one of our Caribbean adventures. And as many of you know, we are fortunate enough to travel to the islands many, many times each and every year.
Each and every year, that is, except this one.
Throughout all of 2020, Patrick and I only traveled to the Caribbean three times. Our destinations: Jamaica, Nassau (The Bahamas), and Cancun. Not exactly a tour de force of tropical travel paths less trodden, right..?
As we always do, though, we managed to find elements of the uncommon in these popular ports. We also managed to snap a few (but not too many!) decent pics along the way. Here are a few of them…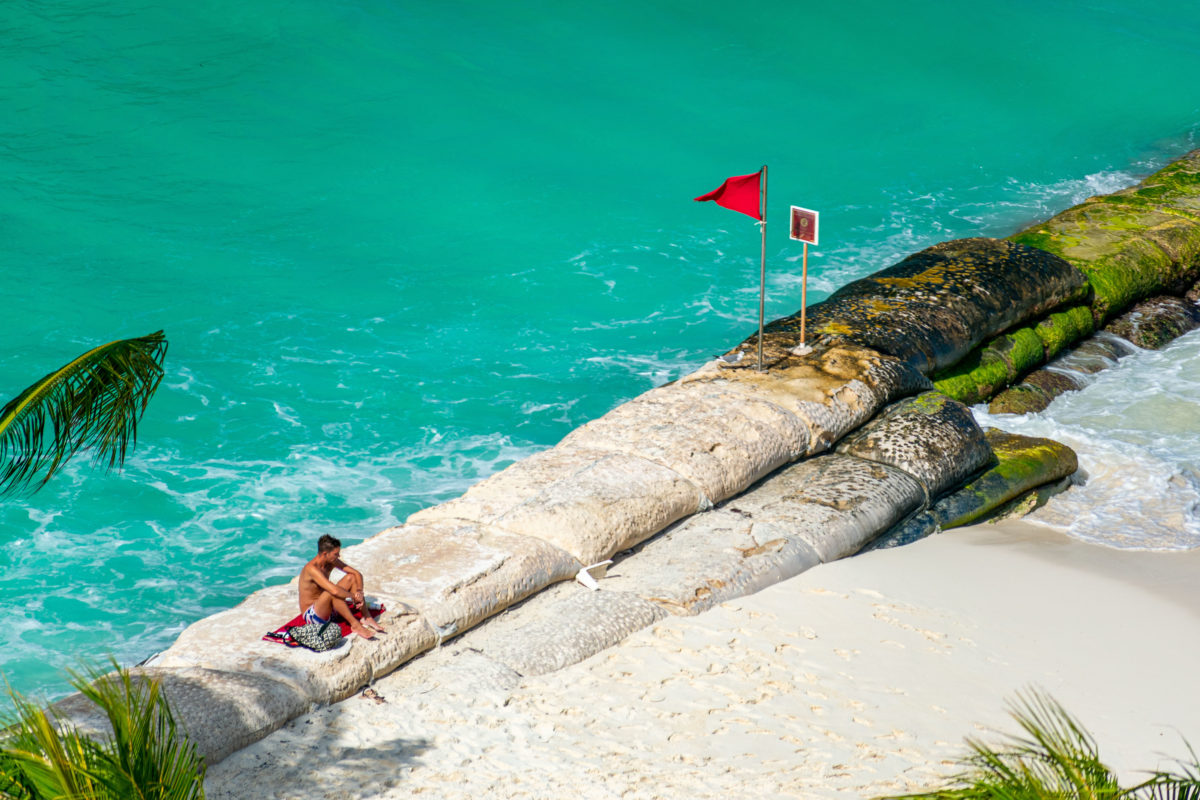 I captured this image, as well as the photo at the head of this post, from the balcony of my room at the Grand Fiesta Americana Coral Beach Cancun Resort and Spa. It was January 2020. The world was just waking up to COVID-19. I could not have known it at the time, but both lonely figures were a harbinger, of sorts, of the months to come. Social distancing and other assorted red flags to gatherings and human connection would be the norm for 2020. Who could've guessed it at the time?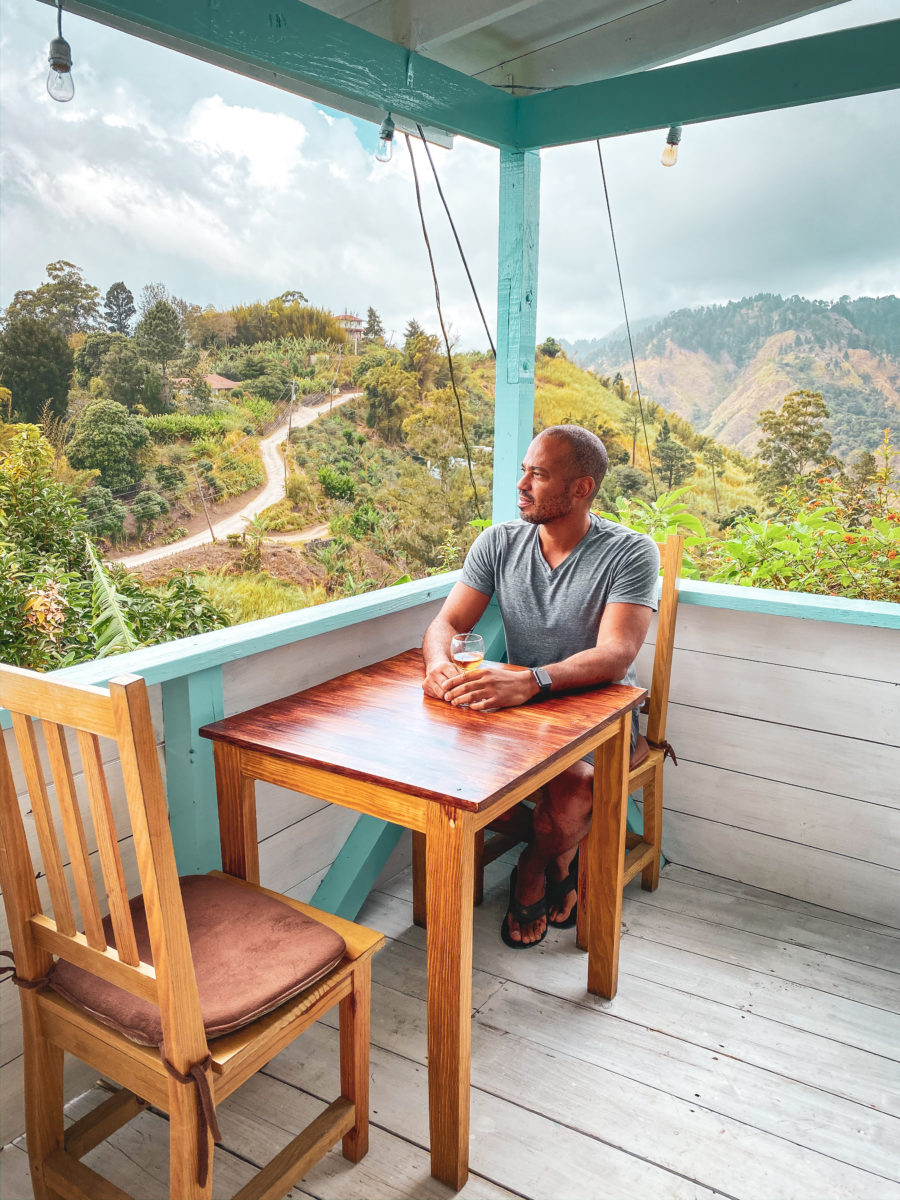 This image from Patrick's first-ever visit to Jamaica furthers the isolation theme that underscores 2020 for so many of us. He wasn't alone, though. His wife and two kids are off-camera somewhere nearby. Having the family in-tow made the trip special, of course, especially since one of Patrick's sons is named after Jamaica's capital city, Kingston.
Speaking of Jamaica's Blue Mountains, this image from Patrick's trip beautifully captures the strength and mysticism of these majestic peaks. I mean, if ever there was a year to drop everything and head for the hills, it was 2020, right?! That these mountains served as refuge for enslaved Africans forcibly throwing off the shackles of bondage hundreds of years ago only adds to the allure. Safe haven never looked so sweet.
Returning to my 2020 travels, here's another photo shot from a balcony that I enjoyed back in January. This time, though, the destination was Nassau, The Bahamas. My perch: the Royal Rita Suite at The Marley Resort and Spa.
Views of the beach, pool, and offshore islet mirage were all nice, but I was most transfixed by the thatched roof above. The detail, though purely ornamental, leant a nice, rustic feel that only heightened the beach vibe. I can almost feel the soothing sea breeze and hear the rustling of the thatch every time I see this image. A small touch adding something close to West Indian authenticity in a destination that most uncommon travelers wouldn't give a second thought.
Something that has given me second thoughts this year, though, are the colorful figures painted here. I came across this wall while exploring Adelaide Beach on the southern shores of New Providence, The Bahamas. The wall sits astride a decaying two-story home set directly at the shoreline. A boat ramp runs between it and the broader expanse of sand to the west.
Like the home just over its shoulder, the painted scene is faded and weather-beaten; its vibrancy dulled by time and tides. Still, the figures evoke a carefree joy that belies the mural's overall condition.
Are they dancing eggs, smiling as though enjoying a day at the beach? Who painted this? When? Why?
I may never find the answers, of course. In some ways, though, the enduring joy expressed in the art gives me hope that I'll get the chance to try. Hopefully someday soon.
Related Posts