What Pairs Well with Rum? New Rum & Contemporary Cuisine Cookbook Has the Answers
The high falutin' world of fancy food pairings has never much captured my fancy. I'm sure certain wines, and even some beers, are truly best for bringing out the utmost flavors in favorite dishes, especially when the libations are among the key ingredients used to craft said dishes, but in many cases for me something seems to be missing.
That thing: rum.
A relative stranger in fine gastronomic circles outside the region, rum has long been an integral part of the culinary scene in the Caribbean, sweetly seasoning all manner of meals and snacks emanating from the most modest of rural kitchens to the Toniest of exclusive eateries up and down the island chain.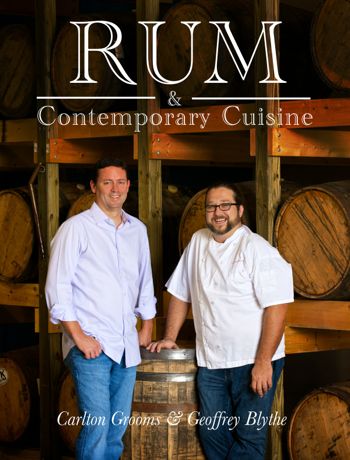 Most West Indian recipes featuring rum date back generations, of course, though these days inventive new twists are being developed by chefs based both in and out of the region on a ever-expanding basis.
The best new collection of these rum-themed recipes: Rum & Contemporary Cuisine.
Part TV cooking show, part traditional cookbook, Rum & Contemporary Cuisine is billed as the world's first interactive rum cookbook, entertaining users as much as it instructs 'em on the finer points of infusing the Noble Spirit into some fantastically fine gastronomy.
The 183-page ebook is the brainchild of acclaimed chef, Geoffrey Blythe, and our rum-buddy, Carlton Grooms, co-founder of the International Rum Council. Their goal: to create an innovative solution that enables all of us to cook like a master chef using rum. In Carlton's words:
…whether a novice cook or experienced chef you get step by step instructions in words, pictures and video until you have a perfect meal ready to wow your guests.
I just downloaded my copy of Rum & Contemporary Cuisine, so I can't say for sure if it's as easy to use as Carlton says. But, if the rest of it is anything like this video recipe for Arundel Cane Rum Conch Ceviche, I'd say we'll all be wearing white toques and double-breasted jackets (complete with rum stains) in no time…
Arundel 10 Year Cane Rum - Conch Ceviche
Rum & Contemporary Cuisine is available for download now via the Apple iTunes Store. Get your copy here and start cooking up some seriously yummy rum treats tonight!
Related Posts