Friday Happy Hour: Ironshore, the Bock that Rocks!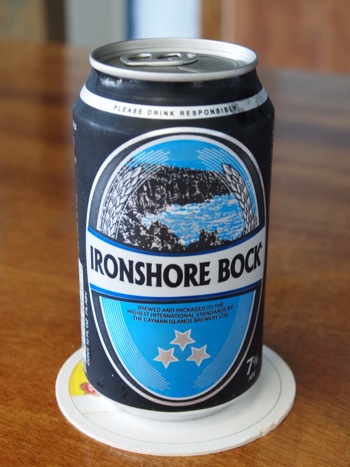 I imagine that the sight of yet another beer in this space is not a very welcome one for some of you… And not just for those who prefer rum either.
More than a few of you, most notably my friend/neighbor Brett Circe, have repeatedly expressed a disinterest in Caribbean beers, owing to the similarities inherent in most of them. You know, the same light-bodied, easy-drinking, perfect for a warm, sunny day description we've used on more than a few occasions to describe beers hailing from such disparate destinations as Martinique, Grand Bahama Island, Haiti, and Aruba.
If some of you are bored with beer, I get it. I still think the experience of sampling even the most staid of our regional brews is worth sacrificing a bit of the flavor most connoisseurs demand of their beers, but that's just me.
Anyway, on my recent trip to Grand Cayman, I found a beer that I think even my buddy Brett would like. It's called Ironshore Bock, and it's anything but your typical Caribbean beer.
The most recent beer introduced by the Cayman Islands Brewing Company (CIB), Ironshore has only been around since January 2010. It's named for Grand Cayman's jagged ironshore rock, a photo of which we featured in this recent post.
Like its namesake rock, Ironshore Bock is strong and dark, though its color out of the tap (or can) is deceptively lighter than its taste suggests it should be. This Bock checks in at a hearty 7% alcohol by volume with a bold taste that beer snobs connoisseurs will love. The secret of the flavor, according to the folks at CIB, is their method of roasting the dark German malt used in its production. In this way, it's more like a micro-brew, with a bit of a roast coffee aftertaste. Full-bodied, bold, wonderful.
Lest you beer "experts" think that I'm going overboard for what must surely be another boring Caribbean brew, take note that Ironshore just won a Gold Medal at the Monde Selection in Brussels, where they know a thing or two about great beer. Yeah, this bock rocks!
As you may have guessed, Ironshore was my favorite beer discovery in Grand Cayman. Could it be that I'm becoming a bit of a snooty beer connoisseur as well? Hmmm… I guess there are worse things to be, especially if it means more trips to the Caymans, the only place where you can get a taste of this truly great beer.
Cheers!
Related Posts