Uncommon Photo-Op: Seaside Vistas Around Grand Cayman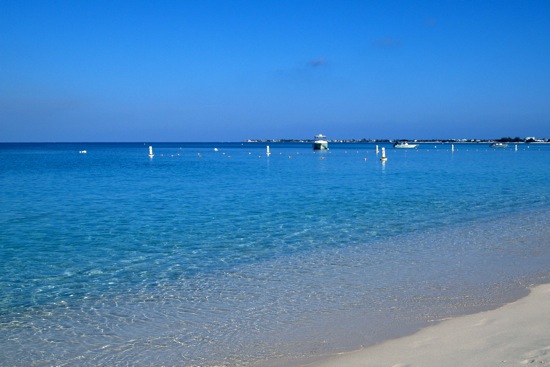 Seven Mile Beach in Grand Cayman does not disappoint. It's been known as one of the world's best beaches for as long as I can remember. Now, after seeing and experiencing it for the first time earlier this month, I can say with certainty that the hype is 100% true.
The sand, a brilliant white. The water, crystal clear. The blues, well, just look at the photo. Pure, idyllic paradise.
I got a taste of this utter perfection during the early morning hours of my first full day in Grand Cayman a couple weeks ago. I remember thinking, "How great can it really be?" as I walked the 50 or so yards from the pool deck of my hotel to the beach. Arriving at the sand, I literally had to stop in amazement to let it all soak in. It's just that beautiful.
The water was so calm, cool and caressing that I could easily see why so many millions of people trek here year after year. The only problem: as the morning wore on it seemed that all those millions of people were making a return visit on just that very day.
Crowds are definitely not our thing at Uncommon Caribbean, so I hopped in my rental car and headed… well, I headed all over the island.
Grand Cayman is not tiny, but it's not big either. It's actually about the same size as my home island of St. Croix, and a lot flatter, so I was pretty comfortable covering the whole thing in less than a full day. Among the many surprises I encountered along my drive was that the island's varied shoreline offered some pretty neat photo opportunities.
It's not nearly as dramatic nor as awe-inspiring as Barbados' North Shore, but there was enough variety to satiate a novice photo enthusiast like me for half-a-day.
I snapped the image below north of Seven Mile Beach, across from the Cayman Turtle Farm. The rock seen here is called ironshore, and it's as hard, sharp and uninviting as it looks. I hear the whole area around the town of Hell in Grand Cayman is filled with the stuff, which explains a bit of the inspiration for the unusual name. (No, I didn't brave the tourist crowds in Hell either).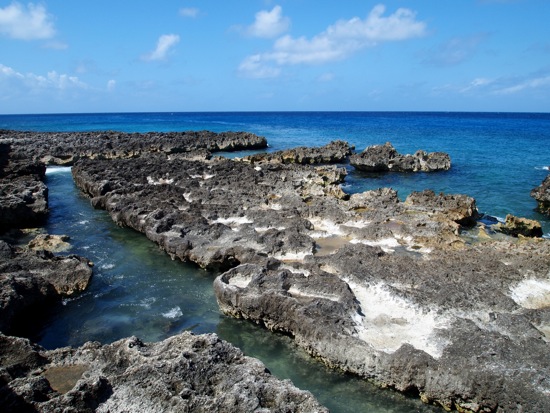 Much more inviting are the nice white sands found in Grand Cayman's eastern districts, South Shore and North Side. Just as brilliant and inviting as Seven Mile Beach, these secluded seaside enclaves are perfect for anyone seeking a little private playa time. Note: many of them do not offer good swimming, as the water in these areas is often rocky and filled with sea urchins. If you encounter less than ideal swimming conditions while searching for a secluded beach on Grand Cayman, just keep driving. You're sure to find a good spot further down the road. The photo below shows the way to the Rum Point on the Cayman Islands Maritime Heritage Trail (not the party place Rum Point I'll tell you about some other day).
On my way back to the hotel, I happened along the scene below south of Seven Mile Beach. It was near sunset and a father and son had just returned from an afternoon of fishing. Leaving their boat moored here, they headed off on foot, arm in arm toward home. The fading light, the smooth as glass sea, a lonely boat and just me.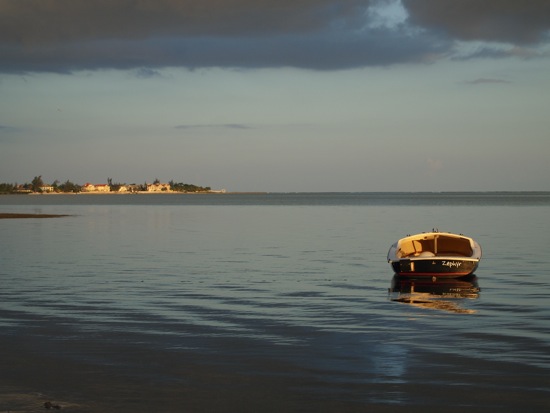 So, next time you're in Grand Cayman and want to escape the crowds along Seven Mile Beach, just grab your camera, jump in a rental car and head north… or south, or east. No matter where you go, you're bound to find interesting subjects to capture with no crowds in sight.
Related Posts