Vivine's Kitchen – For a True Taste of the Cayman Islands
I had no intention of letting my stomach dictate my itinerary during my 2011 visit to Grand Cayman. At the same time, though, I found so many surprisingly wonderful eateries here that I just could not resist. Singh's was the most surprising. Grape Tree, the most scenic. The best combination of both, though, was definitely Vivine's Kitchen.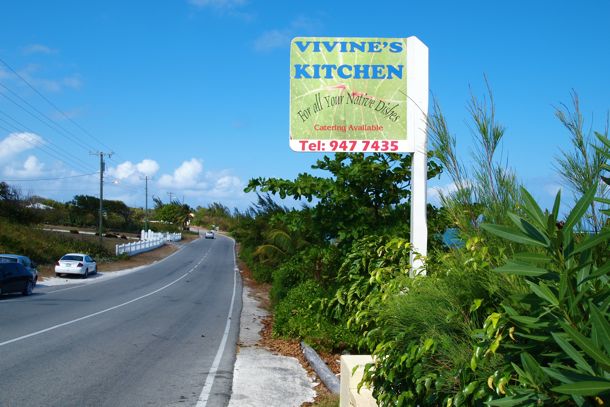 Side of the Road Sweetness
I found Vivine's on this driving adventure through Grand Cayman's blissfully sleepy East End. Like a lot of the best authentic West Indian eateries I've come across on my travels, it's located right alongside the road. So yeah, it's virtually impossible to miss.
Just look for the sign above and park on the other side of the road just down the hill. When you get to the entrance, this is what you'll see…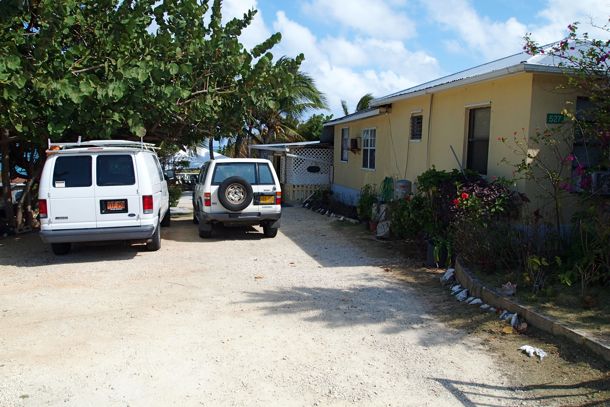 If it looks like you're going up someone's private driveway to their house, well, you are. Vivine Walter operates the restaurant right where she lives. I mean, you can't get more authentic than that!
I felt so at home when I first walked in the gate, that I actually wandered into the actual kitchen. (You're supposed to order at the door.) This earned me the type of nice, gentle scolding I might expect from a sweet auntie back in Trinidad.
On The Menu at Vivine's Kitchen
The menu here changes daily based on what's fresh and available. You can, however, always expect to find typical island favorites. Stew chicken, curry-everything, jerk-everything, macaroni pie, oxtail, conch, rice and peas, callaloo, etc.
Turtle stew is often available as well, though they weren't serving when I visited. In its place, I opted for the heaping plate of stew chicken and friends below…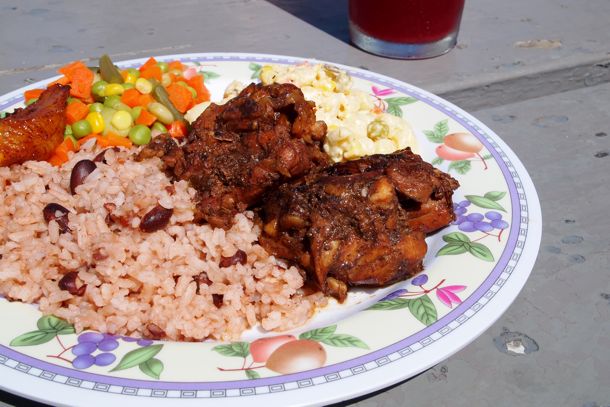 The red stuff in my glass at the top of the photo: sorrel. Pure West Indian pleasure!
Mauby, ginger beer and other assorted non-alcoholic Caribbean favorites were also available. What you won't find is booze. Vivine doesn't mind, though, if you bring a bottle of rum or a Caybrew along with you.
Seaside Sweetness
The quality of the food at Vivine's is matched by the beauty of its seaside location. The house/restaurant sits on a small bluff overlooking a thin white-sand beach. Here's the view from my table…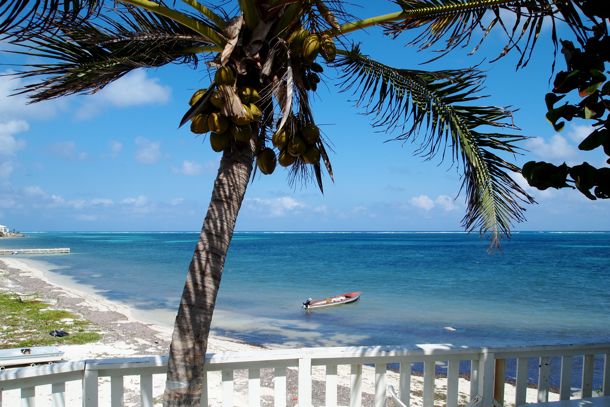 The way the breeze drifts off the sea here, adding a hint of salt to the yummy smells from the kitchen, is really just perfect. There was no music playing, no TV's, no nothing. Just the sound of the sea, an occasional cock crowing, and the wind gently rustling through the palms.
If You Go…
Authentically Caribbean in all the best ways, Vivine's Kitchen is not to be missed when in Grand Cayman. To find it, just follow the signs on the road toward East End, or ask just about anybody where to get the best local food on the island. If they steer you anyplace else, then they obviously don't know what they're talking about…
Related Posts