Friday Happy Hour: Get Your Christmas Off to a Hot Start with Colombian Aguardiente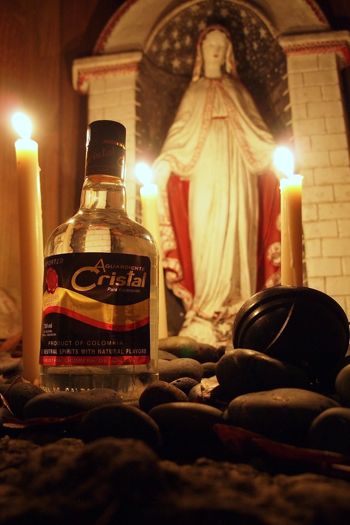 Round about now, all across Colombia, people are gathering up their candles and getting ready to celebrate. It's December 7th, El Día de las Velitas (The Day of the Tiny Candles), the eve of El Día de La Virgen de la Inmaculada Concepción, (The Day of The Virgin of the Immaculate Conception). Taken together, the holidays mark the start of the Christmas Season.
Like all holidays in this overwhelmingly Christian country, there are some solemn religious undertones to this day. At the same time, though, it's Christmas, so it's also time to party! For such an occasion, only one trago will do: Aguardiente.
A general term that applies to all types of booze containing between 29% and 60% alcohol by volume, aguardiente can be found in various forms everywhere from Haiti to Mexico, the United States (California), Portugal, Spain, Ecuador; the list goes on and on. You wouldn't really call it rum (at least I wouldn't), but it's a close cousin, distilled as both are from sugarcane.
An even closer cousin, Brazil's Cachaça, is made in much the same way as aguardiente, but they differ in one key area: flavor.
Unique among all the world's aguardientes is the trademark anise flavor of the Colombian distillate. If you read this, then you probably think there's no way I would like it. Admittedly, it's not in my top 10, but the Aguardiente Cristal pictured above has grown on me. Unlike the case with L'Ordinaire, the anise in Aguardiente Cristal actually adds a nice dimension; a welcome sweetness that removes any harsh alcohol flavor. This, no doubt, makes over-consumption easy with this stuff, so be careful…
The intensity of the anise differs by manufacturers and regions of Colombia in which it's found, but in general you can expect a drink that's essentially liquid liquorice with a serious, serious kick. Just how serious the kick is plainly evident in aguardiente's very name, a compound word combining agua (water) and ardiente (fiery) to alert drinkers as to what they're getting into – cuidado, fire water!
On major celebratory days like El Día de las Velitas, aguardiente is a favorite libation among Colombians, particularly those living in the Andean regions away from the Caribbean coast where rums (like this one, for instance) are more popular. There are all kinds of cocktail recipes for the stuff, but the traditional method of enjoying aguardiente in Colombia is neat, often as a shot.
However you take it, though, you'll want to be careful if you do so in Colombia tonight… and not just because it always a good idea to drink responsibly…
Beginning at sundown, all of Colombia will become awash in candlelight as people line the streets in front of their homes with lighted candles of various shapes and sizes. The effect must be incredible; a veritable countrywide street party by candlelight! The music, food, parades and dancing will extend well into the night, most of it fueled by aguardiente.
Mixing real fire with fire water no doubt has its risks, but it certainly sounds like an experience I wouldn't want to miss.
¡Salúd y Feliz Navidad!
Related Posts