Cerveza Pilsen – The Bolder, Older Taste of Costa Rica
Jamaica has Red Stripe. In Barbados, it's Banks.
Medalla es el sabor en Puerto Rico, while in Trinidad, it's got to be a Carib.
Top-selling local beers across the Caribbean have become so popular among visitors to the region that many are now available on store shelves near you in the U.S., Canada, the UK, and other decidedly less tropical climes. That's not to discount second and third choice Caribbean brews like Costa Rica's Cerveza Pilsen, though.
I'd never even heard of Pilsen before I set foot in Costa Rica a few weeks ago. Cerveza Imperial is king here. So much so that it's tough to imagine that any other Costa Rican beer brands might exist at all.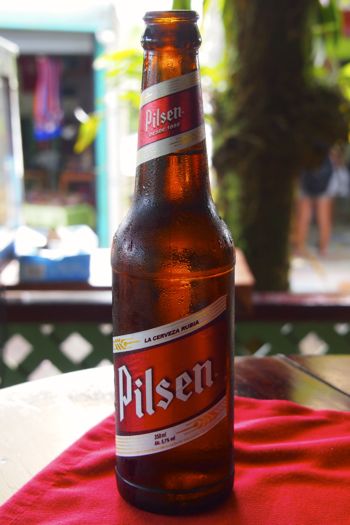 Pilsen, though, is very much around, and actually has been for quite a bit longer than its more popular sibling suds – 126 years for Pilsen vs. 90 for Imperial. Pilsen also packs more of a punch, with an ABV of 5.1% vs. the 4.6% of Imperial.
Just how or why Imperial came to be more popular than Pilsen I really don't know, but given the choice while I was there, I tended to reach for the older brew more often.
Imperial is very nice, balanced and light, like your typical light Caribbean beer. Pilsen, on the other hand, it a bit harsher, more bitter and full-bodied. You fill up faster drinking Pilsen, but the experience is a little more interesting, and certainly worthy of making the trip down to Costa Rica for beer aficionados.
Also likely worth the trip are several other Costa Rican beers that I somehow missed during my visit; a total of 10 in all! Like Pilsen and Imperial, they're all produced by Florida Ice & Farm Co., though some are obviously easier to find than others.
Finding them all, making comparisons, and determining your own personal pecking order amid all the fun and natural wonder of Costa Rica – sounds like dream beer journey to me!
¡Salud!
Related Posts