Checking Into Mawamba Lodge in Tortuguero, Costa Rica
A refreshing swimming pool and spa, carefully manicured landscaping, lounge areas a-plenty… Outward appearances presented above paint Costa Rica's Mawamba Lodge much like any common tropical hotel hideaway.
It's not.
Mawamba Lodge is located in Tortuguero, after all; that ultra-remote jungle section of Costa Rica's Caribbean coast solely accessible by boat or tiny plane. EVERYTHING is uncommon in these parts, especially the route you have to take to get here.
My journey to Mawamba started in Costa Rica's capital, San Jose, more than 150 miles away. Waking with the sun, we boarded an enormous tour bus and headed northeast, passing through a number of small, humble villages along the way. A couple hours and one breakfast stop for gallo pinto later and we arrived here…
Under grey and rainy skies, we slogged down the mud-filled river banks onto the boats that form the primary transport to and from Tortuguero, our hotel still more than hour away.
If there was any lingering doubt that we'd embarked on a truly wild adventure, river residents like this croc, stalking just a few yards from our boat, put things clear…
Yeah, you didn't see anyone dangling their fingers in the water as these boats moved along.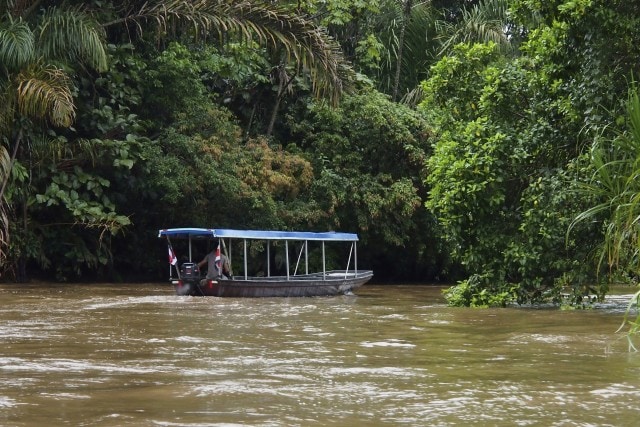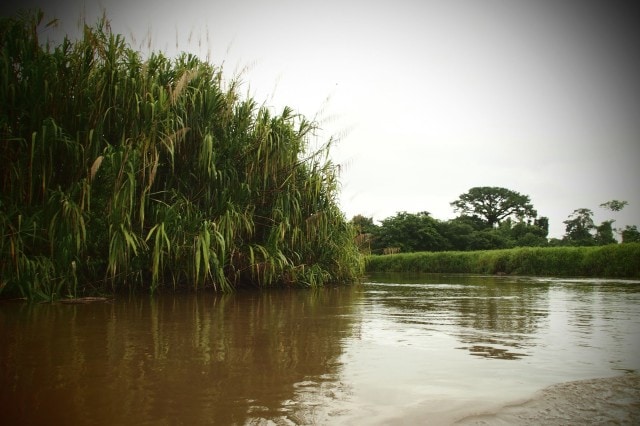 Before too long, I was sipping on a Cerveza Imperial on the pool deck pictured above, though truth be told, those resort-like surrounds are atypical of this place.
Mostly, as you might imagine judging by its location, Mawamba Lodge is all about nature and communing with the environment, luxuries be damned.
That's not to say it's not comfy, though. Sleeping here was nothing short of heavenly, even if the bed didn't carry the moniker made famous in other better-known corners of the hospitality industry.
Easy-sleeping for me here was as much a product of being dog-tired at the end of every day, thanks to the myriad of adventuring opportunities in the area, as it was the rustic nature of the guest cottages.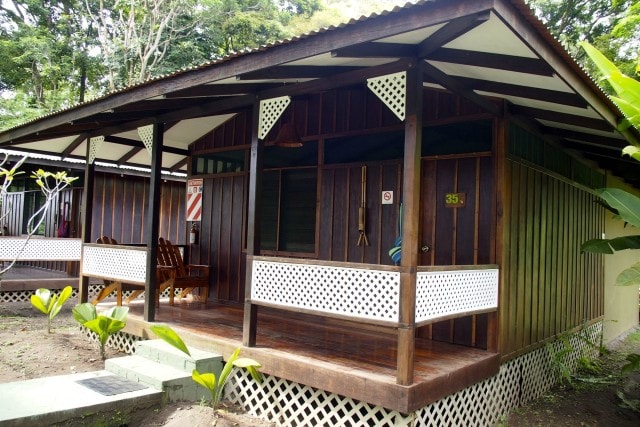 Nighttime temperatures were cool, bordering on cold for this island boy during my November visit, so even if a/c was available (it's not), it wouldn't be necessary. The cool, combined with a symphony of night noises produced by the jungle frogs all around the place made snoozing here a breeze.
By day, when you're not exploring Tortuguero or the Tortuguero National Forest, hanging around Mawamba has its rewards as well. The property sits along a nice stretch of volcanic beach that's a prime nesting ground for sea turtles.
Swimming for us humans, though, is strictly prohibited due to some seriously strong rip tides.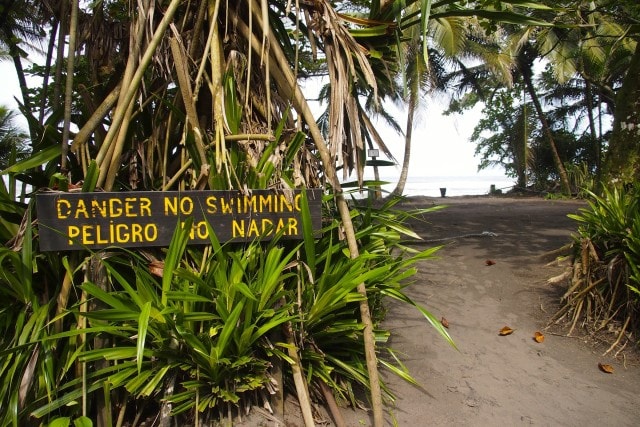 Even with your beach fun confined to the shore, nature-loving adventurers won't lack for diversions to pursue here. Hiking trails wind throughout the property and into the surrounding rainforest. Kayak tours, night hikes, and turtle nesting excursions are also offered by Mawamba staff, all of whom live directly on-property.
When you're all tired, though, and just want to relax, there's that pool – perfectly out of place… until you need it.
Mawamba Lodge features 54 standard bungalows and four superior rooms in stand-alone buildings that are a bit more spacious and offer direct views of the Tortuguero Canals; perfect for couples seeking a bit of extra privacy.
For rates and booking information on packages like the one I enjoyed that include round-trip transfers from San Jose, visit Grupo Mawamba online.
Related Posts