Checking Into Trogon Lodge in Costa Rica's Mystical Cloud Forest
Some segment of the guest experience at a lot of hotels, guesthouses, villas, and even large-scale resorts across the Caribbean can be described as "magical." At some places it's the cuisine that casts a spell, while at others it's wonderful service. A commitment to the arts or the environment, luxurious appointments, or just a perfect location – a hotel's magic can embody many forms.
At Costa Rica's Trogon Lodge, though, so much is so magical that the experience of staying here can only be described as ABSOLUTELY ENCHANTING.
Like nowhere else I've ever stayed, Trogon seemed plucked straight from a fairytale by Mother Nature herself, the mythical matriarch of all things good, earthly, and pure setting the property with loving care among the mystical mountain environs of Saverge in Costa Rica's Cloud Forest, a good 7,000 feet above sea level.
I arrived here in the midst of driving rain storm in mid-September. It was cold, and a little eerie as a mix of clouds, mist, and fog lent a storybook feel right from the start. I seriously half-expected elves or talking forest creatures to greet me!
What I found instead was a very warm and caring group of staff who obviously took great pride in making Trogon Lodge feel like home (or better!) for all who stay here. You see the love in their smiles and the patient way they provide assistance and advice on all that there is to do in and around the Lodge. You also really feel it when you go to bed.
No, there aren't any X-rated amenities at Trogon Lodge. I'm talking about the gas heaters found in every room. Members of the Trogon Lodge staff light each one by hand on cold nights like the one I enjoyed, trekking from room to room in the dark (and the rain, in my case), ensuring that all guests get a comfy, warm, and restful night's sleep.
Further helping in the rest department: no TV's, no radio, very scant in-room Internet reception, and a beyond heavenly bed. All around outside, the sounds of nature (mainly rain and the Saverge River, which winds throughout the property) soothed me to one of the best sleep's I've had in a long time.
You'll really want a great night sleep here too, as there are lots of things to do and discover in and around Trogon Lodge. Horseback riding, a 10-station canopy tour, as well as hiking and bird-watching adventures in search of Costa Rica's famed Quetzals can all be enjoyed amid scenes like this…
…and this…
…just steps from your bungalow.
When you're not adventuring around the property, Trogon Lodge offers a great little restaurant with tasty local cuisine, most of it sourced on-property or very nearby. The restaurant also has a nice, long balcony adorned with flowering plants and bird feeders. So, even after trekking through the wilds in search of exotic birds, you can sit here and enjoy a cup of coffee as they come to you.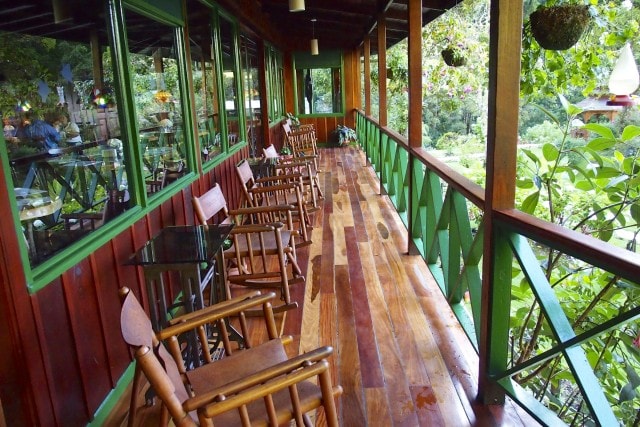 There's also a cool little reading/game room…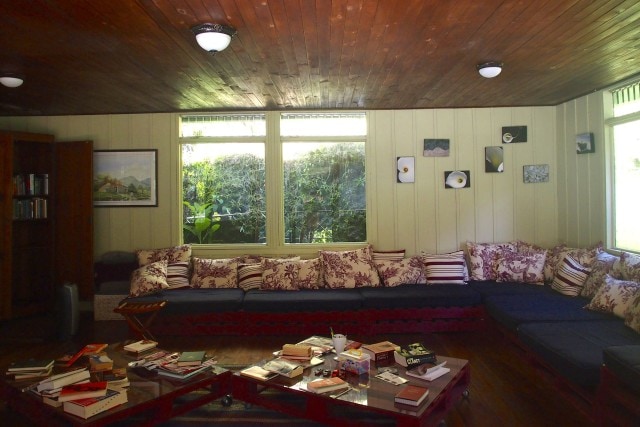 …many secluded seating areas…
…and a wonderful communal bar/lounge with a well-worn pool table. That's where I spent most of my first night at Trogon Lodge, availing myself of the Wi-Fi, while sipping Centenario, and meeting other guests from all over the world.
In its village-style layout, simple rooms, and warm hospitality, Trogon Lodge compels guests to gather together, mingle, laugh, sing, and even dance at the bar. An absolutely ancient jukebox featuring the likes of ABBA and Rod Stewart and a nice fireplace help to fuel the fun too, though I wouldn't be surprised if a little fairy dust was involved as well…
Trogon Lodge is located in Savegre, San Gerardo de Dota, near Cerro de la Muerte, one of the Costa Rica's tallest peaks, approximately two hours from San José heading southeast along the Pan-American highway. For rates and additional information on this enchanting place, visit Trogon Lodge online.
Related Posts