Cerveza Hatuey: Back To The Future (Sort of) Sabor de Cuba
The story of Cerveza Hatuey is really the story of three beers. It is also the story of one brave man and the enduring fight against oppression forever entwined in Cuban history.
Legendary Taíno Indian Chief, Hatuey
The original Hatuey was a great Taíno Indian Chief who ruled a portion of Hispaniola in the early 16th century. These were the early days post-Columbus; post-"discovery." Spanish Conquistadors were well on their way toward executing one of most brutal and systemic genocides in the history of mankind. In 1511, they set their sights on killing or enslaving the naive residents of what we now know as Cuba.
The attack was launched in secret from Hispaniola, the seat of Spanish colonial power at the time.
The Spanish didn't know, though, that Hatuey was wise to their plan.
Some say the Taíno Chief raced to Cuba ahead of the Spanish to sound the alarm. Others say he was already in Cuba, having previously escaped Spanish aggression in his native Hispaniola.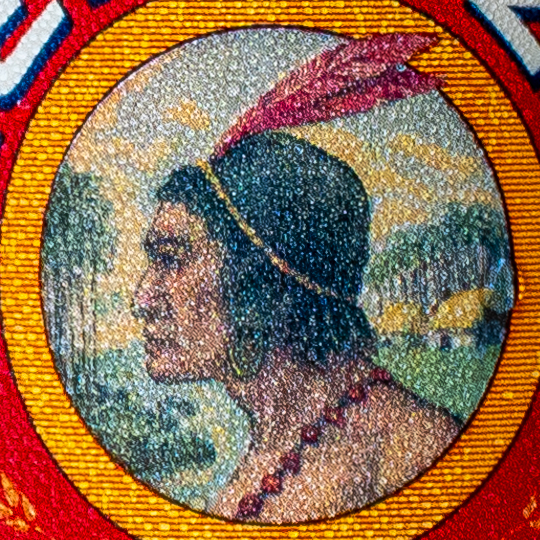 Either way, he definitely joined with his Amerindian brethren in Cuba and valiantly fought the Spanish. Led in part by Hatuey, Taínos effectively staved off the invasion for months.
In February 1512, though, Chief Hatuey was captured and burned alive. By 1514, the Spanish founded Havana. A year later, Cuba was completely under Spanish control.
Defiant Until The End
Famously, a priest present at Hatuey's execution asked the hero if he would accept Jesus Christ before dying. If he did so, the priest explained, Hatuey would enjoy everlasting life in Heaven. If not, of course, he'd go to Hell. After considering these options, Hatuey asked the priest if there were any Spaniards in Heaven. The priest said yes, but noted that only good Spaniards.
So, what did Hatuey decide? From A Violent Evangelism: The Political and Religious Conquest of the Americas (1600)…
The chief then said without further thought that he did not want to go there but to hell so as not to be where they were and where he would not see such cruel people.
Indeed, Chief Hatuey remained strong until the very end.
Pre-Castro Cerveza Hatuey
I've no idea if the original Hatuey beer was also strong. I wouldn't be surprised, though, if it was. Established as a brand in 1915, though not actually brewed and distributed until 1927, the earliest Cerveza Hatuey was directly inspired by its legendary namesake. The Bacardi family of global rum fame birthed the beer to show their support for the historical struggle against Spanish oppression in Cuba.
The timing of the launch, though, may have been more of statement against the prevailing colonial power in early 20th century Cuba, that being the United States.
Politics aside, the beer proved a hit in Cuba right from the start.
Cerveza Hatuey is regarded as Cuba's very first premium beer. The man behind it, George J. Friedrich, was brought over from Germany by the Bacardi's to build the brewery in Santiago de Cuba and craft Hatuey beer. No doubt, those pre-Castro Hatuey's were similar in the style and spirit to the best of Bavaria.
The spirit of revolution, though, changed everything for the Bacardi family and Cerveza Hatuey.
As with every other business in Cuba, Castro's Communist Party seized Hatuey upon rising to power in 1959. The Bacardi's fled the island, leaving the Communist Cuban Government to continue what they had started.
1990s Cuban-American Cerveza Hatuey
The Hatuey beer that you might find on store shelves near you today isn't much like the vintage model. If you picked one up and enjoyed it in back in the 1990s, though… well, that would be different.
In 1996, the Bacardi family, living in exile outside of Cuba, decided to breathe new life into their legendary old beer. They tapped brewmaster Eduardo McCormick for the task. It was an inspired choice as McCormick had formerly worked at the original brewery in Cuba.
Drawing upon his personal notes and recollections on the Hatuey recipe, McCormick recreated the original, or at least a passable facsimile thereof. I say reasonable as the I believe that the original Hatuey was a pilsener, while the 1990s version was a lager.
Anyway, the relative success of 1990s Hatuey Beer didn't last long. Bacardi discontinued production in 1998.
Note: the 1990s were a period of relative calm in Cuban politics. The Maleconazo Uprising in August 1994 was a big deal, but outside of that, tensions largely simmered. Castro was winding down (he formally resigned in February 2008). There was a general sense among many that democratic reforms of some kind were in Cuba's immediate future.
So yeah, maybe not the time for a beer espousing the historic strength and defiance of the Cuban people.
Today's Cerveza Hatuey
These days in Cuba, of course, things are different. Large and persistent anti-government demonstrations have been a near-daily occurrence for much of the summer of 2021. Cuban people are standing up, being firm; defiant.
Enter today's Cerveza Hatuey.
The formerly mass-produced pilsener/lager is now a microbrew. Specifically, it's marketed as a Cuban-style pale ale craft beer. It's produced by Thomas Creek Brewery in Greenville, South Carolina, which I'm guessing is about as 180-degrees from Cuba as you can get.
Still, their Cerveza Hatuey is a winner, if you ask me. Crisp, light, and refreshing, with toasty/roasted notes, it's fantastic ice-cold on a hot day.
Weighing in a skosh above the usual 5% ABV (Hatuey checks in at 5.5%), it also somewhat lives up the strength in its name and legend.
Where to buy
Cerveza Hatuey is made in very small batches (800 cases per year), and thus difficult to find. If you have a specialty beer store near you, like Riverside Market here in Fort Lauderdale, that might be your best bet.
I also suggest seeking it out via Wine Searcher, or contact Thomas Creek directly.
¡Salúd y fuerza, mi Cuba!
Related Posts