John Lennon Statue, Cuba – Imagine There's No Embargo…
The United States and Cuba have certainly had their fair share of differences over the years. In at least one area, though, both sides agree: John Lennon and his music are great. The John Lennon statue in Parque Lennon (Lennon Park) is proof.
You can find Lennon (park and statue) smack dab in the middle of Havana.
Not Little Havana in Miami, mind you. We're talking the real, original Havana down in Cuba.
Why would a staunch opponent of all things Western culture like Fidel Castro allow a shrine to one of the greatest pop culture icons of our time in Cuba's capital ? Surprisingly, Fidel not only approved of Lennon Park and the statue, the whole thing was actually his idea!
Beatles Ban in Cuba
Back in the 1960's and 70's when Lennon was one of the most recognizable figures on the planet, the Cuban Government banned his music. Castro and Co. referred to the tunes rather disdainfully as "ideological diversionism."
Cuban Beatlemaniacs, though, did not simply Let It Be and comply with Fidel's ban.
Instead, they'd Come Together and hold secret parties. With the lights out in the dead of night, they'd Twist and Shout to smuggled cassette tapes Eight Days a Week.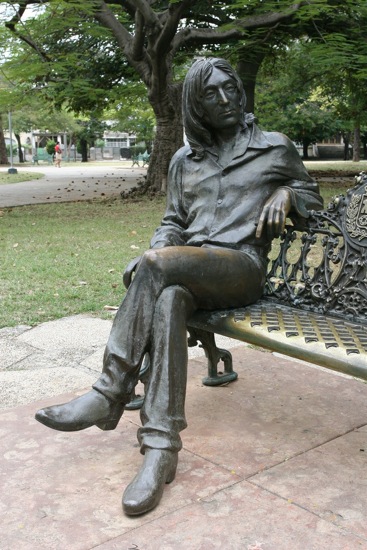 Fidel Flips
Then, out of nowhere, Castro changed his mind. Not only did he lift the ban, he decreed that Lennon was to be celebrated as a hero. And not just any hero either. To Castro, Lennon was a hero worthy of a park and a fancy statue.
Official Cuban Government statements at the time cast Lennon as a rebel and persistent victim of U.S. Government harassment. This, of course, was very much in line with the way in which Fidel liked to portray himself.
Castro was even quoted as saying…
I share his (Lennon's) dreams completely. I too am a dreamer who has seen his dreams turn into reality.
John Lennon Statue December 2000 Debut
The statue, sculpted by Cuban artist José Villa Soberón, was unveiled on the 20th anniversary of Lennon's death – December 8, 2000. According to a Reuters report filed at the time, the elaborate festivities also included the debut of a documentary produced by Castro's personal cameraman and an open-air concert.
The bench upon which the statue sits is a popular spot for Lennon devotees to pose for pictures. (Example). Apparently, though, people keep stealing his glasses.
Strange days, indeed!
*Lead photo credit: Flickr user Pietro Izzo.
Related Posts