Cowrie Shells, Slavery, and the Curacao Maritime Museum
Who doesn't love collecting seashells? We did it all the time as kids in Saint Croix. I still enjoy trolling the shores in search of shell treasures near my home in Florida. To me, there's always been a wonderful child-like innocence to shelling. On a recent visit to the Curacao Maritime Museum, though, I learned there's a dark side too. It has to do with the slave trade and the particular type of special shell pictured here known commonly as cowrie shells.
Curacao Maritime Museum
The Curacao Maritime Museum is one of a handful of modest curators of Curacao's history scattered about the downtown Willemstad area. You'll find a pretty neat little collection of seafaring artifacts there. Scale models of old vessels, classic photos, charts, and documents all highlight 500+ years of maritime history. This, of course, includes the era of slavery.
Now, if you don't know Curacao's history, but you do know it's ridiculously arid there, then you're probably wondering what, if any, connection could this island have with slavery? I mean, Colonial Spanish settlers did lump Curacao in with Bonaire and Aruba under the title islas inutiles (useless islands) because it was virtually impossible to grow crops… There couldn't have been any plantations, right?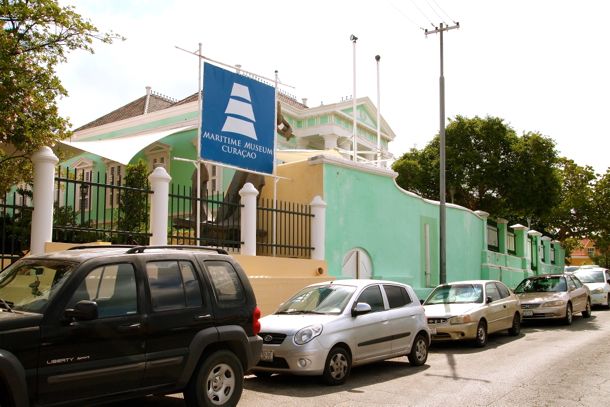 Slavery in Curacao
Indeed, slaves were not brought to Curacao to work what little fields there were. Instead, they were "stored" on the island following the 70- to 80-day journey from Africa. It was here that they were sold and shipped to sugar, coffee, and tobacco plantations in South America.
Their stays in Curacao were short, but countless enslaved Africans were "processed" through Curacao between 1670 and 1815. This made the island the epicenter of the Dutch slave trade in the southern Caribbean during that time.
So, how do the beautiful cowry shells fit into all this ugly business?
Cowrie Shells as Currency
Well, throughout history cowries have often been used as currency. (Here's a spot where they still are.) In the Caribbean, during the time of slavery, these shells were like gold.
When slave traders went to Africa to buy slaves, their ships were fully-laden with these shells. The shells were then used to purchase slaves. Only cowries, which the Dutch called boesjes, were accepted as currency, with prices varying greatly over the years. From the Museum:
At times, a healthy slave cost 20 pounds of boesjes but, frequently, a slave could cost twice that amount! In practical terms, this meant a slave price as high as 10,000 to 20,000 shells.
Amazing. Incomprehensible, really. Slaves – human beings like you and me – were once bought with the very same shells we often find laying around the very same shores to which they were forcibly brought.
Shelling, for me, will never be the same again.
If you love history the way I do, then you'll definitely want to visit the Curacao Maritime Museum next time you're in Willemstad. They're open Tuesday to Saturday from 9am to 4pm, with Sunday and Monday hours also available between October and April. For the latest on admission fees, exhibits and more, visit the Museum online.
Related Posts