Friday Happy Hour: Curacao Koffi Korsow Coffee Liqueur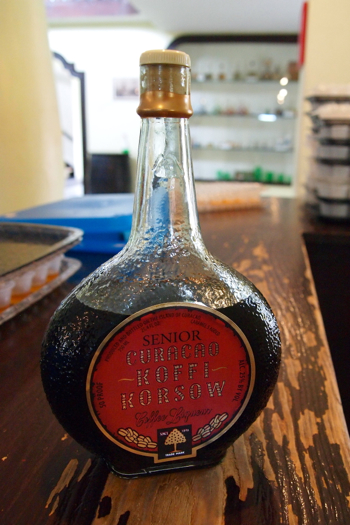 My wife does not like rum, a lamentable lineament that's had me on a quest to find an optimal replacement island elixir to suit her particular tastes for years. I've brought home various liqueurs, beers, bieres and other tasty liquid treats from my travels, but none have really, truly caught her fancy… until now.
The new object of my wife's affection is Senior's Curacao of Curacao Koffi Korsow. For coffee-lovers that also fancy a bit of booze, this stuff is manna from heaven!
Like the other Curacao of Curacao liqueurs we told you all about here, the Koffi Korsow is made from the dried peel of the Laraha orange unique to Curacao. All authentic Curacao of Curacao liqueurs start out as clear liquids, with food coloring used to achieve the trademark blue Curacao, as well as the green red and orange liqueurs. Despite their varying hues, the rainbow of those Curacao of Curacao products all taste the same.
Koffi Korsow, however, is a little different.
Senior & Co. combines an imported coffee extract and some caramel with the usual Curacao of Curacao liqueur to achieve the uniquely delicious flavor my wife no so adores.
In the glass, you won't find too many liquids worth drinking that come darker than this stuff. It's absolutely opaque, like motor oil, but don't let that deter you.
On the nose, it's all robust java goodness, an intoxicating smell that gently nudges you on toward the sampling.
Enjoyed neat, it's a little too sweet for me; like an over-sugared cup of room temperature brew with the robustness dialed way down initially, though dominating the finish.
My wife prefers her Curacao of Curacao Koffi Korsow on ice, which as a self-avowed ice coffee addict I tend to like myself. Haven't tried it over ice cream or in cocktails just yet, but I imagine this stuff really sings as a stand-in for Kahlua in all manner of yummy treats. We've got about half-a-bottle from my April 2012 trip to Curacao left to experiment with, giving me another good reason to head back to Chobolobo Mansion real soon…
Cheers!
Related Posts