Friday Happy Hour: Picking a Fight in Curacao Over Green Rum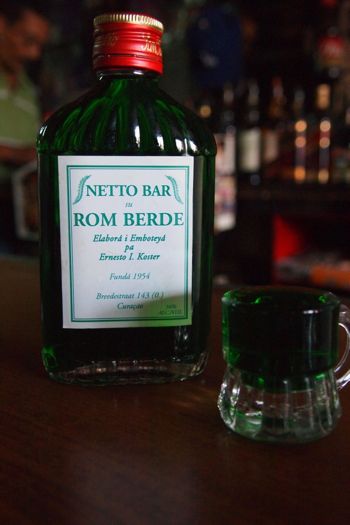 At Uncommon Caribbean, we're never ones to pick a fight. Well, not on purpose anyway. Occasionally, though, our thirst for knowledge, adventure and authentic West Indian experiences can rub some folks the wrong way.
You have to ask a lot of questions to get at the unique sort of information we share here each and every day, something that can sometimes create conflict, especially when you come across a disputed origin story like the one I encountered in Curacao a few days ago.
The subject of the dispute is something called Green Rum. It's a staple libation among the men in Curacao, 100% home-grown and, by all accounts relayed to me during my stay on the island, only found there.
The exact "there," though, is the problem, as I found two different "there's" that claim to be the originators of the green stuff: Netto Bar and Cafe Santa Rosa.
When I arrived in Curacao, I had never heard of either place. I'd never even heard of Green Rum. My taxi driver told me that I couldn't leave Curacao without a taste, though, and the number one place to do so, according to him, was Netto Bar.
Located in the gritty urban sprawl of the Otrobanda side of Willemstad, a few blocks back of the St. Annabaai waterway, where lies the famous Floating Bridge, Netto Bar is a small, hole-in-the-wall place with a decidedly local flare.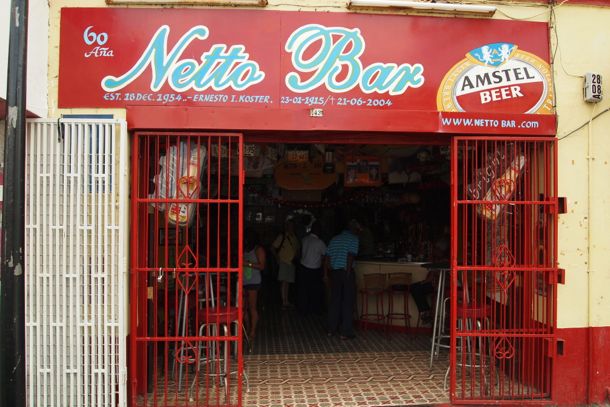 Netto Bar has been serving up Green Rum (and an assortment of beers and other stiff drinks) for locals and tourists beginning at 8am (noon on Sundays) every day since 1954. The place stays open til 9pm, though hours are extended when the place is busy.
Like Charlie's in Aruba, Netto Bar is decked-out in an assortment of odds and ends, seemingly left behind by its patrons over the years. Graffiti shares wall space with stickers, framed art and photos, while an assortment of flags, banners, license plates, lights and more photos dangle from the ceiling.
I'd like to tell you more about Netto Bar, but the guy behind the bar wasn't much for conversatin' with me. I can't be certain, but I think it's because I walked in with the bottle pictured here…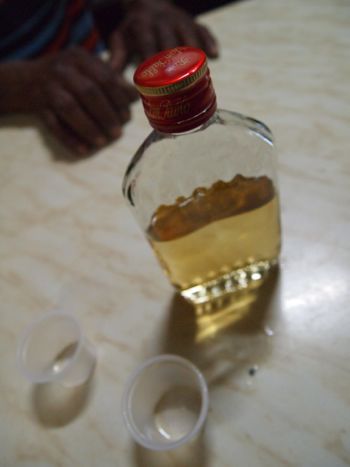 This is also Green Rum, though obviously it's not from Netto Bar. Hell, it's not even green!
This Green Rum is poured at Cafe Santa Rosa, a small neighborhood bar located in the town of Santa Rosa, essentially a suburb of Willemstad. It's right on the way to the Hyatt Regency Curacao, where I was staying, so naturally when my driver remembered that they served a "Green Rum," we stopped.
At first glance, my driver was confused. To him, Green Rum was always green. The bartender explained away the color conundrum with a question…
When you drink green tea, it's not always green, is it?
Touché. Even better, he spoke with the type of friendly smile you'd expect at a small neighborhood bar.
The decor inside Cafe Santa Rosa was decidedly more low-key than that at Netto Bar, but the vibe was a lot more friendly and inviting, almost like visiting a friend's bar, or a place you used to frequent, but haven't checked out in a long time. It was near closing time when I arrived, but no one was in a hurry to leave. The few simple tables were all filled with locals, all of them taking turns at laughing and carrying on across the room. Lively, jovial, warm and welcoming, Cafe Santa Rosa was my kind of place!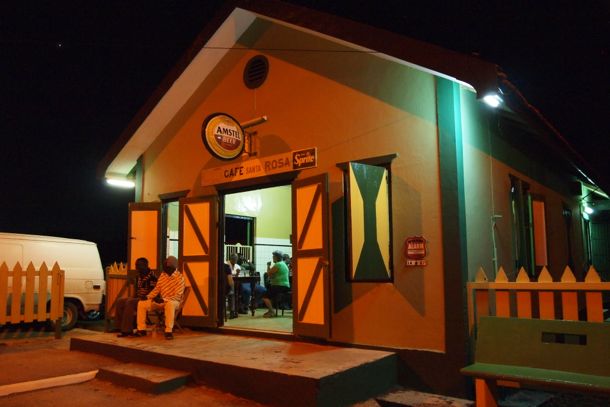 But, what about the different Green Rums? Which came first, and how does one compare to the other?
Well, Cafe Santa Rosa is the older of the two establishments, marking 70 years in business next year. A photo of the Cafe's original owner hangs behind the bar. It's said that he invented the original Green Rum, though no one could say when.
Back at Netto Bar, our grumpy barkeep had no time for such suppositions. He barely gave a glance at the bottle of Santa Rosa Green Rum I brought with me to compare, turning up his nose as I placed it on the bar as if it was something I just fished out of the toilet. To him, and most everyone else I talked to in Curacao, Netto's is the one and only original home of Curacao's Green Rum. Period.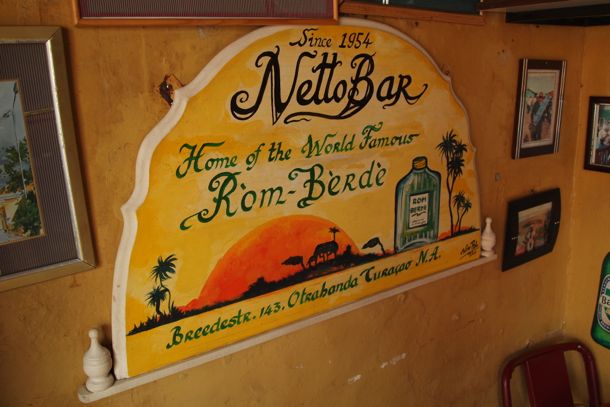 The real answer may never be revealed, but for me, Cafe Santa Rosa is the place that better suits my tastes…and not just in vibe and temperament either.
The Netto Bar Green Rum carries an "interesting" flavor that reminds me of my recent strikeouts with French Caribbean sodas. Yes, it tastes like medicine. Specifically, it tastes almost exactly like Nyquil. The original kind. You know, the green one.
Cafe Santa Rosa's Green Rum also has an "interesting" flavor, though it's more like a sweet Bush Rum – clean and neat, yet powerful.
At Netto Bar, most people enjoy their Green Rum in a shot, or mixed with a glass of fresh coconut water. I tried both, with the shot giving me visions of flu-ridden nights gone by. Adding the coconut water worked to remove much of the harsh medicine flavor, but it was still a drink I could live without.
If you're at Cafe Santa Rosa, you're likely drinking Green Rum in a shot. They don't do the coconut water thing there, just straight and natural Green Rum… and some smiles.
So, next time you're in Curacao, I encourage you to seek out both spots, try both Green Rums and draw your own conclusions. Just don't ask too many questions and keep offending bottles out of view…
Proost!
Related Posts