Cross Curacao's Famed Pontoon Bridge to De Gouverneur Restaurant & Cafe: Taste of the Caribbean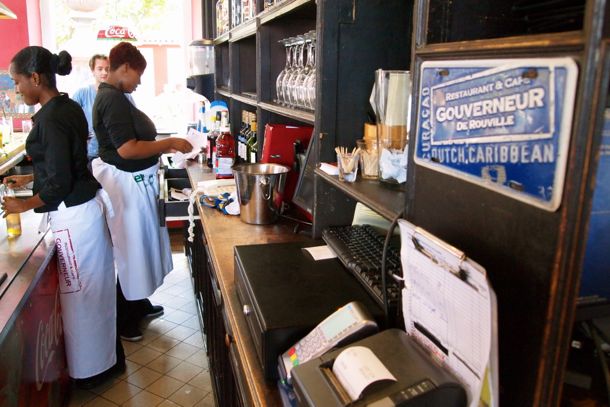 Curacao is known for its chic, cosmopolitan sensibilities, the lion's share of which you can experience in Punda, the picture-postcard part of Willemstad, the island's capital. This historic area, established in 1634, has always represented Curacao's "uptown," with its bustling eateries and trendy boutiques and shops carrying the latest fashions, jewelry and other goods from across the globe. Up until a few weeks ago, I always felt that no visit to Curacao could be complete without soaking in the atmosphere over lunch at one of the many cafes that line Punda's side of the St. Anna Bay. But then I discovered a better lunchtime alternative across the bridge…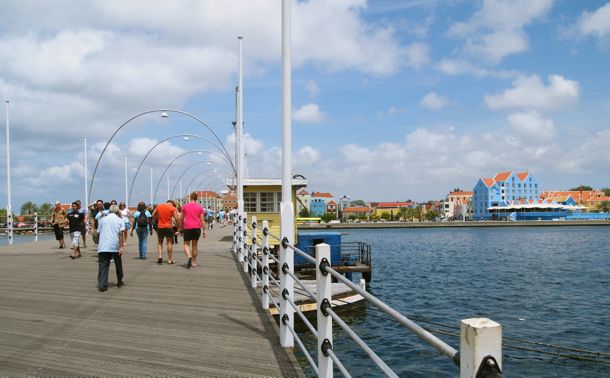 Otrobanda, which literally translated from Papiamento means "the other side," is, in may ways, the ying to Punda's yang. Along the St. Anna Bay, it's equally as picturesque as its older (Otrobanda was founded in 1707) sibling borough. Go back a few blocks, though, and a gritty, less clean and less pretty urban sprawl awaits you.
So, what could be so great over in Otrobanda that I would be compelled to prefer dining over there versus the finery in Punda?
Answer: De Gouverneur.
Actually, the full name of the place is Restaurant & Cafe Gouverneur de Rouville. It's located along Otrobanda's side of the St. Anna Bay, just a short walk north of the Queen Emma Bridge (aka: Pontoon Bridge), so you're not in the midst of the grime and grit of the area's backstreets. I arrived here hot and sweaty after a couple hours of snapping pics amid the usual crowds, hustle and bustle over in Punda.
I needed a respite. A quiet place where I could unwind and re-charge with some local food, a cold drink, a nice breeze and a view. De Gouverneur met my needs in ample fashion on all counts.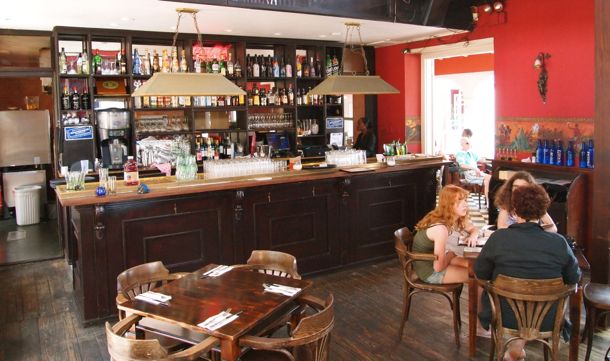 The building itself dates to 1737, when the first of what would turn out to be several homes was built on this spot. Over the years, many different families made memories here. In the late-1960's it was sold to a local historical preservation group that restored and maintained the old building during the 70's and 80's. Finally, in 2001, the current owners came along, bringing with them the De Gouverneur name and restaurant concept, which ranks among the best in all of Curacao.
Upon climbing the steps and entering the Caribbean Bar at De Gouverneur, you immediately begin to relax. The Old World airy charm of the place coddles visitors, instantly putting you at ease and making you feel at home.
Make your way to your table, which is hopefully located along the verandah, and marvel at this view…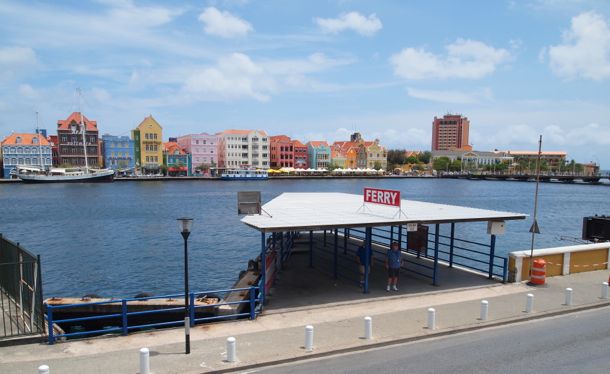 Despite a lovely company of journalist friends, I found it hard to avoid gazing endlessly across the waterway, virtually ignoring them in favor of Punda's iconic beauty from a comfy, elevated perch blessedly away from all the crowds. A steady cooling breeze only added to calming atmosphere.
Perusing the menu, you'll find a wide range of sandwiches, salads, soups, wraps and more, all skirting across various international cooking styles. The surprising lack of seafood was a strike for me (there's more fish on the dinner menu), but the nice selection of local favorites made up for it. For instance, the Keshi Yena, a Dutch Caribbean staple of cheese stuffed with meat, is available here with chicken and prunes.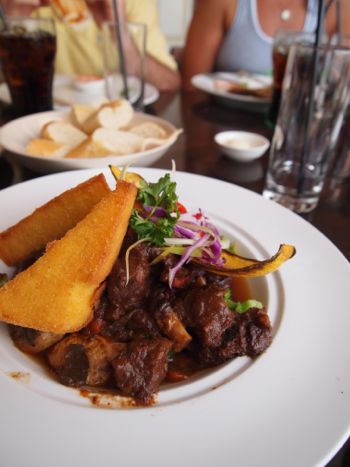 I opted for the Karni Stoba, Curacao's classic stew beef, which I found to be remarkably like the Trini-style stew beef I've always known through my parents. In addition to the large, steaming bowl I enjoyed, De Gouverneur also serves up a Karni Stoba sandwich that I'm hoping to try on a future visit.
The view was great. The food was too. But, the biggest welcome surprise I encountered at De Gouverneur was my drink: rum.
Now, on the surface I'm sure you're not surprised by my choice. If you've ever gone looking for rum in Curacao, though, you might be. It's not that rum is hard to find here, it's just that what you generally encounter – Rum Curacao and San Pablo – is not anywhere close to the sipping rums we prefer. Green Rum, of course, is a whole other animal altogether…
Imagine my surprise upon cozying up to the bar at De Gouverneur, and learning that they stock 50 different rums! And not just any rums either. The who's who list includes Mount Gay Extra Old, Brugal Añejo, Ron Zacapa XO and Solera 23, Pampero Aniversario, Appleton Estate 12 Year Old, Flor de Caña four, seven and 18 Year Old, and even Angostura 1824!
This was easily the very best selection of rum I've ever encountered in Curacao. Pair it with the view, the local food and lack of crowds and you have a real treat of a culinary dining experience fit for our type of uncommon travel.
De Gouverneur is open daily from 10am to midnight. For the widest rum selection, be sure to check out happy hour at the Caribbean Bar starting at 5:30pm.
Related Posts